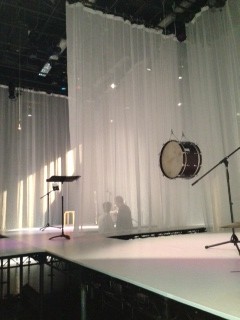 By his very nature, David Lang rethinks everything we think we know about any given avenue of music. And with the whisper opera, which was performed over the weekend of Aug. 10 at Lincoln Center's Mostly Mozart Festival, he did so by going to the polar opposites of what theater audiences are used to: Quietude, revelations of the most intimate sort and a level of fragmentation that was barely imaginable in a stage work so cogently conceived.
The libretto was culled from social media, taking sentences (or fragments of them) from anonymous persons from around the world with the belief that such utterances are public, but manage to be unnoticed secrets because they're part of such a vast chorus of communication.
"Cry!" was the first word I heard from the cellist near me.
"I couldn't … I was."
When whispered in fragmentary form,  such utterances sounded like somebody was having a unexplainable revelation.  Not until the end was there anything like conventional singing from soprano Tony Arnold or the International Contem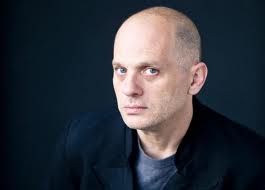 porary Ensemble.
The Pulitzer Prize-winning Lang can seem compulsively quixotic at times, leading us down musical alleys we might've known existed but never thought were worth investigating (and consistently proving the contrary, showing there was meaning there all along). So when I was led to my seat – one of eight places in a series of small musical trenches set within the stage of a small studio theater at Lincoln Center, putting you at eye level with the feet the five-member ensemble – I thought, "Well … here we go."
From my fox hole, I saw various instruments (bass drum, glockenspiel) anchored in specific places, though the musicians moved from place to place during different sections of the piece, not so much playing their instruments as scratching and caressing them. Extended techniques, in other words, of the quietest sort. Pervasive white curtains were the main atmospheric feature, suggesting either the gauzy netherworld of cyberspace or a hospital ward.
"They said I was crazy …"
Plenty of eye contact was possible with the performers peering down at listeners, but that didn't come until later – until the piece's loose-limbed, abstract narrative thickened and the utterances from the stage became more cogent and less fragmented.
The first section of the opera brought your ears down to a tiny sound envelope, to the point that, when the medium-dim lighting levels came up a bit, the buzzing of the lights, normally unnoticeable, was annoyingly intrusive. And no doubt part of the piece.
"I don't know where my sister is."
Was there music behind these disembodied sounds? Not until halfway through the hour-long piece did music clearly emerge, though when it did, it formed some significant centerpieces. One was an extended glockenspiel solo that initially laid out a fragmented series of motifs and then took on a continuity that made you rediscover what exactly that means – and it was balm to the ears.
At another point, flute and clarinet had an antiphonal pointillistic duet from opposite ends of the stage. That normally might not seem overwhelmingly dramatic, but in this sensory-deprived context it did, particularly with underlying percussion effects that suggested a seashore.
Structurally, the whisper opera is not unlike George Crumb's extended works, often following an arch form, though with a coda that, after meeting the audience less than halfway with a world of discursive sound, throws out unassumingly simple and completely apprehendable melodies.
"I feel like somebody is watching."
Oddly, the piece paralleled a book of poems I had lately stumbled upon: Marvelous Things Overheard by Brooklyn-based, Greek-influenced Ange Mlinko (out next month from Farrar Straus Giroux). There, the striving, squalor and all-around messiness of real life is contrasted with the clean, seamless world of received myth, the gods of antiquity who never had to wash dishes and change diapers.  The poet tells us that rainbows cant be statistically analyzed and thus must be an illusion.  The god Apollo seems to be her refuge, "In whose presence it is impossible to grieve."
"I knew he was right. I knew it."
Just as Mlinko uses idealized myth as a sounding board, Lang's music similarly acts like a kind of organizational membrane, the central meeting ground for his far-flung Internet chatter.
But what makes the whisper opera  quite possibly unique is its conscious lack of any sort of commentary on what's whispered. The music neither celebrates nor judges our everyday utterances. It reflects them back at us. What does Lang's act of quiet boldness mean beyond finding some value in the temporal world?  Rarely does a piece so resolutely refused to tell you what to think or what it says. Maybe I'll know next week. Or next year.
"Your mother eats kitty litter in Disney World."
That's one quote not heard in Lang or Mlinko; it's an accusation I heard muttered on a street corner by a mentally-ill homeless person – my favorite overheard marvel. Something so enigmatic would have to be a secret. Or art. What's the connection between the two? Discuss.