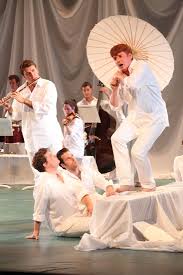 Benjamin Britten could be so comforting when at his most dictatorial.
His advice to performers was simple: Do exactly what he wrote, no more and no less, and all will be well. Certainly that seems true in his instrumental works, performances of which have acquired a uniformity (or quality control, in the composer's mind).
But what about theatrical matters? Does his word carry as much weight? His credibility isn't helped any by his famous dislike of Jon Vickers's revisionist portrayal of the title character of Peter Grimes, an interpretation that's now considered a landmark in the opera's history.
Britten's Curlew River, staged last week at Tanglewood's Ozawa Hall, has expressive power that puts it at the top of Britten's output. But it is a ceremonious hybrid of medieval mystery play and Japanese Noh theater that the composer called a "church parable". Other composers haven't exactly seized upon this example; in terms of influence, church parables are a cul-de-sac genre, making Curlew River seem potentially remote in this, the composer's 100th birthday year.
So was director/choreographer Mark Morris right to abruptly dismiss the copious stage directions printed in the score? He certainly raised my eyebrows (which doesn't happen often) when quoted in the New York Times. Having loved the piece from recordings but never seen it staged, I was disappointed not to have encountered a more traditional production before seeing what Morris was up to with his cast of young singers from the ranks of the Tanglewood Music Center.
Luckily, in practice Morris's demolitionist rhetoric translated into stripping down the piece and more or less getting out of its way – liberating an emotional power that might've been at least partly buried by the exterior ceremony requested in the score.
The stage setting at Ozawa Hall was mainly a white curtain, against which the 13-member cast was dressed almost completely in white on a nearly bare stage – the ultimate neutral setting for the story's central character, a madwoman in search of her lost child. She (or he, since it's a tenor role originated by Peter Pears) sings in a key that's alien to everyone else until her journey's end, when she crosses a river, discovers the grave where he had been buried a year previously, and hears her son's distant voice. It's there that her key comes into harmony with everyone else – a great moment that's bound to break through any sense of exterior stylization, reminding you there's no real healing from the loss of loved ones, just moments of equilibrium that can be achieved in the church, the opera house or a peaceful wilderness.
Britten's music has a dreamy ambiguity that seems unique to this piece. The story seems to swim in liquid textures – not unlike Kaija Saariaho's L'Amour de loin – achieved through indeterminate notation created for the conductorless instrumental ensemble.
As forward looking as all this sounds, Britten also seemed to be dealing with unfinished business. Though Curlew River is a Christian fable (complete with a cast of pilgrims and an introduction by an Abbot), Britten was, at the core of his 1964 score, revisiting The Rape of Lucretia, a 1946 work that I find increasingly unsatisfying but whose ultra-spare orchestration and distillation of life-changing events into small but effective strokes find a more apt home in the later piece.
So genuine is the core music in Curlew River that the quasi-medieval processional and recessional elements feel a bit counterfeit. Moments of Morris's choreography that seemed to respond to (or rebel against) this aspect, such as the simple arm motions and poses that came off like half-hearted tai chi, didn't entirely ring true either, serving a decorative purpose that seemed out of place in such a spare score performed on such a spare set.
The brilliance of Morris's conception lay in not asking the audience to waste its attention on exterior theatricality. Never did you ask why a mentally-ill female is played by a tenor. It simply was. Morris did visually differentiate the Madwoman by giving her a white parasol that served nearly every purpose but the one it was made for: at some points it spun the way her mind did; at others, it was like a haphazard halo (since, traditionally, some consider the mad to be closer to God).
Thus, one was free to concentrate on Britten's musical characterization, aided by young, fresh voices with good English enunciation. Two of those voices were bound to stick in your mind's ear: Isaiah Bell as the Madwoman and Edward Nelson as the Ferryman.
Such a turn in Curlew River's performance history has direct parallels with Stephen Sondheim musicals. Originally seen in gargantuan Harold Prince productions, Pacific Overtures (1976) and Sweeney Todd (1979) have gained impact over the years by growing smaller. No longer does Pacific Overtures (about Commodore Perry's 1850s opening of Japan to international commerce) need a lot of traditional cultural elements to set the scene, let alone the extended prologue involving a solo Kabuki performance that it once had; in a smaller, more cosmopolitan world, Japan doesn't require the explanation it once did. Sweeney Todd no longer needs oppressively massive chunks of London slum to show the stifling class restrictions of Dickensian England. Perhaps Curlew River now needs less explanation. For the most part, Morris removed the scaffolding that the composer once thought the piece needed to keep it standing.

Often, a piece easily takes on a different message, even when changes are subtle – as demonstrated by Morris's oft-seen staging of the Purcell opera Dido and Aeneas performed on the same evening. I'd last seen it with Dido performed by Morris himself. Now, svelte, lithe Laurel Lynch maintains a gender ambiguity (no visible breasts, hairy armpits) while dancing with great precision of intent. While Morris made Dido a portrait of degraded grandeur, Lynch and the ensemble made the piece more like a psychological chess game. 
So Morris's cosmetic makeover of Curlew River seemed all the more remarkable for amplifying the impact but not changing the meaning – at least as I've heard the piece over the years. The art of subtraction can be difficult to track and to appreciate. When subtraction works, is it a lucky accident or an act of high creativity? When smaller Sondheim productions changed the course of performance history, did it start as a budgetary matter? Certainly, Mark Morris could have had a grander Curlew River if he wanted it. So subtraction had to have been a fairly pure artistic choice. And for revivals, more subtraction please.

.