Russia's cultural invasion of China was relatively short – roughly 1952 to 1961 – but left a lasting mark, despite efforts to stamp it out.
The evidence is increasingly visible. In the lobby of the Shanghai Concert Hall, two manuscript pages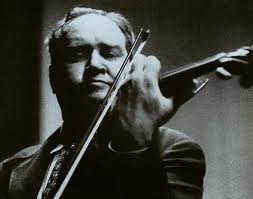 from Tchaikovsky Symphony No. 6 are framed. How did they survive Mao's Cultural Revolution? Inside the hall, the Shanghai City Symphony Orchestra is conducted by 88-year-old Cao Peng, who now proudly proclaims himself to be a graduate of the Moscow Conservatory, has given his semi-professional orchestra a robust Russian sound and, together with his two daughters, has a music therapy clinic for autistic children. His conducting career spans over 60 years – with significant interruptions, no doubt.
Meanwhile, in the book stores and concert-hall kiosks where classical CDs are sold…
Russian violinist David Oistrakh left a significant footprint as documented in a four-disc box set. David Oistrakh in China, all recorded during a late 1950s tour, has concerto and sonata performances never heard outside China in clean-sounding tapes that probably should not have survived.
Others in this series, published by a label known only as CRC (with a yellow logo vaguely resembling Deutsche Grammophon's) are Chinese pianists from previous generations. Most are Moscow Conservatory trained at some point along the way; some of the live performances are from the former East Germany. Liu Shikun, for example. Born in 1939, he won second prize at one of the Tchaikovsky Competitions and had a major career, both as pianist and composer. In 1966, though, he was imprisoned for six years during the Cultural Revolution.
Not so lucky was 
Gu Shengying (1937-1967), a great talent in any age or nationality. She placed well in competitions in Moscow, Geneva, Warsaw and Belgium, but suffered persecution during the Cultural Revolution and was dead at age 30. The main survivor from that generationis Zhu Xiao-Mei, who was exiled to such a distant province during  the Cultural Revolution that she gave all-Bach concerts claiming it was party-approved music and nobody knew the difference. She got out in 1979 and now has a cult following in Europe.
The haphazard picture that emerges from all of this is that of a nation at the very beginning of an international cultural awakening – and apparently one that was quite short on piano tuners. Even for the great Oistrakh. His set includes some of the Brahms Violin Sonata No. 3 Op. 108 and some virtuoso pieces, though his accompanist Vladimir Yampolsky was coping with thin-sounding instruments (probably not full concert grands) with wayward tuning. In Beethoven's Violin Concerto, the first-movement tympani is curiously absent at the outset, which could've been a missed cue or botched microphone placement. Yet throughout, Oistrakh plays like a missionary, at the height of his technical and communicative powers, often with a stronger sense of what individual phrases mean than in his later performances.
Liu Shikun clearly knows how to burn up the keyboard in the Liszt and Tchaikovsky concertos and is a charming composer. Beyond that, there are moments when he goes to the heart of a phrase so completely that you're sure that this is an extremely substantial talent. While many of the recordings come from the late-1950s when he played with orchestras in Dresden and Russia, his grip on western music is less consistent in the later recordings. The insight is still there, but you sense that, for lack of a strong artistic community around him, he lacked the checks and balances that keep the many different elements of musical interpretation in balance with each other.
Gu Shengying seemed not to have that problem. Her two-CD package is printed entirely in Chinese, so it's hard to say when and where the recordings come from. There's much Chopin played with blazing confidence and a depth of poetry. Her rubato always feels so natural, it's as if the music is being carried to on a buoyant salt sea. Her passionate outbursts are arresting but never excessive. It's heartbreaking to think that such a generous musical spirit fell into such disrepute and, most likely, died in a state of profound disillusionment.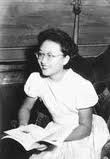 Still, she's able to speak to us through her recordings, but what a pity that this one isn't more widely available. One can find Liu Shikun on Amazon.com, but not Gu Shengying.
Now, China is producing a huge number of fine musicians who come to the west as sort of a cultural finishing school. One of the more enterprising is Yu Xi Wang, who issued her Juilliard School piano recital in China for budget prices. It's not simply solid playing but brimming with temperament – particularly welcome of Schumann's Davidsbundlertanze.
However, if there's one thing that I believe Chinese musicians need, it's to
acknowledge and perform their own music. Something I've heard time and again from Chinese orchestras – including the China National Symphony – is a lack of instinctual ensemble. Many American orchestras play as if there's some invisible membrane binding together the players that allow them to play with solidity no matter how jetlagged they may be. Even with the Chinese orchestras play with accuracy and a sense of ensemble, you sense that its tentative, as if the players don't quite know how to listen to each other.
But at a recent Beijing concert when the China National Orchestra turned from Beethoven to Reflections of the Moon in the Erquan Spring, a piece of Chinese impressionism jointly attributed to Zuqiang Wu and Yanjun Hua, ti was suddenly a different ensemble, with a huge range of color and instinctual authority as to what the piece was about. That transformation is not dissimilar to Liu Shikun, whose pianism with western classical music has an uncertain compass, though not in his Chinese pieces.
The Chinese need their own music just as much as they needs ours. And I don't mean Chinese music that imitates western music – which is something that still happens. Several years ago, Lang Lang put out a disc of Chinese music titled Dragon Songs; I thought it was one of his most enchanting recordings. However, he was chided to his face by western interviewers who felt that Chinese music was inferior to the more established classics he usually plays. I can't enter that discussion. That's like debating the merits of Gershwin vs. Mozart. It's two different things, both valid, both of great service to those who connect with them. And whatever one's opinion is on that matter, the Chinese will find a firmer connection with western music by going at it through their own.