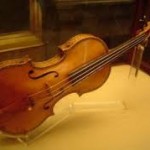 "A Stradivari in Philadelphia" was the name of a recent concert on Rittenhouse Square, and, in my experience, the first time the instrument took top billing over the performer and repertoire. Some composer names were found in the fine print (no mention of what pieces) and the violinist was one Matteo Fedeli.
Strads are hardly news in Philadelphia.  Why would anybody suggest otherwise? My theory: The veneration of rare instruments has escalated to a new level. Price records keep getting broken, the current one being $3.6 million paid for the Molitor Strad that is thought to have once been owned by Napoleon Bonaparte. We've probably seen the last generation of violinists who can actually own such instruments with their own financial resources – such as Gil Shaham and Maxim Vengerov, now in their mid-40s.
Many string players fear they can't have a proper career without some rare instrument, preferably one of the 650 surviving Strads, particularly from the violin-maker's so-called golden period from 1700 to 1725. But only foundations, museums and institutions can afford to own them now – and, happily, most of those organizations seem to be pretty intelligent about which players play them on loan. But they're still on loan. If word gets out that you left the instrument unguarded or in an unsafe place … kiss the Strad goodbye.
A few of the top names might be seen as quietly boycotting this rat race: Hilary Hahn has said she's perfectly happy with her Vuillaume, and Christian Tetzlaff, who once had a Strad, now plays a modern instrument made by Stefan-Peter Greiner. The Tokyo Quartet is surrendering its four "Paganini Strads" (a supposedly matched set once owned by Niccolò Paganini) after it plays its last concert this summer, and you don't see them rending their garments.
Tokyo Quartet cellist Clive Greensmith has lived on both sides – scrounging for a good instrument and living with one of the Paganini Strads – and he takes a measured view. He's grateful for years with the fine cello, of course, but also states that the instrument "is a tool."
It's not always a cooperative one. Though Strads have a mystique of allowing violinists to realize their ideas with an ease and beauty that's less possible with other instruments, they also have a way of telling their players what to do.
Compare, for example, the pre-Strad Tokyo Quartet recording of Beethoven's Op. 131 on RCA. During one of the fast movements, there's a moment where the players are directed to bow on or close to the instrument's bridge; in the earlier Tokyo recording, it's a hugely witty, scintillating effect. Something similar happens on the quartet's later rendition on Harmonia Mundi – though this time, violinist Martin Beaver (who didn't play on the early recording, just for the record) had to seriously work at it. "Those instruments don't want to sound ugly,' he said. "It's hard to get a real ponticello."
At the May 4th Salome Chamber Orchestra concert at New York's Metropolitan Museum of Art, the instruments had a way of dictating repertoire as well as sound. The Salome group is one of those super-chamber orchestras that exists part time with the participation of soloists such as violist David Aaron Carpenter, violinist Philippe Quint and others. On this occasion, several members played on instruments from the museum's Sau-Wing Lam Collection. As much as I admire Carpenter and Quint, these rare instruments need great music as well as great players.
The concert's climax was Ludwig Maurer's pleasant but completely inconsequential Concertante for 4 Violins in A minor, Op. 55, which was clearly exhumed to show off four golden-age Strads playing simultaneously. And yes, they sounded wonderful. But that sound was used in a context that was nearly meaningless. So was much of the other repertoire in the concert. In all fairness, the whole atmosphere of the program was on the lighter side, bordering on café music, rightly inspiring a kind of highly-physical performing style that comes with it.
But this is not what we need.
The state of classical music is, in many ways, a battle against encroaching uniformity. And much of that uniformity is about sounding pretty – the sort of prettiness that Michael Tilson Thomas used to call "the deluxe non-specific." Singers want to sound more like Kiri Te Kanawa than Maria Callas. And God help anybody who sounds like Lotte Lenya – a singer who needed only to exhale in order to be devastating.
Even though instrumentalists don't have certain resources to distinguish one from another (such as the use of words), I'm still disturbed that Itzhak Perlman has been quoted as hearing a violin performance on the radio and guessing as to whether or not it's him.  He should know his playing when he hears it. And when great musicians sound so similar, the experience of classical music takes on another layer of redundancy.
This is not to disparage Strads. One can often spot one with the naked ear. Within a few days of each other, I heard Hahn play the Korngold Violin Concerto with the Philadelphia Orchestra and the young, up-and-coming violinist Kristin Lee play the Tchaikovsky Violin Concerto in an Astral Artists concert, also in Philadelphia. Hahn conveyed all of Korngold's necessary voluptuousness not just with her sound but with her considerable musical willpower (which no doubt comes from her brain). However, in the final movement that put her through Heifetzian paces, her tone grew pale under pressure.
Lee's Tchaikovsky, in contrast, was amazing for how she maintained a beautiful tone – and an eloquent, poetic manifestation of beauty – even when under the most technical pressure. The quality of her instrument surely played a role in this. But I had no idea what sort of violin she played until I checked a few minutes ago. And it was a Strad.
This could easily open up a debate that not all repertoire is for Strads (a position Tetzlaff has taken) and not all musicians are temperamentally suited to Strads. The instruments most certainly have their place, but it's not an all-encompassing one. And in any case, I've always loved violinists more for their minds than their fingers. Yes, I'm one of those people who collects late-period Joseph Szigeti and Albert Spalding recordings – though I can't say that I seek them out everyday (or anything close to it).