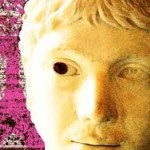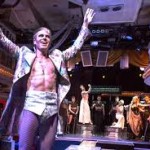 The pickup truck pulled up alongside me and my bicycle on 47th Street in need of directions: "Where's that street with all the strip clubs?"
"You're asking the wrong guy," I said. And before I could disqualify myself by claiming to be gay, the driver's head snapped the other direction and was off.
In retrospect, that moment began my karmic payback for being so dismissive toward some guys with a simple need for risqué fun. Weeks later, I was in such a place, not wanting to be there, and discovering the meaning of that old adage: "The main purpose of a strip club is to separate you from your money." I was there for an opera, of all things, that turned into my most uncongenial theater experience since sitting through Porgy and Bess in front of a woman afflicted with Tourette's Syndrome.
The occasion was the closing night (March 29) of Eliogabalo, a recently discovered 1668 opera by a composer I would get on an airplane to hear, Francesco Cavalli. Gotham Chamber Opera's production came at a higher price. Depicting the debauched Roman ruler who reigned for only a few of his teen-age years before his ambi-sexual obnoxiousness prompted his own guards to put him to death, Eliogabalo  received its New York City premiere at The Box, which isn't exactly a strip club but something more expensive and exclusive, a cabaret of sorts with entertainment described on Yelp.com as sexual freak shows (pre-op trans-sexuals, etc.).
You have to know exactly where The Box is on Chrystie Street: It behaves so much like a speakeasy that the pizza clerk down the street had never even heard of it. The Box seems to be a place where tourists walk on the wild side and go home feeling profoundly cool. And what a good place, conceptually speaking, for an opera about a monarch who is said to have offered doctors heaps of gold to turn him into a woman. You could imagine the New York City Opera's George Steel kicking himself and wondering, "Why didn't I think of that?"
Good thing he didn't. My guess is that Gotham Chamber Opera didn't realize the problems with the venue until it was way too late to pull the plug.
The night of the performance, a crowd was gathered outside. You got your pre-ordered tickets from the guy in the red jacket. Immediately, you sensed who worked for whom. The Gotham Chamber Opera people were sweet and a tad apologetic. The bouncer who clearly worked for The Box told you, "It's best if you check your coat at the door" as if this was the first stage of being part of The Scene.
Not having cared about being cool since 1985, I didn't take that suggestion well. And what was supposed to be a full-view standing room ticket – purchased for $50 – afforded me little more than a glimpse of the surtitle screen above a sea of heads. I was told to wait in line for spaces in the balcony to open up – The Box is a re-purposed theater, though a tiny one – after the opera was underway. Somewhere around the second or third scene, we were ushered up the stairs, passing neo-Grecian alcoves with heavy curtains that could be drawn for privacy.
Standing in the very rear, leaning on the bar, the view wasn't any better, since the people with chairs were standing up, having paid much more money than I (tickets were as high as $140) to glimpse the opera. Some person with authority asked them to sit down. The curt answer: "No." We'd all been through a lot.
The usher parked us one place; the exasperated stage manager ordered us elsewhere. Backstage space is so cramped, apparently, that singers in this 20-member cast had to ascend to the balcony, walk across it and down the left side to make their way onstage. The stage manager was in charge of keeping the way clear. The singers didn't always cooperate. Some stopped off to chat with friends in the audience.
You might think that a club built for voyeurism would have decent sight lines. Not this one. At intermission, one standee who had actually found a seat reported that she had to twist herself around so severely in order to see that she feared traction was in her future. A failed strip club? "No! It's a tease!" said one friend. Remember the words of Gypsy Rose Lee: "Make 'em beg and then don't give it to them."
You might wonder why I didn't leave. But there comes a point where you ask, "How bad can this get?"
Very bad. The anything-goes air of the venue didn't have a positive impact on the cast's artistry. Though the music director was Grant Herreid (a fine musician I know from Piffaro, the Renaissance wind band), the singers overacted, oversang, over-everythinged. Given the racy subjects favored by Cavalli – and the fact that Venetian opera during this period had little of the Zeffirellian grandeur we now associate with the art form – performances shouldn't be polite. But they should be clear, not clouded by a lot of performance bluster.  From what I could hear, the opera itself had moments of hugely expressive lyricism and effective recitatives that are deeply characteristic of Cavalli. He was a great composer, and we only know a fraction of his works.
More, please? But please, someplace else?