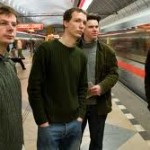 The Frick Collection's Sunday afternoon concerts are often portals into European music making, presenting one debut after another of artists for whom a larger U.S. presence has been stymied by post-9/11 security hassles. But on Sunday's April 14th respite from tax deadlines, the Bennewitz Quartet went rather further by entering a temporary time warp – fitting for a venue that, with any performer, feels so blessedly distant from everyday American life.
Modern musicians (well, a few of them) can convincingly echo the musical manners that died after World War II through close study of the older recordings – some of them made live at the Frick with the likes of Joseph Szigeti and Artur Schnabel. But the Bennewitz Quartet, formed only in 1998 in Prague, reached further back in its New York debut, and its program of Mozart's Quartet K. 458 ("The Hunt"), Bartok's Quartet No. 3 and Schubert's Quartet D. 810 ("Death and the Maiden") seemed to tread in the most standard of repertoire, as if to show just how distinctive its playing is.
Though the Bartok 3rd never quite found its legs – the group started off on the wrong foot, with uncertain interpretative purpose – the rest of the program projected a distinctive, standard-setting personality, one defined to a large extent by first violinist Jiri Nemecek.  He reads off scores with all four quartet lines in front of him; more importantly, he plays with a selective use of vibrato that requires clean, tight chord tunings, yielding amazing blends with the other instruments as well as a distinctive, immediately recognizable sound. Yet this lower-vibrato timbre isn't the same as the historically-informed-performance approach one hears in the low-cal sonorities of, say, the Salomon String Quartet. (As a group, the Bennewitz can make some imposing sounds, with cellist Stepan Dolezal's reduced vibrato undergirding everything with an eloquent buzz.) Nemecek's playing seems to be a speculative vision not of the 18th century, but one of the late 19th century, before near-constant vibrato made the historical-performance revisionists necessary.
How do I know these things? I'm 316 years old.
Or I might as well be. The explosion of music available on the internet reaches into discographic terrains that only ten years ago

weren't worth mining for releases because of the overhead involved with physical discs. Now the three dozen people in the world who crave the early 1920s recordings of British violinist Arthur Catterall can not only find them, we can hear them with unprecedented clarity thanks to digital remastering.
The famous 1903 recordings of Brahms collaborator Joseph Joachim have often been heard with a bit of disbelief. Maybe it was the antique technology that made his playing sounds so wispy and vibrato-free. You could excuse a similar effect from Vienna's Rose Quartet, recorded in reliable electrical sound but at a point when the musicians were up in years.
Such arguments don't stick to Catterall. He's a 19th-century personality, thanks to an early-developing talent that put him so much in the thick of things that he played in chamber-music evenings at Bayreuth for Cosima Wagner in 1902. His sonata recordings from the early-'20s are clear enough to suggest that they're an accurate representation. A movement from Tchaikovsky's Piano Trio Op. 50 with Catterall as part of the Manchester Trio (posted on YouTube) was recorded after the invention of the microphone and has similarly striking passage-work that seems to slide from note to note without the constant vibrating that our ears have come to expect. That – along with some 1930 Dvorak played by Pozniak Trio recordings just posted last week on www.pristineaudio.com – introduces the world of the Bennewitz Quartet's Mozart.
Some modern quartets will take rubatos at obvious places near cadences and ends of movements. The Bennewitz players do that, but they also use small internal rubatos that wake up passages that, with most groups, had long-ago settled into received-wisdom sameness from performance to performance. Portamento – which can make phrases seesaw in ways that add an airborne instability – was heard in the inner voices so as not to upset Mozart's classical surfaces.
The judicious vibrato frees the Bennewitz from the uniformity of color and texture one hears from many modern quartets who came of age in the 1980s. Thus, each of the discrete variations in "Death and the Maiden" had its own contrasting sound world, with coloristic matters intensified by rubato that was thoughtfully contoured to the music at hand – and, again, not just in the usual places. Genuine trills had a seismic impact in a way they never can when arising from a nest of constant fingerboard quavering.
Now and then, I thought I had determined the ground rules that dictate Nemecek's use of vibrato. Usually, he vibrated only at the end of a note. At times, vibrato was used like a bookend in a given phrase, leaving higher, more exposed violin lines in the crest of a phrase to soar clean, clear and vibrato-less. Then he would do something close to the opposite.
Duh! Music isn't a method! It's instinctual. And with an ease of execution that's characteristic of the younger, technically adept quartets of the 21st century, Bennewitz has (and exercises) the option to be spontaneous. By now, you can probably feel the best-of-two-worlds cliché coming. But it's true.
By the way, where did these guys get their name? Some Czech symbolist author who is yet to be translated into English? No. It comes from Czech violinist and teacher Antonin Bennewitz, whose dates are 1833-1926.  And what does that tell you?