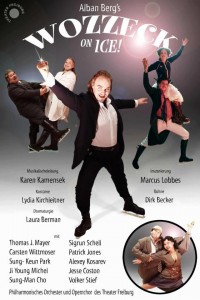 Damn, damn, damn! I was all set to go on Travelocity to book a flight to Freiburg, Germany when this poster for Wozzeck on Ice! arrived in my inbox this morning.
Imagine: A genre normally associated with the lightest of light children's entertainment applied to a thoroughly adult, furrow-browed opera.  Imagine the most graceful and circular of the athletic arts being the frame for Alban Berg's incredibly angular music.
With ice skates, singers could make entrances and exits with cinematic speed. They would also get sick more often. Then again, the Drum Major's entrance could be heralded by smurfs. It's a whole new vista in German Regie-theater!
Of course, miking the singers would probably be necessary, given the stadium-like ceilings of most ice rinks. And the advertising campaigns would have to be massive in order to find enough people wanting to see Wozzeck on Ice! to fill an ice rink.
Then, the idea vanished like a mirage. A colleague combed the Web, found no record of a Wozzeck on Ice! in Freiburg, but did indeed find that there had been a Wozzeck production, not on ice, put on by the same team listed on the poster in 2005.  Where did the poster come from? Don't know.
Might this spark an idea for something real? Sounds like a job for the Park Avenue Armory in New York City. Alan Gilbert, are you listening?