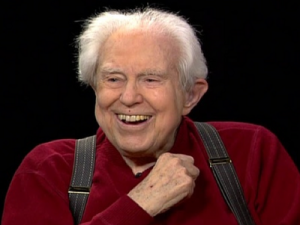 The scene was Carnegie Hall in the wake of a snow storm, roughly a decade ago. The Metropolitan Opera Orchestra under James Levine had just played a knockout performance of Carter's Variations for Orchestra.
Months before, I had interview Carter in his Greenwich Village apartment a few weeks after the death of his wife. As one can imagine, he didn't look so well. I worried that the still-earthy, hearty, unpretentious Carter would die soon, as so often happens when the elderly lose a longtime spouse. He related that he'd only lost a day of composing when she died. She would've wanted it that way.
Even in his somewhat dampened state, Carter conversations weren't unlike listening to his music. Subjects ricocheted off each other. Everything ended in an exclamation point. Cul-de-sacs were accepted as part of life's ongoing anti-logic. Non sequiturs were some of the more familiar objects on the landscape. You never, ever knew what lurked around the corner. So it wasn't surprising that at the end of interview, we somehow got on the subject of Prokofiev operas.
Carter had seen the most obscure one of all, a socialist/realist something or other titled The Story of a Real Man, and in Germany, where the actual surviving war hero was present and seated in a box overlooking the stage. At the end, the audience wanted the hero to stand up and take a bow.
"But he couldn't!" related Carter. "He was a double amputee!"
Back to Carnegie Hall: Carter had no such problems that Sunday afternoon. The 93-year-old composer navigated the stage more deftly than Levine. He didn't look a day over 70. Seeing him at intermission, I practically threw my arms around him. "Elliott, you look wonderful!"
"Yeah, yeah!" he groused. "I wish I could hear as well I look!"
Classic Carter….