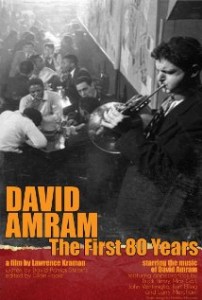 "Had the election gone the other way," said Peter Yarrow, formerly of Peter Paul and Mary, the evening would've felt very different.
As it was, the Nov. 9th benefit concert for the environmental Clearwater foundation at New York City's Symphony Space was a quirky, gloriously whacked tribal reunion of nearly every lefty folksinger you ever admired but feared was dead. You see, the good don't always die young. Pete Seeger, age 93, came out of retirement to sing "Turn Turn Turn," having rediscovered and dusted off some five verses written by his wife in 1954 and, apparently, never performed in public. Each one was wittier than the last, usually a clear-eyed assessment about the ups and downs of parenthood.
The evening's honoree for Clearwater's Power of Song Award was David Amram, the classical/jazz/composer/French hornist who crossed more musical borders than anybody knew existed when he first started in the 1950s, from the atonal harpsichord score he wrote for the creepiest moments of The Manchurian Candidate (the 1959 original) to his  2009 Piano Concerto that lyrically distills everything he's ever been (which is a lot).
What was I doing there? Getting lost on the way to Elliott Carter's funeral? In fact, the Lawrence Kraman film, David Amram: The First 80 Years, claimed the first part of the evening, and as the film's script writer, I wanted to be there for the New York premiere at Symphony Space, where many of the film's musical segments were originally shot.
What I didn't expect was a return to my counterculture-steeped teenage years, when I was repeated tear gassed by police at protest rallies,  made spending money by playing protest songs (pretentiously mixed in with Jacques Brel) in coffee houses, visited my first lock-down psyche ward when a singing buddy of mine took far too much LSD, hitchhiked from Illinois to the last anti-Vietnam War moratorium in Washington, D.C. (dismissing it as empty. or, in 1960s-speak, "plastic") and ended up sleeping at the foot of the Washington Monument, only to wake up at 4 a.m. to the sounds of an amateur folk singer too stoned to sing the song she had written in honor of Angela Davis. So my hippie credentials are secure – if deeply buried.  But I can't imagine that I fathomed the issues at hand. Soon after, I somehow realized that my service to humanity was the life of a classical music journalist. Beethoven, Brahms and Elliott Carter will set you free. And then….
There they were, the oracles from that time: Yarrow, 74, John Sebastian, 68, and Tom Paxton, 75. Oh yes, the bent-over guy with a cane was the still-great jazz pianist George Wein, 87. Often, I knew every single lyric that was being sung, like "Goodnight Irene" and "Where Have All the Flowers Gone". That last song was sung by Yarrow with a kind of deliberation that made you rediscover the lyrics (which have been unfairly dismissed as facile idealism) in ways that sounded like a prayer, long forgotten, echoing back from my youth and brimming with truth that I had completely missed first time around.
Much happened that night. Time seems not to have touched the amiably poetic Paxton. Sebastian now plays harmonica with great specificity of expression and range of sound. He would have to have an orchestral imagination. Yarrow and especially Seeger need not summon much energy to command the full house at Symphony Space.
Most musical roads wound back to Amram, who is as fascinating as a talker as he is a musician. Having worked with him on the film, it's impossible for me to discuss him with much objectivity. Let's just say that one of the many talents he exercised that night is improvising fully-fledged songs on the spot. Kraman's  film, by the way, ends with an Amram club date with he and jazz singer Kurt Elling making up a song titled "Bourbon is Vegetarian." After all, Amram has jammed with the best – Dizzy Gillespie and that grandad of poetry slams, Jack Kerouac.
Many of those onstage on Friday don't have cushy retirements. Though they're as potent as ever, their audience has died off and they have yet to acquire a new-found cool that has been conferred upon Leonard Cohen. But these are all people whose lives have been a law unto themselves – perhaps the prerequisite to not accepting the status quo and changing it. Amram's approach is positive reinforcement: You'll never see him behind bars for civil disobedience because he's of no use to anybody there. And for all the fine music that he has made and continues to make pretty much every day, his most valuable asset is his life, without which his art would be empty.
During the concert, Amram related walking alongside Pete Seeger in some march-a-thon, and, under the heading of no good deed is too small, saw him picking up discarded scraps of paper on the street. Following his lead, Amram picked up a used Popsicle stick. With characteristic formality, Seeger quietly told him "You are welcome to place your Popsicle stick in my bag." Which says everything and nothing. A koan for the day?
You maybe had to be there to feel the value of life well lived. And maybe you will be able to access that reality sometime soon.
The entire evening was caught on camera.