Nobody should be surprised that Hans Werner Henze had a world premiere in Berlin  – Ouverture zu einem Theater – only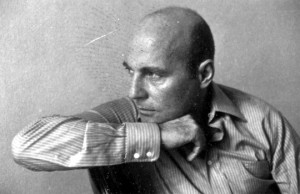 days before he died on Oct. 27 in Dresden. He was unstoppable: Illness nearly killed him when he was between acts in the composition of his 2007 opera Phaedra – an experience that changed the flavor of the piece but certainly didn't curtail it.
Though other composers in his lifetime have been as industrious as Henze – Benjamin Britten, Elliott Carter – none of them logged so much musical mileage over such diverse terrains (not to mention nine symphonies). He began as a serialist (though one of his first breakthroughs was the lavish, post-Straussian opera Die Bassariden, my favorite among his dozen or so stage works). Later, the intensely political composer – whose Communist sympathies led him to live in Cuba for a year under the Castro regime – also wrote any number of more spare works using classical guitar.
Nonetheless, Henze seemed to have no problem reconnecting with a work he'd written more than a half century before: the 1961 opera Elegy for Young Lovers, a work that's challenging on all levels, and one he referred to, affectionately, as "my odd old Elegy." Though frequently heard in Europe, Elegy for Young Lovers had a rare US outing in March of 2012 in an artistically successful co-production by Opera Company of Philadelphia and the Curtis Institute of Music – suggesting an escalation of interest in his operas, given that Phaedra had been produced there a year before.
Prior to Elegy's Philadelphia opening, I requested an interview with the Italy-based Henze, who I'm told was in the middle of writing a new piece and had grown rather infirm in recent years. Yet in early March, a reply came: He declined to speak with me directly but would field questions via email and reply through his assistant, Michael Kerstan. That's tough: The best answers often come from spontaneous follow-up questions. However, with someone of Henze's stature, one is happy for most anything. Also, I did receive some followup answers in a second email that didn't arrive in time for my Philadelphia Inquirer deadline, and they are published here for the first time. So here is Henze in only slightly edited form.
Q: Whenever I tell people the plot of Elegy for Young Lovers, their jaws drop. They can't believe an opera has such a fearlessly outrageous story – a ruthless, egomaniacal poet named Mittenhofer who steals his best lines from a raving madwoman and is happy to destroy the lives of those around him for the sake of his art. Did you have any hesitation in taking on a story so complicated and packed with many possible meanings?
A: When I asked Messrs. [W.H.] Auden and [Chester] Kallman to make a new libretto for me … and discussed the character of the piece that I wanted, we came to the conclusion that we should invent one in which more or less all the characters were larger than life in their thinking and in their doings. Thus came about a fabulous subject for what opera mostly needs – in accordance with the unwritten rules of music-theatre.
Q: Was there any apprehension in taking on a libretto whose main character is so unsympathetic?
A: Unsympathetic characters make good opera principals and give the composer the necessary material and make the presence of very sympathetic counter-roles an aesthetic necessity.
Q: How did Dietrich Fischer-Dieskau feel about portraying such a monster?
A: He loved it!
Q: Much of Elegy is, to me, is darkly humorous – sort of like psychological Grand Guignol, partly because the cruelty is so complete and extreme. To what extent did you mean the opera to be funny?
A: This opera is, as such, constructed as a morality play, and the funny scenes in it have the function to enlighten and to delight the audiences. Apart from this, there are scenes of tragic errors, and others of sincere and innocent love (hence comes the title of the opera).
Q: Many of your operas have a strictly circumscribed musical language. With Elegy, you seemed to be using most every different kind of music that you knew. What is it about the story asked for so many different kinds of music?
A: In Elegy I even use every kind of music that I did not know (yet). As in all my stage works, here, too, I have been trying to employ music to help me depicting the characters.
Q: Music that you didn't know (yet)? Such as?
A: Anton Bruckner.
Q: What kind of challenges did the music pose to the musicians involved in the first few productions? Do musicians still find the piece to be challenging?
A: In Elegy, I have never noticed any musician to have technical problems with their parts. This may have to do with the fact that in Elegy each character has one or two obbligato instruments to help him to underline and clarify the sense of his behaviour on stage.
Q: The poet Mittenhofer, who is said to be somewhat based on W.B. Yeats, is vampiric in the way that causes horrible things to happen as fodder for his art. To what extent have you ever seen those qualities in artists around you? And possibly yourself?
A: A good deal of artists are perhaps a bit strange, but nice people … W.H. Auden was a great artist. He [also] loved people, helped people, encouraged people, all of that with a deeply Christian thinking in the background. His generosity and his belief in a future without murders, without war, and a general trend to enlarge benevolence, were the major subject matters in his life and in his work.
Mittenhofer, a kind of Wagnerian person, is working on a poem. All the people around him are almost fearfully sympathetic to this event. They move around him to give him sufficient material. The arrival of his godson, the outbreak of love between the godson and Elisabeth (the Master's mistress) provide more material for his poem for which he has now found a title: Elegy. From now on the growing of the poem happens in accordance to reality: the development of a love affair to its mortal ending.
Q: Is there any justification for Mittenhofer?
A: There is none.
Q: Is any art so great that it's worth sacrificing lives?
A: No.
Q: In the years following Elegy, your work became much more political. To what extent was this a reaction to the kind of social conditions dramatized in Elegy?
A: In the libretto of Elegy (and in the music) there is nothing political to be seen or to be heard. The social conditions dramatized have been the rather interesting plot with its beginning and its end. I hope that it influenced my artistic awareness, which, even before Elegy, has always had political implications.
Q: What are some of your favorite Elegy productions, and what appealed to you about them?
A: The production I liked most happened two years ago in London, in the Young Vic, done by Fiona Shaw. The attention Mrs. Shaw had given to each of the characters – there was also much development of detail work in set, costumes and musical placement.
Q: In Philadelphia, Elegy is being done in a small, 650-seat hall. How do you feel about that – in comparison to a grand opera house?
A: Elegy was designed for chamber theatres, places like the Schwetzingen Schlosstheater and the Munich Cuvilliés-Theater, the small hall of the Munich State Opera [sic], so the new Philadelphia Perelman Theater seems to have the perfect size. Later on, it was also done on large operatic stages in Berlin, Munich, Santa Fé, and Tokyo.
Q: Elegy has had some American productions, but not nearly as many as an opera of its stature deserves. To what extent does this concern you? Do you have any theories why?
A: One is pleased to hear of new or old productions of my odd old Elegy. Most recently, it has been performed in Ancona, Naples, Essen, and London. In the States, I think, the operatic repertory range is much smaller than in Europe because of its mostly private funding. But all the same, I'm happy and grateful to those people who put on Elegy in the U.S.
Q: Were you composing Elegy today, how might it be different?
A: I don't know.
Q: I understand that you're finishing a new piece. What can you tell me about it?
A: It is a kind of cantata about the mystery of Pentecost, to be premiered on May 26 [2012] in the church of St. Thomas in Leipzig by the wonderful boys' choir there which celebrates its 800th anniversary. The title: An den Wind. Musikstueck zu Pfingsten.
Q: With so many Henze operas being done here, might you visit at some point? Have you been here before?
A: I am old now. Travelling has become difficult, yet I would like to see Philadelphia one day. For the time being, I'm asking you to communicate to my friends and colleagues in the Opera Company of Philadelphia my very best thanks and good wishes.