La Poeme Harmonique, a France-based early-music group that I would get on an airplane to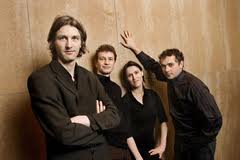 hear, has become an annual visitor to Columbia University's Miller Theater, and this year, achieved a visibility milestone: Two full-house performances of its program Venezia.
No doubt La Poeme Harmonique will soon take its place in New York alongside Les Arts Florissants as one of the brand names in early music, and in a market that lags considerably behind Europe, where some of the most interesting music making is happening among groups that find increasingly personal expression in music of the distant past. Visits to early-music meccas such as Antwerp and Utrecht reveal one charismatic specialist after another, often with composers that were hardly mentioned in textbooks only a few years ago.
But even some of the most sophisticated mainstream classical musicians haven't heard of La Poeme Harmonique. In the afternoon prior to the Friday Miller Theater performance, I was interviewing various musicians in the forthcoming Opera Company of Philadelphia cast of La Boheme, many of them Europe based, and not one had even heard of La Poeme Harmonique.
Formed in 1998 by lutenist/historian/conductor Vincent Dumestre to specialize in 17th and 18th-century vocal and instrumental repertoire, La Poeme Harmonique has built its following slowly on its distinguished series of recordings for the Alpha label.  The vocal blends achieved with low-vibrato voices and air-tight tunings  are consistently mesmerizing.
This loosely populated collective of musicians is now in particularly attractive period, having gained enough traction to tour with programs such as this, but seems not to have established any comfort zone. Too often when early music groups achieve mainstream recognition, their performance manner becomes codified. I still enjoy Les Arts Florissants, but the technical authority that was such a breakthrough after those haphazard French baroque recordings led by Jean-Claude Malgoire now, too often, turns to gloss. Imagine Charles Dutoit conducting Rameau and you get the idea. Same thing with the Tallis Scholars and its one-size-fits-all mellifluousness.
If there was anything typical in La Poeme Harmonique's Venezia program, it was the way the group seized upon a central idea, adapted its performing forces to whatever was used in eras when such things were anything but standardized, and takes it into seldom-charted waters with repertoire that echoes the big-name composers of the period, but with lesser-known composers that may well have been their equal.
This program included the music of Benedetto Ferrari (1603-1681), who is thought to have written the final love duet in Monteverdi's The Coronation of Poppea, and a number of contributions from Francessco Manelli (1594-1658) plus much more raucous music, some of it anonymous, suggesting that what we think of as refined genres never strayed all that far from the street. Some of the less-posh Venetian opera houses probably had more in common with downtown off-Broadway theaters – anything but grand in the size of cast and seating capacity, but with a directness and intensity that makes the music's essence inescapable.
The vocal blends never feel drilled or achieved at the expense of individuality. The individual singers project their own distinctive personalities, underscored by the physical freedom that came with a semi-staged production by Benjamin Lazar, the current expert on historically authentic gestures. In this period of the early-Italian baroque, the singers all but literally scooped the audience in their arms.
You caught moments of iconic poses that are more dominant in French baroque stagings – such as Lazar's more formal staging for Lully's lyric tragedy Cadmus & Hermione, now available on DVD from Alpha – but were seen mostly passing in what was a constant physical fluidity, especially among the trio of men, who crouched, leapt and, less fortunately, used outstretched fingers in ways that resembled modern "jazz hands" (and made you wonder if Manelli was an ancestor of Liza).
Just as the stage had a constant sense of motion with the gestures, the stage similarly pulsated with candlelight, the primary source of illumination, that also kept the theater so dark that one couldn't refer to the program. With the absence of surtitles in this text-based music, there was no running this music past your left brain. It was right brain only – and the music's visceral charge warranted such unfiltered attention.
In Stefano Landi's Il Sant Alessio seen a few seasons back at Lincoln Center, Lazar's authentic staging made a sometimes-thin, sometimes-uneven score seem considerably more viable. No such bolstering was necessary in the Venezia program. The program also had a strong Latin undercurrent in some of the lighter selections, performed gamely by the aforementioned extroverted male trio, tenors Jan Van Elsacker and Serge Goubioud and bass Geoffroy Buffiere and with instruments in the six-person ensemble that resembled gambas but played horizontally in the manner of a guitar.
The heart of the program, for me, was the great monologue-like performances of soprano Claire Lefilliatre, whose dusky voice recalls Montserrat Figueras in all of the best ways, even having the shamanistic depth the late Figueras brought to everything she sang. Walking out, I heard some grousing about the violinist having a bad night. But we still didn't have to fly to Utrecht.