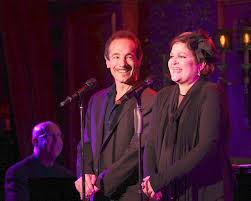 Not all Broadway babies of a certain age look or sound like Patti LuPone and Mandy Patinkin. Many should be so lucky. But an alternative pairing is holding forth at the near-Times Square cabaret 54 Below this week through Aug. 25: Faith Prince and Jason Graae in a joint concert titled The Prince and the Show Boy.  It reminds you how durable these two "certain age" talents are. If born in a previous era, they'd be in Broadway shows as constantly as Barbara Cook once was. And for years, Prince, in particular, was regularly on that landscape. Both have been based on the West Coast of late. I'm told they're doing just fine.
Accompanied by pianist Alex Rybeck, they hit many of the usual show-biz tropes, with the two of them being playfully competitive, talking about who got the better fees at any given time and how they met at the Cincinnati Conservatory. Songs included a Jerry Herman tribute as well as that great Chicago show-closer "Nowadays" and, as an encore, "Some Other Time" from On the Town. The special material used to support the title, The Prince and the Show Boy, strained a bit. And the title itself sells both of them short. "Prince" has so many male associations. Anyone who knows her thinks of her as "Faith" partly because, no matter how funny she gets, she invariably projects an inner goodness. Having first seen Graae at Minneapolis's Guthrie Theater in the title role of Leonard Bernsteinss Candide, I can't think of him as a mere "showboy."
Having been trained for Broadway, they're entertainers first and foremost, but both are sterling examples of how people from this world are also artists, and ones who are every bit as cultivated and substantial as their operatic counterparts and can do eight shows a week. One tends to think of Broadway people blasting away with Ethel Merman vibratos. Not Prince and Graae. Every phrase is thoughtfully shaped while words are deftly colored and highlighted, all in the service of telling a story in music. Once I sat next to opera singer Lucy Shelton during the Michael John LaChiusa musical Marie Christine while she flipped through her program looking for a printed plot synopsis. When I told her there wasn't one, she replied incredulously, "Do you mean to say we're going to understand every word?" Well, yes.
Opera types think more in musical terms. During a recent visit to the Central City Opera in Colorado, I heard an informal evening of apprentice singers performing lots of Broadway, things like the "Agony" duet from Into the Woods and that durable Carousel chestnut "If I Loved You." The difference? Opera people sing the vocal line for all its worth. But Broadway people don't need to have heard or talked to John Raitt (the original Billy Bigelow) to know that the most important word in "If I Loved You" is "if" since the entire song is about deep feelings behind a mask of shy ambivalence. Broadway people – the good ones – figure this out as a matter of course. For artists such Prince and Graae, such insights would be first nature.
The beauty of hearing them in cabaret is that there was no hobbled libretto to salvage or dopey lyrics to sell (as they no doubt have done in any number of Broadway shows). Prince gave the most comprehensive account of "The Ladies Who Lunch" that I've ever heard. It had everything. The actual music, from the individual notes to the overall structure, were well in hand. Every phrase had a clear dramatic inference. Lots of singers hide behind the song's booziness; for Prince (who can do boozy when she has to), it was only the starting point. The clarity of her beautifully observed performance could only come from a basic place of compassion, of one who knows light as well as shade, and as one who has fallen from the former to the latter. Prince can clown with the best, but she has also evolved into an emotional authenticity that gives her a three-dimensional authority that turns any given song into a world unto itself.
Graae may well have the most precise singing voice in the business. Whatever he wants to do, he can do with great clarity, which is how he so skillfully he revealed both inner and outer worlds of a Norman Bates-ish stalker in "To Excess,"  in which ever more egregious acts are excused by a homespun admission of good old-fashion' luv.
More interestingly, he broke the fourth wall – actually, he smashed it – when presenting "I Am Who I Am," the admission of gay identity from La Cage aux Folles. This was prefaced by Graae telling his own coming-out story: how his mom was initially warm and accepting, and then, one martini later, lamented, "All my kids are fucked up." His subsequent rendition of the song had a degree of anger and defiance that I'd never heard from Graae and never expected from his good-guy persona. But boy was it right. As much as gay rights have progressed in recent years, there's always a push-back effect that one feels on a person-to-person basis. Any number of out-and-about gays I've talked to say they've never  been treated more like second-class citizen than over the past year. The song remains relevant; Graae's intensity was even more so.