Opera-goers are losing their theatrical innocence, at least in conservative Metropolitan Opera circles, as opera starts looking like something that actually belongs in the 21st century.
Considering how innocence is a distant memory among the world's Joan Sutherland widows, you'd think they would welcome virginity in any form – even as they're losing it. If nothing else, there's novelty value when much of what you think you know about an opera is up-ended, not by another crazy instance of German directors' opera, but by something more thoughtful, perhaps not crazy at all – and too convincing for comfort.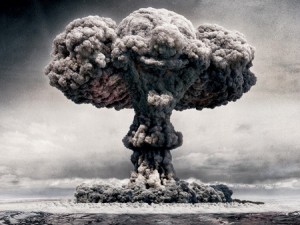 In Robert Carsen's recent Don Giovanni at La Scala, the moralizing characters  in the epilogue suddenly go to hell while Don Giovanni casually re-appears behind them in a smoking jacket – reminding you that that nothing eradicates or even contains the Dionysian force in all of us. Suddenly, the opera's meaning burgeons – like a mushroom cloud.
Much more controversial is the atomic blast that's greeting those who think they're getting Charles Gounod's smoothed down, gently melodic, scrupulously middle-class version of Faust at the Metropolitan Opera – in a new production by Broadway veteran Des McAnuff. The idea that Faust's deal with the devil yields weapons of mass destruction isn't nearly as outlandish and unsavory than, say, the group latrine in the Met's Lady Macbeth of Mtsensk. The Faust production is certainly more picturesque than the Met's seemingly half-finished Tosca. Yet the mushroom cloud controversy has had a longer-than-usual half-life, not just because it was simulcast around the world: The production could easily make people feel a little foolish for ever loving this particular Faust to begin with.
The production outclassed the opera. And that's happening more often these days – and in numerous ways. Less provocatively, director Deborah Warner took on Tchaikovsky's Eugene Onegin at the English National Opera earlier this year in a production that was a definite hit, even though the opera's dramaturgical holes were more revealed than disguised. I loved everything Warner did but found that her directorial clarity showed what the Tchaikovsky opera missed in its adaptation from Pushkin. The main characters turned out to be, and perhaps always were, too small and uninteresting for opera, but ride on the coattails of Tchaikovsky's great music. But these operatic pygmies have plenty of company.
Not just anybody belongs on the operatic stage. Music adds an open-ended poetic element that can lift operas into a more universal realm, allowing audiences to have some sort of mind-meld with the characters – assuming that kind of potential is there. Don Giovanni is one. Carmen is another.  But perhaps not the psychic medium-turned-murderess in Stephen Schwartz' adaptation of Seance on a Wet Afternoon, premiered earlier this year (and had far more going for it than some reviews would lead you to believe). Less operatic are the passive wives in Nico Muhly's Dark Sisters, also recently unveiled in New York, about a radical Church of Latter Day Saints compound in which men use multiple wives as mere baby-making machines (which had less going for it than some reviews would have us believe). I felt the pain of Muhly's sisters and followed the twisted logic of Schwartz' psychic. But in the end, they were just great stories without a quality that Arthur Miller called "mythos" that allows Don Giovanni to take on a timeless universality. Or for Strauss' Elektra to tap into the revenge fantasies that also draw us into The Girl with the Dragon Tattoo.
I'll get back to Faust in a minute. But first, one must consider why Muhly's and Schwartz' characters might work fine for the non-musical stage but not opera. In spoken theater, writing is only about half of the theatrical totality, the rest being up to the director, designer and, more than anything, the actors to create a firm bridge between the characters sketched in the script and the hearts of the paying audience. In musicals, script and score perhaps account for 60 percent of the totality. In opera, music and libretto occupy 80 percent, at least in precisely written works such as Puccini's La Boheme, Strauss' Der Rosenkavalier and Britten's Peter Grimes: Orchestrations have their own scenic design and the characterizations are welded into highly detailed vocal lines. That's not to degrade the role of singers: How they work within that 80 percent is a matter of very high art.
Singers aside, the rest of that 20 percent was often perfunctory in generations past, sometimes succeeding through the power of suggestion rather than graphic representation – and with few complaints from audiences. But in this graphic age, that 20 percent is getting hotter – more representational than suggestive – and opera traditionalists are getting upset, even more so in bel canto star vehicles in which the score is perhaps 70 percent of the totality. Interventionist directors such as Mary Zimmerman are all but burned at the stake. But when the staging is innocuous and fails to tap into any mythos – as in this seasons Anna Bolena at the Met – traditionalists feel shortchanged even when the singing is excellent.
Gounod's Faust would seem to have mythos in spades, except that in our post-modern operatic age, the same story has been told with far more wit in the Chester Kallman/W.H.Auden libretto to The Rake's Progress. Though Gounod's score benefits greatly from the sound strategy of Yannick Nezet-Seguin's conducting, the score may never account for more than 65 percent of the totality (a notch above Broadway) especially compared to the greater music of Berlioz' The Damnation of Faust.
In short, Gounod's version feels like Faust 101. Treat it literally, and the production mires the singers in cliched antiquity. Then it becomes Faust for Dummies. That's why the opera keeps veering toward the edges of the standard repertoire, only to be called back into the fold by the current predominance of medium-weight singers such as tenor Roberto Alagna and soprano Angela Gheorghiu. Renee Fleming, a singer with larger repertoire options, left behind Faust in the mid-1990s even though she sang it better than anybody. Gounod's Marguerite isn't very consequential. "She meets Faust, she finds jewels, who cares?" she once told me.
Similar feelings no doubt drove director Des McAnuff to update the opera to Los Alamos where the first atomic bomb was developed – suggesting what history-changing calamities can come out of deals with the devil. This atomic Faust feels particularly appropriate to these times of chronic war. But as many critics have rightly said, the opera is really about so much less.  Maybe Faust just wanted to get laid. So should operagoers settle for the "less"? I'd rather give the opera a pass than do so.
Deborah Warner's dilemma in Onegin was more complicated: Everything about the production faithfully represented the opera's period – provincial pre-revolution Russia in the first two acts, and the urban upper classes  thereafter. Her direction built the scenes beautifully. In the great "Letter Scene" when Tatyana writes her mash note to the title character, the actual writing doesn't happen until something close to the scene's end, visually illustrating what inner barriers she must break through before she can actually put pen to paper.
Warner's laudably honest reading of the title character, who rejects Tatyana, doesn't give you an Onegin you can hate. He just seems a bit socially retarded and understandably taken aback in face of such female forwardness in a milieu where such things weren't done. Thus, the opera is carried by Lensky, everybody's buddy until he goes into a fit of jealous rage at a party and challenges Onegin to a duel. The excellent Toby Spence found a fascinating dichotomy in Lensky: He's driven by an insane jealousy that he knows is ruining his life as it's actually happening. Even in his great soliloqu
y – sung in an icy lake at dawn (see image at left) – reveals his keen awareness of what may be in store but is powerless over his need to pursue his own destruction.
No wonder all the other characters pale in comparison. What's worse, when the opera abandons its proto-Chekhovian manner – most scenes end quietly and have less dramatic action in Tchaikovsky's better operas – it lapses into cheap melodrama that you might not even notice in a less-exalted production. When an opera's higher self emerges so clearly, so does it's lower self.
I suppose one conclusion to draw from all of this is that the great directors of the theater might well destroy much the opera repertoire. I think Onegin is safe if only because audiences will always want to hear its great music. But if operas like Gounod's Faust begin to fade from the scene, might this create a greater imperative for the Schwartz' and Muhlys of the world to stop noodling around with their psychics and polygamists and write a 21st century Faust that make us want to lose our theatrical innocence all over again?