Legend has it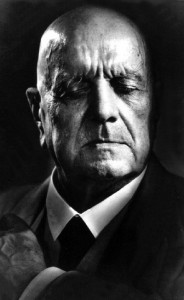 that one of Jean Sibelius' favorite drinking games in his later years was to spend the evening with his buddies, prodigiously imbibing as only the Finns can, though ending the evening with one of them abruptly shut into a closet for 15 minutes or so. And then, from the other side of the door, the closeted partier was ordered to give the full names of the people with whom he had spent the evening. Just to see if he was too hammered to do so. Or had passed out.
No wonder Sibelius never finished his Symphony No. 8. But now, perhaps, others can.
Few composers had such a long compositional silence. After writing two of his greatest orchestral works – the amazingly compact Symphony No. 7 (finished in 1924) and the tone poem Tapiola (1926) – he composed things here and there, music for a friend's funeral, and then, for more than 25 years prior to his 1957 death there was nothing.
Aaron Copland had a similar silence near the end of his life, but was still out there conducting his works and promoting the cause of American music. Then came a long decline from dementia – the seeds of which may have been the reason he was unable to compose. George Crumb had a long silence – supposedly after he quit smoking – and talked about having given up composition completely until his sudden outpouring of song cycles based on American folk songs and hymns.
 
Though Sibelius is said to have burned the 8th, having failed to finish it, recent news from Finland's Helsingin Sanomat (and its savvy music journalist Vesa Siren) tells of extensive sketches being discovered, and the distinct possibility that the symphony may be finish-able. At first, I was skeptical. Then I was obsessed with the thought that there might be another major work from a composer whose profile has risen enormously in the past 30 years, thanks to so many fine Finnish conductors (Esa-Pekka Salonen, Osmo Vanska and Sakari Oramo) who not only perform the symphonies often but probe ever more deeply into their bleak poetry.
In addition, the Bis label has recorded earlier versions of major works – versions that the composer quickly withdrew – including the Violin Concerto and Symphony No. 5 – allowing listeners to glimpse how works evolved in Sibelius' mind. Those earlier versions really did need to close for repairs, but left me all the more appreciative of the leap he made the final version. The more mature Sibelius was a composer of astounding economy, with pieces that had a sense of granite-chiseled inevitability. Given his pattern of radical revisions – along with Sibelius' letters and diaries quoted in the Helsingin Sanomat – it's clear there wasn't just one 8th symphony. In June of 1932, Sibelius scheduled the premiere with the Boston Symphony's Serge Koussevitzky: "It would be good if you could perform my symphony at the end of October. This would then be the world première. I will probably send you a handwritten score because – as you say – publishers respect nothing."
If only.
In the years following, Sibelius related his struggles to complete the piece. In the 1940s, the composer is said to have burned a manuscript. Also during that time, Sibelius was quoted as saying that he'd finished the 8th several times, but had burned just one version, perhaps to clear his mind and start anew. In the mid-1950s, a few years prior to his death, he said that the symphony was in sketches that he hadn't been able to pull together. Earlier versions of the 8th had been farmed out to the composer's copyist – a fact that raises hopes that something more substantial survived. Journalist Siren also reports that there are hundreds of pages of sketches that are yet to be identified. Maybe, just maybe?
Passages that are identified as the 8th symphony were reviewed by Oramo, who is quoted by Siren as saying, "There is a sense of searching and exhaustion in here. The material has an archaic dissonance to it." John Storgards conducted a brief reading with the Helsinki Philharmonic, captured on video and carried on the Helsingin Sanomat website – excerpts that are frustratingly brief, some less than a minute – but still give glimpses of what the 8th was (or, perhaps, is) like.
The first excerpt is classic Sibelian announcement of a first movement. There's a genteel orchestral thunderclap that throws open the door to a harmonic world that is Sibelius' alone, but has strange dissonances unlike any other work. Another glimpse sounds like the beginning of a scherzo, surprisingly spring-like with a buoyant flute solo. Another snippet has a classic Sibelian bassoon solo, the sort that speaks of primal things and goes to a dark, wintry underworld. [The link is as follows, but be sure to scroll to the bottom of the page for the video: http://tinyurl.com/cx383dp]
Finishing incomplete swan songs is never fully satisfactory. The musicology world has feverishly tried to edit a better version of the Mozart Requiem for decades, only to return to the often-clunky original by Mozart's student Franz Xaver Sussmayr. Still, where would we be without the Requiem, which shows the composer leaping forward into what might've been a darker maturity?
 Though Elgar's Symphony No. 3 was said to be completely finished in the composer's head – he played through it on piano for friends – so little of it was written down that Anthony Payne must've been channeling Elgar in his mostly-convincing completion. I wouldn't be without it. Ditto for Mahler's Symphony No. 10.
I draw the line, though, at concoctions that periodically surface claiming to be Beethoven's Symphony No. 10;  they sound like Beethoven's outtakes, and probably is. Same story with the Tchaikovsky Symphony No. 7 – which isn't technically a swan song but in any event was recorded by the Philadelphia Orchestra under Eugene Ormandy.
In the case of the Sibelius 8th, there's absolutely no reason not to attempt a completion. When a composer's output is a closed book, a coda such as the 8th symphony can only add to one's sympathy and understanding of the established works. There's nothing to lose but time – and musicologists tend to have a lot of that.