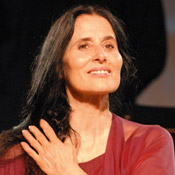 To see Montserrat Figueras and Jordi Savall at the San Francisco airport – as I once did after they appeared at the Berkeley Early Music Festival – was to mistake them for a typical middle-aged hippie couple. Their hair was long and dark, clothes were casual and baggage was guitar cases.
Typical, they were not.
Together, they gave voice to distant centuries of music, from as far back as recorded Western music history can go through the 17th century and, occasionally, beyond. Yet the literal voice of their ensemble, Hespèrion XX, belonged to Figueras, a Catalan soprano whose sound couldn't be mistaken for any other in the classical music world. Prior to her death on Wednesday at age 69, she used that voice – extensively, judiciously and with infinite resources – to give a soul to music that an unsuspecting world didn't know that it would love. She created a repertoire, but not for the sake of her own enshrinement. Her voice was never more than an essential object on a larger historical landscape that she, Savall and other key musicians created.
She talked about how she imported music from the past to reveal the present, though never did she think of what she sang as a mere artifact to be perceived through the usual means of information intake. "It's not enough to listen to it with your ears," she once said. "You must listen to it with your soul, your spirit. You listen to it in a different way." Not that listeners had to be told. Montserrat Figueras couldn't be heard in any conventional way.
Though the actual music was often no more complicated than chant or folk song, she infallably located its specific aura – not simply what the notes were but what the atmosphere they could radiate. Her singing also seemed rooted in a deeply internalized sense of time and place. All good singing has a sense of its own purpose. Hers had more.
The spring-water-fresh soprano of Figueras's early-music contemporary Emma Kirkby conveyed an ideal world of light and sky – music that was meant to give the earthly masses a glimpse of heaven. Figueras gave voice to where humanity was coming from, a semi-enlightened darkness from which the need for spiritual relief arose. Her sound was earthier. And in circumventing the modern operatic vibrato, her voice didn't become white, as is the case with so many sopranos. It became something distinctively otherworldly, arising from the depths of the earth. Often, she seemed like an Iberian Erda.
She and Savall met not in their native Spain but as students in Switzerland at the Schola Cantorum in Basel, where he was a lecturer and a noted viol da gamba player. Together, they founded Hespèrion XX (later XXI) in 1974, and after moving home to Catalonia, they created a larger musical network, beginning in the 1980s, through the formation of a vocal ensemble, La Capella Reial de Catalunya; a Baroque orchestra, Le Concert des Nations; and, eventually, their own record label, Alia Vox. Most notable were a series of increasingly high-concept albums, many with thick, hardcover booklets and lavish illustrations.
Increasingly, these projects reflected a certain amount of social commentary, in particular against violence and war done in the name of religion, as well as a cross-cultural fertilization not unlike Yo-Yo Ma's Silk Road Project – attempting, often successful, to trace dissimilar musics to a common source. The latest such disc, released this month, is Hispania & Japan: Dialogues.
"We're lucky that Spain is a melting pot of different cultures … like flamenco," she once said. "You feel the influence of the east, India, Islam. It also exists in our culture … we always express it in our own way … having in mind that it is in our veins."
This year, they received their greatest awards, including the Cross of Saint George, Catalonia's highest distinction for a civilian. The 2011 Grammy Award for their book/CD package, The Borgia Dynasty, was perhaps a bit less prestigious, but it was a sign of how far they had penetrated the musical mainstream in the hectic U.S. marketplace.
Similar to Kirkby, Figueras was able to throw off the kind of word coloring that became standard in 20th-century opera as a result of Wagner and Strauss. Before Monteverdi, music and words had a different, more generalized relationship with the vocal line – certainly inspiring and guiding the course of the piece, but acting more as a passenger than a driver. This was an important distinction in revealing the alternative aesthetic that was so important in pre-Baroque repertoire, while also yielding performances with the directness of folk music.
It's hard to separate Figueras's achievements from Savall's, so intertwined were their musical visions. It's fair to say, however, that without her, their music-making wouldn't have been nearly as appealing to a non-specialist audience. In early Hesperion recordings, she was indeed the main attraction. In more recent years, such as in the Grammy-winning Borgia Dynasty set, her voice was heard only when appropriate within the multi-century musical sweep of any given album. But she was the element in the overall package that brought you back to the music's alluring mystery.