Sometimes the g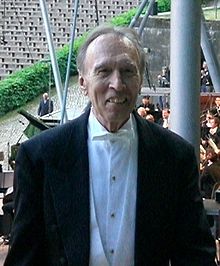 reat symphony orchestra conductors find their ultimate muse a notch or two below Parnassus. One is Daniel Barenboim: After uneven years with the august Chicago Symphony Orchestra, he is doing the best work of his life with the Berlin Staatskapelle, formerly cloistered in East Berlin, and making up in soul and tradition what it lacks in glamor. Even more so, Claudio Abbado's current work with the Lucerne Festival Orchestra has all the depth and distinction that was often lacking in his all-too-slick Berlin Philharmonic tenure.
This is old news to Lucerne regulars, who shower the maestro with flowers at the end of a performance – and not just a few pedals, but buckets. Okay, this could be the work of a few fanatical fans. Also, one isn't sure to believe stories of the frail, aging Abbado, cold sober at the end of a performance, but seeming to be utterly drunk on the music he just conducted. But the Bruckner Symphony No.5 performance on August 20 didn't lie. A good third of the audience was still applauding long after the orchestra left the stage – though not before musicians were seen hugging each other in mutual congratulations.
I wouldn't have believed such things had I not seen them myself. As with Barenboim's Berliners, there are moments that tell you that this Lucerne group is perhaps not a great orchestra but one that achieves greatness. One brass entrance after another was ragged. That simply doesn't happen with world-class orchestras, but many things happen that eluded Abbado when he was following in the footsteps of the late Herbert von Karajan. Perhaps this orchestra is reaching levels it has only glimpsed, as opposed to orchestras with greater reputations who have hit the heights before with other great conductors and have less a sense of discovery.
In some ways, there are two Abbados, pre-cancer and post cancer. When he came back from his illness, diagnosed in 2000, he was gaunt but different, less concerned with polished surface and able to reach the molten core of any given piece. You can't help worrying that each season will be his last, especially since pianist Yuja Wang, one of his favorite collaborators, mentioned that they're now recording live together, presumably because Abbado doesn't command the strength for retakes. Walking into the concert, I ask a Lucerne official, "How IS he?" (One need not be more specific.) The reply: "He's great. You will see."
There he was, tanned and animated, conducting without a score and standing throughout the Bruckner – though some senior conductors opt for sitting. The first half was Mozart concert arias with soprano Christine Schafer, all interesting pieces but lacking the kind of dramatic engagement when composer had when he was working with a plot of his own choosing. Schafer still has much to offer as an artist, but the once precise, crystalline voice is blunt, a little leather-y and a limited servant of her imagination.
With the arrival of the Bruckner symphony came recollections of Carlo Maria Giulini – another senior Italian conductor whose brand of profundity involved such slow tempos that one critic described his conducting of Verdi's last opera as "Parsifalstaff." That's not Abbado. He has maintained the middle-of-the-road tempo schemes of earlier years. The singing line of Verdi operas is not left behind. Expression can be weighty but still lithe. The musical modules of any Bruckner symphony, all distinctive in their color and motion but joined abruptly to one another, flowed together in ways that I've rarely heard. Even the finale was light on its feet. The repetitive sequences of any Bruckner symphony that no doubt inspired conductor Franz Welser-Most to pair Bruckner with John Adams this summer at the Lincoln Center Festival never felt like individual repetitions but all of a larger piece. The Lucerne orchestra's sound isn't exactly sensuous but feels like an imposing wall of music, not unlike the Berlin Philharmonic under Karajan, an ensemble trained to counteract the natural decay of sound, resulting in a solidity that elevates whatever music is being played at any tempo. The magic was mostly found in the specific phrase inflections. Short motifs that can easily pass as being mostly structural entities become infused with meaning (as opposed to laden with meaning). Abbado is a master of integration and shows that one element of the music need not be sacrificed at the emphasis of another. Long may he live.