A simple observation from the proceedings of the FIFA World Cup:  Upon entering the stadium, each team is accompanied by a phalanx of children – each holding hands with a player.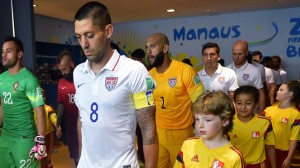 It's a beautiful ritual.
To the child, it's a beautiful opportunity to stand upon one of the greatest of world stages and feel the energy as some of the world's most elite athletes prepare to perform at the highest of levels.  I don't know how they're selected, or what they might have to accomplish – but the experience must surely leave a lasting impression.
To the athlete, it appears to be a "humanizing" ritual – a simple reminder that even a World Cup match is still just a game – and that before considerations of professional career, national pride or corporate sponsorship, that the game is still meant to elicit joy much in the way it did when the players were kids themselves.
And to the Spectator, it's a beautiful and timely reminder that even at the very height of our ambitions, we possess the opportunity AND RESPONSIBILITY to nurture future generations.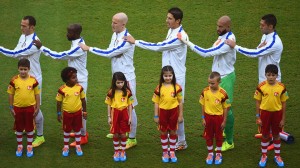 Surely, there exist countless instructional leagues, camps & clinics where soccer (football) professionals provide instruction – just as many arts & cultural organizations offer "education" and "outreach" programs designed to engage young audiences.
What I'm left wondering is whether any Symphony Orchestra, Ballet Company, Theatre Company, Art Museum or OTHER professional company has already – or could/would – conceive of a similarly beautiful ritual – to take place at the start of their performance, concert or exhibition – to similarly energize the future, connect with the joy of the present and impart added meaning to the audience.
Soccer (football) is called, "The Beautiful Game."
I applaud this beautiful ritual.
# # #