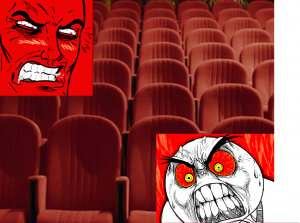 Do empty seats make you angry?
They should!  They should make you BOILING MAD.
Each empty seat represents a direct cost:
the wasted expenditure of advertising,
the loss of immediate cash flow,
pressure to increase ticket prices and/or spend even more on marketing,
a diminished pool of future donors.
Each empty seat also carries the indirect cost of the APPEARANCE OF FAILURE to artists, audiences, members & donors, visitors, sponsors and stakeholders.
Make no mistake, each empty seat drains the precious energy, momentum and goodwill right out of your organization.
If you are not actively working up 'til the very last second to fill EACH & EVERY seat…
If you are still defending some model of doing business that supposes there is ANY virtue to having an empty seat…
If empty seats don't make you furious with rage…
Then your organization is absolutely failing to address its most profound challenges in audience building.
—–
For more on this topic, listen to this just-published PODCAST by theatre marketing consultant Clay Mabbitt, of Sold Out Run, who interviews me about this and other topics addressed in my Audiences Everywhere™ workshop.
Podcast link:  http://soldoutrun.com/episode006/
# # #