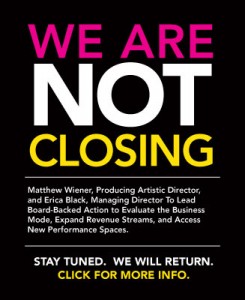 In the Greater Phoenix region, Actors Theatre isn't the oldest, largest or even most popular professional theatre company.
It's just the most important.
And this morning, Actors Theatre announced:   "…the Board of Directors and Management have decided to take a PAUSE to assess and redesign our business model and to consider all options to "take control of our future."… We are not closing. We are stepping back because we need to change the way we operate our business. Our goal is to continue producing the quality, thoughtful and entertaining theater we've become known for and to develop a more relevant connection to the community."  
Let me tell you a bit about Actors Theatre:
This is the Greater Phoenix region's premier company dedicated to producing contemporary professional theatre.
This is the company whose productions are most likely to rouse, challenge, provoke, stimulate, inflame, awaken, animate, spark, innervate, stir up, affect and simultaneously entertain its audiences.
This is the company whose productions live most vividly in my memory (and I suspect this is similarly true for their loyal audiences).  Actors Theatre is memorable for consistently providing the kind of singular, original and meaningful experiences that contemporary drama is supposed to deliver.
Even for the shows I didn't like (and of course, there are a few) – I still feel that I came away richer for the experience.
Actors Theatre is the is the most willing to put itself on the line to produce art that is impactful, impeccable and relevant.
But all of that is not what makes Actors Theatre the MOST IMPORTANT professional theater company.
Nope.  What makes Actors Theatre the MOST IMPORTANT is the bravery & positive outlook required of Board & Staff to recognize the critical challenges they are facing and their willingness to commit themselves to a wholesale reinvention of venue, business model and more.
Do you get it?  The folks at Actors Theatre have just volunteered themselves for duty at the front line in the battle that's critical not just all theatre companies – but all arts & cultural organizations.  Right here and right now, they are throwing down on this most profound question:  How shall we reclaim and/or reassert RELEVANCE with contemporary audiences.
Today, nobody has the answers to the questions they are asking.
But I applaud their spirit.  And I applaud their effort.
And I can't wait to see the answers they come up with.
Something important is happening here.
# # #