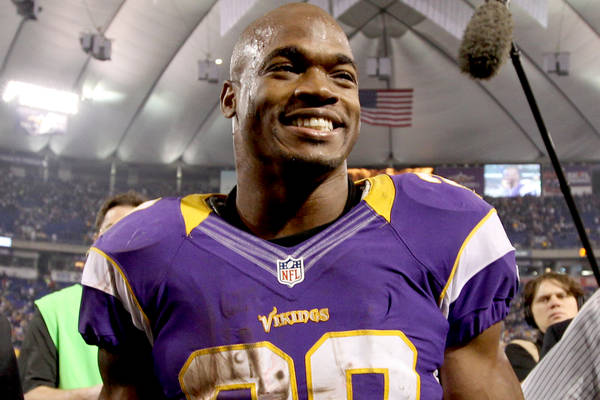 I have the greatest respect for Adrian Peterson, the Minnesota Viking's running back who improbably returned from major knee surgery to complete an incredible season in which he fell just 9 yards short of the all-time rushing record for an entire season.
Oh so close.
It made me recall my closest brush with marketing "perfection."
As the marketing director of the Scottsdale Center for the Performing Arts in the late 1990's, we had the privilege of presenting a single concert by the extraordinarily popular children's entertainer, Raffi.
It was a late-scheduled concert.  So it hadn't been in our season announcement.  It was announced just a few weeks before the performance date, as I recall.  (And, in case it wasn't obvious – in an era before websites, email, Facebook and Twitter.)
Our theater held 838-seats.  Today, on-line buying would have sold out the show in hours (or minutes).   But after mailing out a postcard announcement, we just waited for the phone calls to pour in.  And they did.  It didn't sell out in a single day – but from the moment the announcement hit, it was clear that this was going to be the fastest & strongest selling performance in our organization's history.
Exciting!
And I dared to dream that we might achieve a moment of perfection.  Imagine it:  an 838-seat sell-out with every seat representing a paid admission.
For a performing arts marketer, that's the equivalent of bowling a perfect 300, pitching a perfect game, or scoring a perfect 10 on the balance beam.  It's incredibly rare.  Precious.
Remarkable.
Anyway, to make a long story short.  We sold 836 tickets to his performance.  Too late, I discovered that our earnest PR manager (without consulting me) had scored points with a prominent (and very appreciative) local TV anchor by comping tickets for her and her young child.
In my nearly 9 years at that venue, I was directly responsible for the sale of hundreds of events; sold thousands of tickets and generated millions of revenue.  It was a job I loved and great and gratifying experiences in so many respects.
Still, I have to admit to a lingering "stinging sensation."
Whenever I see someone approach – but not reach – perfection, I'm reminded of the time when we achieved 99.76% paid capacity.
Oh so close.
# # #