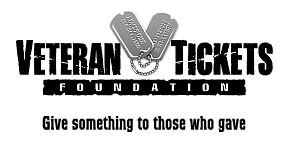 One of the great honors of running an organization dedicated to "audience development" has been the privilege to meet and work in partnership with the dedicated leaders of the Veteran Tickets Foundation – which is best known as VETTIX.org.
(And imagine my delight to discover that this national 501c3 non-profit organization is based here in my hometown of Phoenix – less than 3 miles from my office!)
Their mission:  "Give without prejudice … By supporting our Military, Veterans and their Families with entertainment, lasting memories and reintegration opportunities by providing free tickets to sporting events, concerts and family activities.
On the occasion of this Veterans Day, I wish to personally commend this organization to arts & cultural organizations nationally – and wholeheartedly encourage you to support this cause with a donation of tickets/admissions.
Every ticket – and every experience you share – offers a meaningful and durable  "THANK YOU FOR YOUR SERVICE" to the members of our armed forces, veterans and their families.  (And it advances your organization's audience development objectives, too!)
You'll find complete information about VETTIX here:  www.VETTIX.org.
# # #