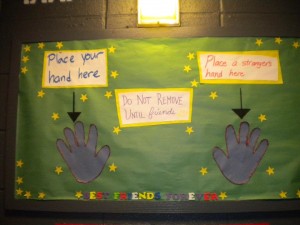 This week, our youngest attended Freshman orientation at the far-away university she'll be attending in the Fall.  So, perhaps that's what sparks this idea:
Have you noticed how so many people who work in the arts & cultural sector – and in marketing and audience-development capacities in particular – have never before worked in the sector.
No matter how qualified they are – no matter how much they have volunteered with a non-profit agency previously – no matter what small or large company or PR agency they worked for previously – no matter what strong connection they had from their work at a foundation, municipality or affiliated industry – no matter their art history major or MFA – no matter their own artistic or business accomplishments – there is going to be a substantial learning curve for someone coming into a marketing or audience development position in an arts or cultural organization.
Where is the arts & cultural marketing equivalent of Freshman Orientation?  Why don't we offer some assistance in getting up to speed?
Perhaps it's not a wildly fun 3-day trip offering a first-taste of dorm living and inter-personal bonding exercises.  (Or perhaps it is!  Let's make a note to explore that some other time.)
How about creating a series of on-line videos and a resource library designed to help a new arts & cultural marketeer get up to speed with their fast-changing profession.  (We are not talking about teaching them how to do the basics of their job – but we ARE talking about how to expedite their way to optimal performance.)
Imagine a 10-12 session on-line video program (each one, say 10-15 minutes) that offered a curriculum and resources that included:
Analytics – how to quickly & firmly grab hold of the revenue expectations upon you and the expense resources available to you.
Accepting Mission – what is an organization's "mission statement" and why is it so darned important.
Glossary of Terms – what are "paid capacity percent", "revenue splits," "adwords," "UBIT" and many other commonly used phrases & concepts.
Competition and Collaboration – how & when to engage with your region's arts & cultural colleagues.
The Crisis of Arts & Cultural Journalism – a primer on the changing nature of how newspapers and other media cover arts & culture.
Understanding the Role of your Board of Directors – practical lessons the purpose, function and interaction with non-profit Boards and their committees.
"Required" Reading – what are the books, articles, blogs and other resources that you should be sure to tap into.
How is a Non-Profit different from a For Profit? – and why does (and doesn't) it matter.
Hey – this list is just a quick & rough start!  Let me invite you to POST A REPLY to this blog entry and suggest what additional topic areas should be covered.
—
The best way to have a good idea is to have a lot of ideas!  In that spirit, AUDIENCE WANTED dedicates this summer to stirring up a potpourri of creative notions & half-baked thoughts around the purpose of growing audiences for the arts & cultural sector.  
Suspend practicality & judgment for the moment.  We are just brainstorming here – with an emphasis on BIG thinking and CREATIVE efforts.  Together, let's amass a HUGE number of wild & crazy ideas.  
Got a Bright Idea to contribute?  Write it up in less than 500 words (along with a brief self-introduction) and send it to:  Matt@audienceavenue.com.
And if this happens to be an idea that you're already doing (or if you know somebody who has the power to make it happen) please get in touch, too!