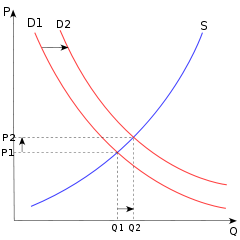 Remember the heat that NEA Chairman Rocco Landesman took last year for suggesting that the arts & cultural sector is suffering from over-supply?
He was quoted by the New York Times saying, "You can either increase demand or decrease supply. Demand is not going to increase, so it is time to think about decreasing supply."
As you may recall, he noted that the NEA's 2008 Survey of Public Participation in the Arts (SPPA) reported a 5 percentage point decrease in arts audiences in this country while there was, simultaneously, a 23% increase in not-for-profit arts organizations.
Scan the Google results (Landesman +Supply) and you'll discover a long list of articles and blogs decrying the Chairman's seeming call for widespread non-profit organizational euthanasia.
Others may argue the public-policy merits of the over-supply premise.  Is the question still up for debate?  While I certainly don't believe that the Chairman caused this situation, I am concerned that he articulated a rationale that unfortunately justifies the continuing erosion of government, philanthropic and corporate support of the arts & cultural sector.  That the supply of organizations (and their productions, exhibits and activities) is going to decrease in the future now seems a forgone conclusion.
A year ago, the implicit threat of reigning in "over-supply" got all the headlines.  But, truth be told, there's not much that we who lead and work within the arts & cultural sector could do about that situation.
This is not an opportunity to fight fire with fire.  I have no economic argument to counter Rocco's lore of supply and demand.
We need to fight fire with water!  Let's acknowledge that economics is a lousy foundation upon which to base the rationale for supporting the arts & cultural sector.  Economics tells us that the house is burning down – but it doesn't give us any useful tools to fight it.
In retrospect, too little outrage greeted the Chairman's assertion that "Demand is not going to increase."  That's a shame because this IS the area that we can, should and MUST do something about.
We have (so far) failed to deploy our most compelling argument.  But it is not too late to do so!
The very best articulation I've ever seen of the arts & cultural community's most compelling argument is contained in the mission statement of Theatre Bay Area, an association of theatre and dance companies, which begins with the expected, "unite, strengthen, promote and advance the theatre community in the San Francisco Bay area" – and then advances to these profound words:
"…working on behalf of our conviction that the performing arts are an essential public good, critical to a healthy and truly democratic society, and invaluable as a source of personal enrichment and growth."
Essential public good.  Democratic society.  Personal enrichment.  These are ideals that deserve our attention and efforts.  These are principles that speak to the heart of what American society is all about.  These are values that transcend partisan politics.  These are virtues that describe a tolerant, engaged and vibrant society.
This is the foundation upon which we stand to engage even greater levels of arts & cultural participation.
Every organization and every community faces its own unique and serious financial challenges.  But we must not allow economics alone to DEFINE the scale and scope of ambitions that arts & cultural activity can empower.
Despite severe economic hardships, these are times of incredible opportunity – both to share artistic visions and to engage audiences meaningfully.
The nation's arts & cultural sector possesses incredible resources to advance that goal.  What economists would call "increasing demand," we can think of as "engaging participation."  It is not just a product to be "sold" but rather an expression of community spirit that can be invited, nurtured, inspired and served.
Our future must not be defined by the economics of scarcity – but by the limitless possibilities of human imagination.
# # #
If you received this blog by e-mail, please CLICK HERE to post your comments in response to this post.