I think people will forget me when I'm dead. I'm going to add
a codicil to my will, to forbid anybody from speaking my name. #
Bill Cumming, from
profile in the PI
, 2005
#
When died of heart failure at 93 Nov. 23, he was the last member of the original
Northwest School, a group of painters who brought national prominence to
the region in the 1940s and 1950s. Cumming was a teenager in the circle
of Mark Tobey, Morris Graves, Guy Anderson and Kenneth Callahan. #
Although for reasons of health and politics Cumming didn't paint much
in the 1950s, he was back by 1961 with a retrospective at the Seattle
Art Museum. By 1980, he'd moved from black and gray to color, favoring
what he calls sour tonalities. #
More than 60 years ago, he went to a John Cage concert at Cornish
College of the Arts with Morris Graves, who proceeded to heckle Cage
from the audience. Because Cumming was seated next to the troublemaker,
he also was given the bum's rush by ushers. #
As they hustled him up the aisle, ignoring his protests that he
didn't do anything, he lost his temper and decked one. Cumming was told
never to return and waited for Graves in a nearby tavern. #
Graves never showed up. In the lobby, he had gone limp. A Cornish
trustee and doting admirer happened by and stopped the ushers from
throwing him out. Graves stood up, took her arm and rejoined the concert
on his best behavior. #
"Graves got away with everything," said Cumming in 2005, still enjoying of the old animosities. #
In her brief note marking his passing, Jen Graves made the following remarkable statement: #
He was one of the last remaining links to artists like Morris Graves, Guy Anderson, and Mark Tobey.
I think it's safe to say that Cumming had more personality than all those guys put together. #
More personality? Is that because he was the one she met? I'd say he was the least interesting, certainly the one with the least depth. What he had was painting. Whether he was written off or, later, celebrated as the region's sentimental favorite, he stuck with what he knew and declined to enlarge upon it.
#
Although a lot of his work failed to rise beyond the illustrative, he has his moments. His 40-year-old formula opened up for him, allowing him to shake the stars out of the sky and light the ground under the feet of the ordinary people who populate his work – a liquid light stream filled with people. #
Cumming, 2003 #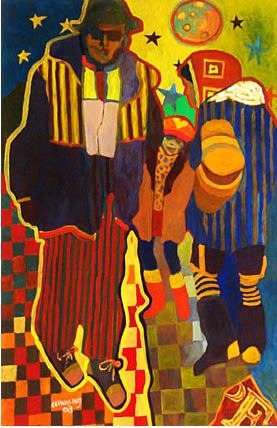 #
I'd say he was an influence on Thomas Lawson, as the link between Cumming and Lawson's recent work is so striking. But Cumming's painting rarely showed up outside the region, and never in a major venue. It's unlikely Lawson saw it. #
Lawson, 2009 #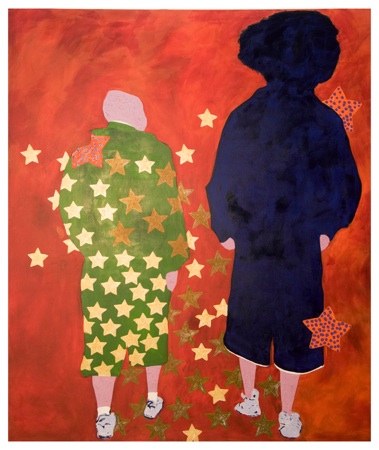 #
Cumming was born in Montana in 1917 and moved to the Northwest as a child.
His father was Scottish and his mother Southern with Confederate roots.
She named him William Lee, the Lee in honor of an uncle, who was in
turn named after Confederate Gen. Robert E. Lee. #
During the Depression he was a member of the Communist Party, which he left in the 1950s, noting that the Communists were as bad as Republicans. From an extreme of a collective ideal he later moved into rugged individualism, attending EST and the Forum, the master of his own ship, the captain of his soul. His ideology at that point matched core Republicanism fantasy, and then he moved beyond it. By the 1990s, he was back in love with the Confederacy, telling James Washington Jr. (of all people) that Abraham Lincoln was the country's worst president. #
Washington could be chilly to those he suspected of racism, but he only laughed. Like others who knew Cumming well, Washington didn't take his wild swings of opinion seriously. Instead, Washington trusted what he saw in the paintings, a deep and abiding good will toward all who walk the earth. #
From Degas and George Herriman, he acquired his
fondness for figures in motion. From Edouard Vuillard, he found the
ability to use decorative patterning to potent effect. #
He favored water-based media — tempera or gouache — and painted in
layers: First the solid colors and then the patterning. He aimed for some
kind of orchestrated equivalence between figures and the space around
them. When the entire scene is glowing with a sour light, he was
satisfied. #
Cumming taught at the Art Institute of Seattle, which turns out primarily commercial artists,  for more than 50 years. What he demonstrated was resilience. #
I teach them to stand on their own feet and find their own
style. Everybody is born with the power to draw. It's taken away from
them. I try to give it back. #
Cumming is represented in Seattle by the
Woodside/Braseth Gallery
.
#