Ries Niemi, commenting on this post, On Dale Chihuly's tide, other boats can rise, wrote:
I am curious, "Pro-Chihuly", and others – please name a single Chiluly artwork that you consider a masterpiece. Or even one that is a great work of art that deserves to be pictured in the next version of Janson.
Cause I have seen a lot of em, and they are all middling examples of production craft, from my viewpoint. And, having worked in the production craft world, proudly, for over 15 years, I have seen a LOT of production craft.

There are, without doubt, Glass ARTISTS out there- Therman Statom, Richard Marquis, Larry Bell, Josiah McEleney, William Morris, Mario Mertz, Lucas Samaras, and lots more artists making sculptures from glass.
And there are quite a few excellent, unrepentant craftsmen and women who make objects of utility and beauty from glass.
A good two or three dozen of whom I would rank well above Chihuly in the "importance" scale, when it comes to glass art.

Don't get me wrong – I, like everyone else, wore that Chihuly oil in the sixties- I still like the smell.
But aside from his big assemblage pieces, not a single one of his works had any character, or soul, or presence to lift it from run of the mill production glassblowing, and to counteract its failings, it falls back on the old crutch of the essential beauty of the medium.

The big groupings work, I suppose, in a classic Morris Lapidus, More is More kind of way, but compared to other artists who overwhelm with volume, like Tony Cragg or Armand, they lack all the cultural signifiers, history, meaning, and layers of information that make a good Cragg or Armand hold up.
As they say in Texas- All hat, no cows.
In other words, name that masterpiece. Masterpiece? If the word were a game, nobody would play. Not only is it freighted with internalized exclamation points, it has devolved into a sales tool. When auctioneers use it, they mean anything that opens at $20 million.
For the purposes of answering Niemi, however, I'll say it's a piece that rises from a significant body of work to achieve the artist's potential. Since Chihuly is noted for his riotous color, the pair of chandeliers hanging at the ends of the block-long lobby in Seattle's Benaroya Hall might seem an odd choice. They are muted yellow and white silver. But Chihuly's power as a colorist is most evident when he dials down.
DALE CHIHULY
BENAROYA HALL GOLD CHANDELIER, 1998
15 x 10 x 10′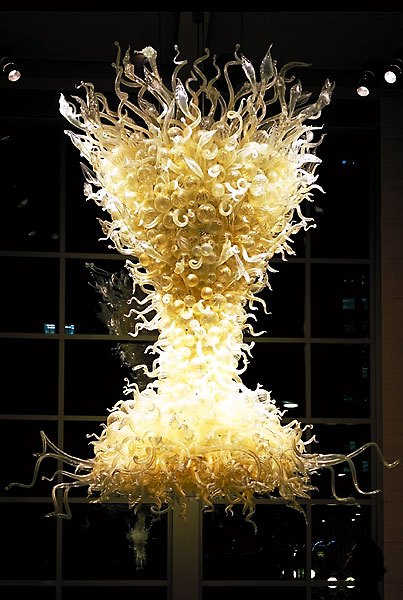 BENAROYA HALL, SEATTLE, WA
DALE CHIHULY
BENAROYA HALL SILVER CHANDELIER, 1998
20 x 10 x 10′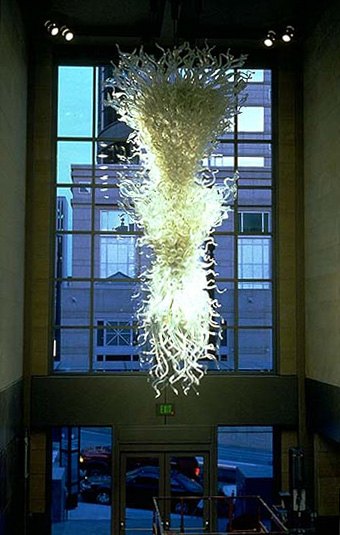 Detail, SILVER CHANDELIER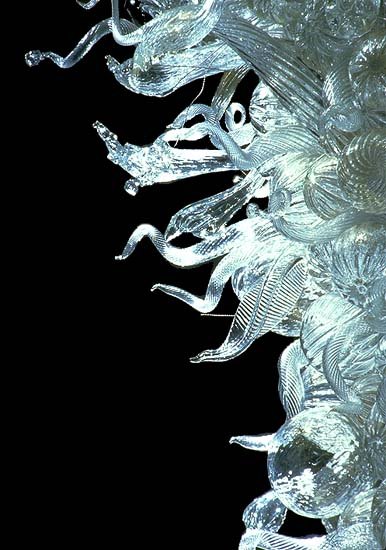 Pure as Communion wafers, these chandeliers have bawdy hearts. They push the idea of the decorative past beauty, past reason and past Surrealism, into a
kind of hydroponic glass-art gardening.
They reveal his extravagance for what it
is, the urge to make a life form. He wants to freeze the motion of hot
glass without stopping its molten flow.
The decorative remains controversial in contemporary art.
Kenneth Baker:
A fair-minded critic must ask why Chihuly's work cannot be taken
seriously as sculpture. Sculptors of acknowledged importance have at
times made good use of glass: Robert Smithson (1938-1973), Christopher
Wilmarth (1943-1987), Barry Le Va, Kiki Smith. But all of them shunned
Chihuly's forte: decoration. (more)

Baker is fair-minded, but he came of age during the height of Minimalism, honed his vision then and never expanded it. Why should he? Life is short. Baker is clean, but attacks on the plan to create a Chihuly fun house in Seattle Center tend to be dirty. They're not about the man's art. They're about him.
The Stranger doesn't bother with aesthetics in its unremitting campaign to discredit him. It expresses something ugly in the core of Seattle's character, a desire to cut large-scale locals down to size. After Chuck Close first hit it big in New York, he stopped by First Thursday to say hello to old friends. Close said later that few would talk to him. We like to think we've changed since then, but have we?
Good piece on Chihuly by Tina Oldknow.