Starting in the late 1960s, a motley group of young poets and painters took over abandoned shacks bordering the mouth of the Skagit River within walking distance to La Conner. They lived there for a decade without the burden of rent, running water or electricity.
As a fellow-traveler from that time observed in the catalog for Fishtown and the Skagit River, an exhibit at the Museum of Northwest Art, through Oct. 3:
I never lived in Fishtown. I couldn't afford the rent.

Yeah, I know, the place was well beyond the reach of landlords and realtors, but let's face it, the wages of Zen are not inconsiderable: all that chopping wood and hauling water.
Fishtown disappeared as property values rose, bulldozed out of existence in 1980 and leaving a number of curatorial choices for its examination. Curator Kathleen Moles chose inclusion. Anybody with mud on his (or more rarely her) cracked boots who lived lean and wet on that river has a place in the show, if anything he made happens to survive, even on a postcard.
Right choice, because Fishtown was not about hierarchy. Instead of sanitized, the Fishtown story unfolds at the museum as if emerging from a long hangover. A faint air of river rot pervades galleries stacked with paintings, photos, drawings and poems, nearly all celebrating Eastern philosophies and sharing a fetish for bad framing.
Photo, David King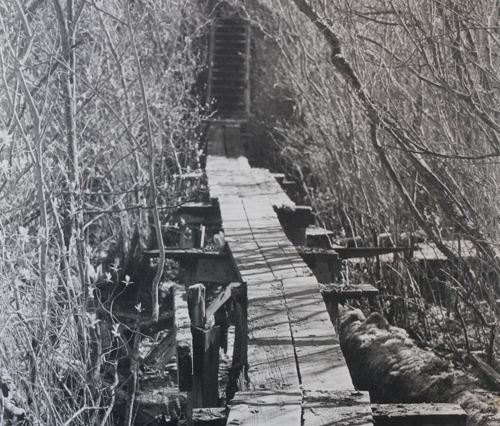 Charles Krafft stands out in spite of himself. While he was trying to free his mind from the wreckage of his body, he made art that stumbled along paths cleared by others, from Morris Graves and Guy Anderson to Li Po and Gary Snyder. Huffing volatile solvents and drinking incapacitating amounts of alcohol are not paths to greatness. Krafft hit his stride only after he sobered up and moved away. Fishtown is for him the scene of the crime, but it's also part of his personal roots music. He continues to play it on the keener, deeper instrument he allowed himself to become.
Beyond Krafft, there are the liquid-light paintings of William Slater, the clarity of (visitor) Mary Randlett's photos, Hans Nelsen's woodwork, Paul Hansen's watercolors and Tom Robbins' Buddha-joke drawings.
Beyond them and more than equal to any are the poems of Robert Sund, rendered in calligraphy, typewriter and pen. He is the heart of Fishtown, the soul of old La Conner and a giant in the Northwest's poetic tradition.
My favorite Sund isn't the show but should be. It's printed on a leaflet whose facing page shows a photo of the artist as a boy, arm around his infant brother.
ANSWERING, FOR MY BROTHER (1974)

What do I do?…
I show you barns in the air over Porter Creek,
tulips that drop from the trees in Venezuela
and fall to the ground bursting into roosters.
They whip the dust out of the small valleys
under their wings.
Under the arches of their clawed feet,
mountains blossom,
distant but clear.
At the edge of ploughed fields
the surrounding sunflowers
march weary-hearted,
heading into the cities of the sun.
Impossible not to follow them
and go
with strange-shaped footsteps
that may slowly turn bitter as green seeds.

Thin floating webs glide on the upper winds,
flash once or twice a dry silver fire,
then return to their invisible journey.
It is easy to see
that among the insect world
many pilgrims have fallen to their knees.
More on Fishtown here, here, here and here. More on Robert Sund. More on Charles Krafft, who is featured through Saturday in a solo exhibit at Lucia Douglas Gallery in Bellingham and a Fishtown update show at Smith &Vallee in Edison through Sunday.