(Below, Grant Wood, The Birthplace of Herbert Hoover, 1931, painted a year after American Gothic.)
Thanks to the Depression, Hoover was one of the most despised men in
America, but not by an America First, bread-basket regionalist like
Wood.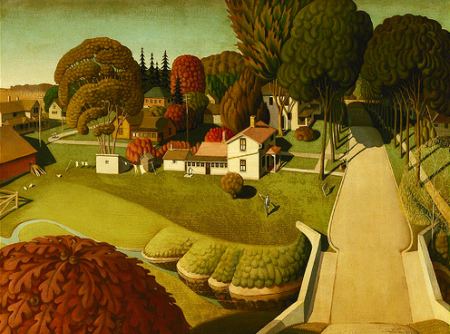 In
the end, his celebrations of his region transcended it. He might have
been a narrow man, but as a painter, the fine-lined, lyrical urbanity
of his landscapes remains a marvel. With a paint brush in his hand,
Wood had rhythm, and Wood had swing.
Within the utter control of Wood's manicured grounds is an antic
spirit. If Betty Boop came out the back door of his happy Hooverville
to sing on the lawn and all the trees and shrubs swayed in chorus, who
would be surprised?
Artists honor the past by improvising on it in the present. Currently at Punch Gallery are Nathan DiPietro's small paintings in a series titled, Neo-Suburban Palouse, an exploration of Wood's duality painted in the round on egg tempera on panel.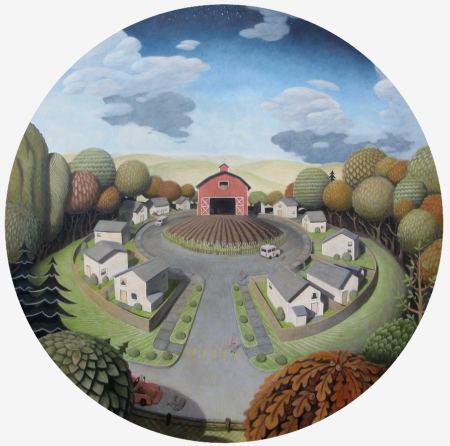 The
fantasy maple oak on Wood's lower left has an echo in the fantasy maple on
DePietro's DiPietro's lower right, a painting titled as a tip off, After the Birthplace of Herbert.
Wood's trees have a lollipop sensibility, but DiPietro's are space
ships colored like Necco Wafers. They only pretend to toe the line in
rural red America.
(DiPietro detail)

"Give
me liberty or give me death," said Patrick Henry. Why is it that the
right who treat Henry as a saint seem to long for surveillance? Its
members can't wait to knuckle under, to be vulnerable to wiretap
without warrant, told what they can read, whom they can (and can't)
sleep with and when they have to have children.
From the point
of view of its proponents, what would a society regulated by the right
look like? Wild nature would be gone, but tidy plots and man-made lakes
would shine in the sun.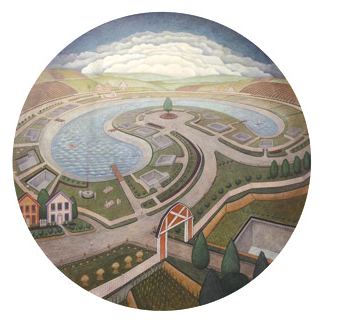 (Above, DiPietro's Lakeside. )
Another Wood link: Wood loved the pre-Renaissance Italian painters, especially Duccio,
who modeled his mountains on rocks in his studio and populated his
ground with strange little trees. There's more of the Duccio feeling in
DiPietro than in Wood. It's only a matter of time before DiPietro
paints Jesus in the Suburbs. Through Sept 26.