Tutankhamun's come-back is coming up empty. Following a nationwide consensus, he's now racking up bad reviews in the Bay Area, including a key one from Kenneth Baker:
Among people with a professional interest in the arts, "Tutankhamun and the Golden Age of the Pharaohs," which opens today at the M.H. de Young Memorial Museum, will merely deepen the tarnish on the reputation of the Fine Arts Museums of San Francisco.
More here. The first Tut wave in the U.S. in the 1970s reverberated in the art of the time. This time, the only response worthy of the high status of the subject comes from Brooklyn artist Ariana Page Russell, via Shaun Kardinal. Titled Pharaoh, it's a self-portrait as boy king.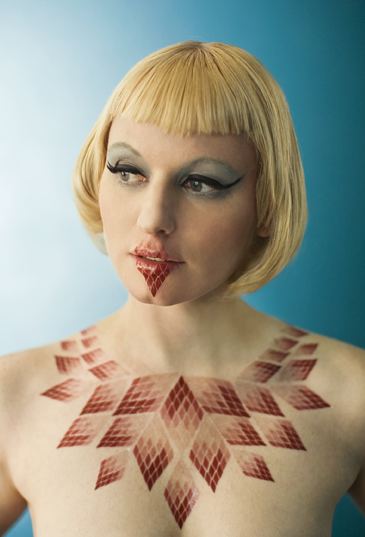 Just as Tut's body is an essential part of the touring package, Russell's patterns come not from paint but from welts. She explains:
I have dermatographia, a condition in which one's
immune system exhibits hypersensitivity, via skin, that releases
excessive amounts of histamine, causing capillaries to dilate and welts
to appear (lasting about thirty minutes) when the skin's surface is
lightly scratched. This allows me to painlessly draw patterns and words
on my skin, which I then photograph. Even though I can direct this
ephemeral response by drawing on it, the reaction is involuntary, much
like the uncontrollable nature of a blush.