Raised Catholic, Jeffry Mitchell understands the ecstasy of suffering. He knows the virtue of denial, that each act of rejecting pleasure produces it, and each battering of the body's dreams earns emeralds and rubies for a crown in heaven.
But what if a Catholic voluptuary rejects the Cross? In Mitchell's words:
A feather, a skull, the moon and stars, a man (?) and half a lady, crystals and sequins and the grandchildren of Piero Manzoni and Allan Kaprow. There's something about magic, Hippie magic, and the way the LOVE CHILDREN freed them selves from the cross and sought spiritual expression through ancient forms other than the Christian one that resonates through this show for me. It's very much my story, and the story I look for. It's the story that I can't help but see and although I claim that each pair of works in this show found each other on their own, the instant I see these works I bring stories to each of them, helplessly, naturally.
Mitchell curated Call and Response at Crawl Space with an eye out for inner magic, for spiritual passion expressed through the body.
Jack Ryan's moon ringed with cheap florescence (Image, detail) brings to mind William Carlos Williams' poem, The Attic Which Is Desire:
the unused tent

of
bare beams

beyond which
directly wait

the night
from the street

by
* * *

* S *

* O *

* D *

* A *

* * *
ringed with

running lights
the darkened

pane
exactly

down the center
is

transfixed.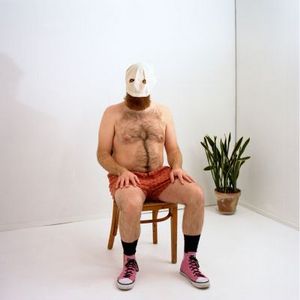 Brett Walker sees himself as not ridiculous – beloved, beloved:
Every hair on his body counted
.

Who dares put scraps together at this late date? Only someone who deeply loves them. Jamey Braden's title makes her case: Horses are Birds if That is Going to Help You Out (Yes it Will) (wax, pigment, carving, ink and feathers on wood).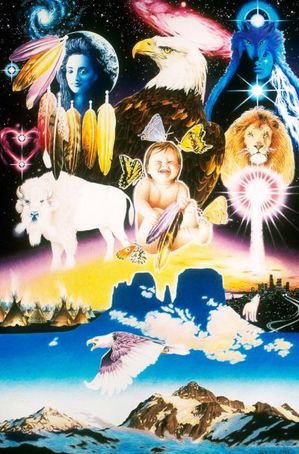 Remove
James Rosenquist's imagery
from commodity advertising to
replant it in the lowbrow allure of roadside attractions, and you've
got Dorian Dyer's
Joy Embraces
in colored pencil, 60 x 40 inches.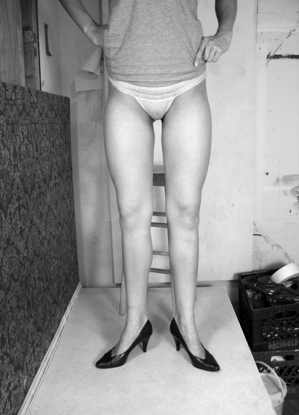 The dogs of the street will eat Jezebel, assuming they can catch her.
In the drab daily world, there are diamonds on the soles of our tables: Sol Hashemi, Twelve Ways to Stack Six Stools, digital print.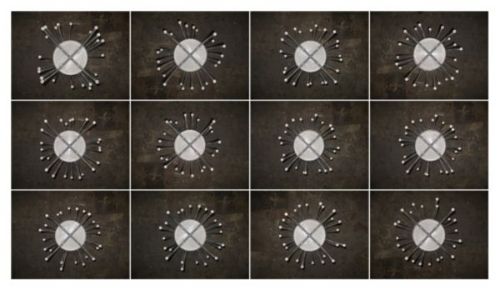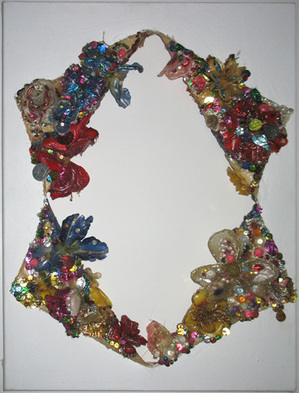 Cutting a canvas down the center and peeling back four flaps, Jenevive
Tatiana Nykolak encrusted her vertical smile with queen-for-a-day
desire. (Rococo Écorché, 23″x17″, Faux flowers, glitter, rhinestones, sequins, fiberglass resin, gesso on canvas)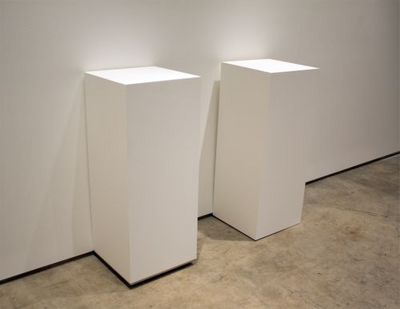 Matthew Cox is one of the best installation designers in Seattle. Asked
to create his own work (Floating Pedestal and Leaning Pedestal) he stuck with what he knows, the purity of the
unadorned support, a metaphor made visible in its absence: O Lord, I am not worthy that you would come under my roof; speak but the word, and soul will be healed.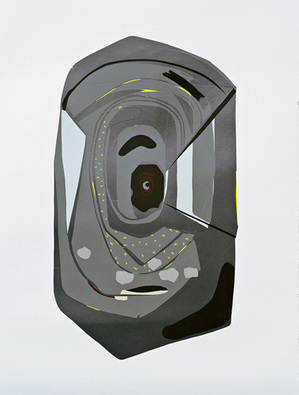 Chauney Peck's The crystal that proves life could have existed earlier (29″ x 42″, vinyl on paper ) is a fresh attempt to scale the old impossibility of ocular proof – Desdemona's handkerchief and Veronica's Veil.