Rebecca Kilgore is a singer specializing, although not exclusively, in classic songs of the middle decades of the twentieth century. She loves Irving Berlin, Frank Loesser, Burke & Van Heusen, Dorothy Fields, Cole Porter, Dennis & Adair, Johnny Mercer, Duke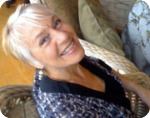 Ellington, Fats Waller. Dick Titterington, Kilgore's husband, is a trumpeter who leads a post-bop quintet. Much of his repertoire comes from Hank Mobley, Kenny Dorham, Tom Harrell, Joe Henderson, Harold Land, Thelonious Monk and from the members of his band, PDXV.
Kilgore is a star on cruises and the circuit of little festivals known as jazz parties whose audiences tend toward white hair and tastes formed, in spirit if not in fact, in the 1940s or earlier. PDXV plays in clubs and concerts for listeners inspired by music that developed after changes wrought in jazz by Charlie Parker, Dizzy Gillespie and Bud Powell. Except in their happy marriage, Kilgore and Titterington rarely comprise a team. Chatting with the audience at The Seasons last weekend, Kilgore explained their separate paths: "We have divergent tastes."
Maybe their tastes are not quite as divergent as they appear. If their concert, part of a mini-tour of the Pacific Northwest, was a reliable indicator, they might be well advised to reconsider their professional separation. In a program cleverly constructed for balance and contrast, each of the halves opened with a handful of Kilgore vocals backed by and
integrated with the quintet. Short solos and occasional obbligatos by band members augmented the vocals. PDXV followed with hard-charging numbers opened up for solos from Titterington, saxophonist Rob Davis, bassist Dave Captein (all pictured), pianist Greg Goebel and drummer Todd Strait. Then Kilgore returned for a song or two to end the set. The variety and contrast seemed to settle, rather than bother or puzzle, listeners devoted to what might seem disparate genres, old pop and hard bop.
Kilgore did not confine herself to The Great American Song Book. True, she gave a delightful "I Hear Music," conspired with Davis in a dramatic voice/tenor sax unison recreation of a Stan Getz solo on "Foolin' Myself," and sang a definitive version of "If I Only Had a Heart," Harold Arlen's poignant alter-ego to "If I Only Had a Brain." A seeker of half-forgotten songs, she reached into the 1950s for Bob Haymes' "You For Me." But she also sang young pop star Nellie McKay's unorthodox "The Dog Song," a gutsy cover of Curtis Stigers' "Feels Right," and went Brazilian with Susannah McCorkle's "Dilema" and João Donato's "Take Me to Aruanda." Titterington approximated Bob Brookmeyer's valve trombone asides on the Astrud Gilberto recording of "Aruanda," then spun a trumpet solo that sparkled like sun on the waters of the beach in the song. Kilgore's divergence theory took a hit when she ended her first portion of the second set with Dave Frishberg's tender "Listen Here" and PDXV followed with Hank Mobley's swaggering "Up, Over and Out." The transition made for integration, not a culture clash.
In the course of writing this piece, I discovered that Kilgore has recorded a bossa nova album that has "Take Me to Aruanda." The band on it includes Captein, guitarist John Stowell and the legendary (term used advisedly) Lyle Ritz on ukulele (yes, ukulele). I'm going to have to find that one. As for PDXV, they were in top form at The Seasons. For more about the band, see this Rifftides posting.