My grandfather had a baby brother named Nunzio. I could post a photo of him in his 90s, dazed expression, full head of cropped white hair, but I don't have permission to use it.
"Nunzio" sounds sexy, no? nOON-zee-oh, not mechanical, like TAHJH-e-oh, although Rufus — his Canadian name has a "woof" — made his "Grey Gardens" sung Tadzio warm and confectionary, a wistful vanilla-cream.
I can see my mouth opening to say "Nunzio" for the first time. Did I do it right?
Nunzio Ciraldo was born in the same Sicilian village, Bronte, as his older brother, Vincenzo, my mother's father, whose name and person I discovered just this year.
The Bronte Brothers. As it happens, I'm a few years older than my brother, Leslie, too.
"Bronte, a village on Mount Etna, is known for its green gold and also for a history of mythology, love, betrayal, and cowardice."
Goodness gracious, that's from a promo piece on the website Visit Sicily, and it's true, especially the betrayal and cowardice, as those would be anywhere.
I'll mine the "green gold" in my next post. Can you guess what it is?
The Ciraldos and their neighbors left in droves, as they say, for Ellis Island in the late 19th century. My teen grandfather roomed with friends from the same village in Brooklyn's Sheepshead Bay. He met his wife-to-be Anna Greenwood there and for some reason moved to Westfield, New Jersey, where son Vincent and daughter Edith, my mother, were born.
Grandmother Anna, whom I never met, was a piece of work, but that's another story. These weren't the famous Brooklyn-cemetery Greenwoods, yet Anna's grandfather, "Captain" John Greenwood, a fisherman, was interviewed by one E.K. Titus of the Brooklyn Eagle in June, 1928. Captain John must have had some hook, or charm.
My great-great grandfather gave his age as 95, but census records have him born in a younger 1842 or 1845. Guess he liked being the oldest guy on the block. The Eagle processed photo shows him gaunt, mustachioed, with a fisherman's cap.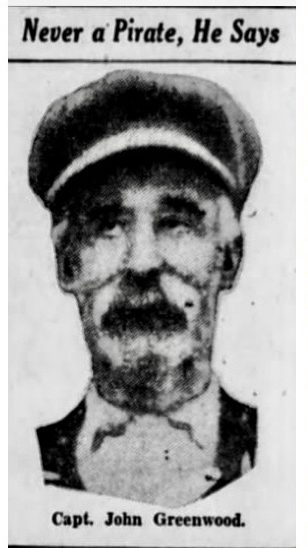 From the Titus piece:
They call me 'the old pirate,' " Captain Greenwood explained. "But it's all wrong. Neither my father nor I was ever a pirate."
His dad, John went on to say, was Robert Greenwood, and his grandfather, Nicholas, with the same name.
It checks out. These are my forebears, English and Scottish colonial New Yorkers siring dozens upon dozens of great-great cousins, often with wives driven from Ireland by poverty. A lovely, unmet Greenwood, in fact, tossed me the Ancestry.com hint that opened this Pandora coffin.
I can't keep count of how many greats should be attached to these fathers of mine. I expect that if they had seen me at almost any age, they would have spat and laughed. My actual Ukraine-born father never laughed at me, though he did offer an Alfred E. Neuman wallet-picture from Mad Magazine as though it were his first-born son, me, to innocent customers at his used-car lot when the bonding opportunity came to compare family photos.
Dad was a Jewish redhead, like his joke son. My hair was silky black, and as I know now, Sicilian, if such things can be said.
Did grandpa Vincenzo have the chance or even the wish to meet John, his fiancée's not-pirate grandfather? The young marrieds repaired to New Jersey, where V. made and repaired shoes and boots in a shop on the town's main thoroughfare. I can't tell you yet what my mother told me who her father was, or did. Not one of her stories was true. I do know, because newspapers never lie, that her older brother, teenage uncle Vincent, set fire to their father's store. It's in print. Mischief? Accident?
At this stage of the game I'm surprised that anything not made of flesh and right in front of me could evoke a ghost of lust, or ardor. Two young brothers, sweating on Etna slopes, filched jug wine to go with their honeyed nuts. Would I be attracted, then or now, to Nunzio or five-foot-three Vincenzo?
There's no photo I can find to prove my grandfather's height, marked on an immigration form, because his daughter destroyed the one image, black-and-white, that I remember: a portly, gray-haired man kneeling in a garden, hydrangea background, chucking an infant's cheek. She tossed out all memories, even some of mine.
Father and daughter both lived long lives, but I needed a genealogy site to learn that about the man. Never met his son, her brother, my uncle Vincent, or his "Nazi" wife (what my mother called her, without naming any of them), or their kids, my cousins Gregory and Rich, who are alive, at least online.

Hi, guys! Rich is an artist who changed his name.
Edith, later Edythe, said she was French: I heard decades of elaborate lies. All of us have stories of sadness, loss, maybe trauma. Her sweet third husband, Alfredo, was Sicilian too.
I've long passed the age that my father, Harry Weinstein, born in a Kiev shtetl, died. He came over at age three and grew up in Williamsburg, Brooklyn with three brothers and three sisters. Harry loved pistachios, brought bags of them home to us, in another part of Brooklyn, and we argued about whether the natural tan or red-dyed ones were better, leaving the shells we pried open in paper napkins or on little plates while we watched his favorite, Gunsmoke, on our black-and-white TV.
No green gold. No past allowed. My strawberry-blonde mother didn't like the "mess" these nuts made.
It was very little mess.