[contextly_auto_sidebar]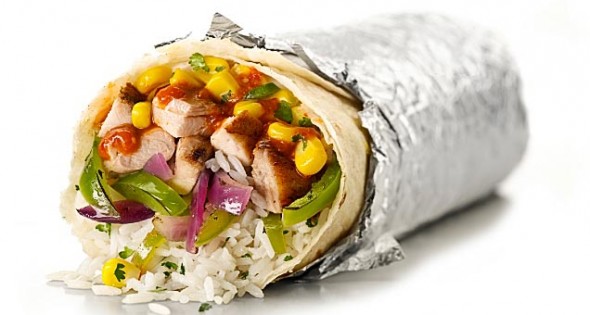 The headline isn't mine, it came as a demand from my longtime eating partner Shelley, who heard me complain yet again about one of her beloveds — this particular paragon presenting as fat, limp, edible.
"Make 'I Hate Burritos' the title of your book, it will fly off the shelves."
On wings of beans? What an inviting image, so inimical to the burrito itself, a blimp that can't get off the ground, no less burst into tasty flame. Burritos are the opposite of flight and, in a telling way, the opposite of cooking. Flying burrito? Oh, brother.
Bu-ruum! A cultural alarm goes off way before we are airborne. Our burrito is from Mexico, and sometime, somewhere it was born authentic. What luck that creative spirits have done my research for me. Monica Heisey's Vice piece finds that "The Diccionario de Mexicanismos has an entry for the burrito as early as 1895. The entry states that a burrito is 'A rolled tortilla with meat or other ingredients inside, called "coçito" in Yucatán and "taco" in the city of Cuernavaca and in Mexico City.' "
So a burrito is a taco, depending on place. In my own city, all these two have in common is their skin. Slouching toward Whole Foods on Second Avenue, which sometimes carries stone-ground "Heirloom Corn Tortillas" from Oaxaca (I'll buy it), I see that two eatery patios on the way have been bombed with beige bags outgrowing their plates like showoff schnitzels. Beer laughter as a knife goes in and ricey concrete is exposed, ready to fill any hole.
But wait, something red is poured on top, as if a corpse could be invigorated by a splash of blood.
The Northern Mexico original reads as the food it should be: braised, shredded beef and a swipe of seasoned beans within a toasted tortilla. Source doesn't indicate whether corn or flour, but it was probably the latter.
"Have you ever eaten at Chipotle?"
Shelley again. In 2017, the chain removed mold retardants and chemical flavor-tweaks from its half-million daily tortillas, and when you see photos of them, surrounding discrete particles that exchange polite hellos only in your lower digestive tract, you'll notice those "it's not raw" spots that are evidence of immediate toasting or grilling.
I am now gnawing on a thick rubber band. Research.
Sure, you can chow down on rubber tortillas and gulp 'em, if you employ your carefully chosen salad-bar cornucopia, including chopped Romaine, as lubricating gravel. "Chewy" is the word happy Chipotle customers use about their sturdy flour tortilla, or double tortilla. Yes, the thick, bready flour variant that some prefer for quesadillas should have a chew, but one that's submissive and melting, not resilient.
Chipotle burritos, and the many that spawned them and bob in their wake, have found a way to do what was once thought possible solely in the case of Norman Rockwell kitchens: erase flavor from food.
"What does it taste like, that burrito?" I asked our Shelley, and she looked at me as if I were speaking Martian.
Whether mass-market or assembled gloveless in a storefront joint, the burrito is the same. By this I mean something quite simple: its ingredients, previously chopped, shredded, cooked or heated, are thrown into a locked room without ever having been introduced. Salsa and almost-guacamole sit in puddles, unable to connect. Proteins, beans, rice aren't stirred and heated together, so their steams and juices can't meld. Sprinkled cold cheese never provides even the appearance of a comforting cloak. Cilantro tries its best to scent the mass and sometimes succeeds, but in a scattershot way. There's just so much green can do.
Ingredients tease and coax one another in the recipes of most cultures; heating and cooling move this along. Sometimes parts lose themselves to the whole; other times a mere brush of sweetness or vinegar brings color to a plump food cheek, the way makeup does.
Then there's the question of proportion. A beef burrito with cumin, garlic, diced tomatoes and chipotle sauce may work fine with equal weight to the filling and the wrap, or at least not more than two to one. There's no "glue" in this recipe, like velvety smashed beans that would bring elastic relief to the meat, but that burrito could get by if it weren't a solid brown beer-can of uninterrupted flesh.
Serious burrito roundups I've read overflow with praise when the burrito overflows with whatever is inside. I think that way about paper towels: number of sheets per dollar, unless they disintegrate right away, as the cheap ones always do.
Decades ago, I fell into a "Mission burrito" in San Francisco, flogging my rusty '62 Chevy II from San Diego, where I studied, to that gay mecca, as it was called even then. The cheap hippie treat was a meal deal like no other, especially when I was stoned and yearning for connection. Was it a food version of the "notorious" Cockettes? No, twas their drab opposite. I can't recall how mine tasted, only how big it was.
I was usually pretty good at remembering what I ate, but in those days of Vietnam and coming out, a lot was new to me. Bulbous jicama, peppers beyond bell, the seasonal attack of giant strawberries held my attention just as much as did my antiwar sign-making and classes in narrative technique. Later, even poorer, I lived day after day on my own stovetop cottage-cheese tacos, supplemented with sardines and shoplifted caviar.
Now, you can find San Diego best-burrito lists, but then, burritos were nowhere. My eating friends and I dove into sparkling fish tacos, lip-burning chicken flautas in Hillcrest (thanks, Barry), luxurious chile rellenos at Aztec Kitchen Number 2, the kind that made indigestion welcome. We were transfixed by all sorts of rolled and coated miracles.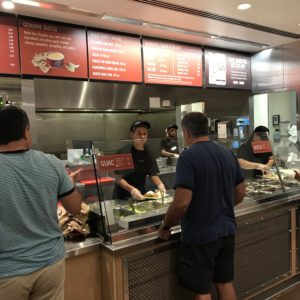 So we walked into the NYU-adjacent Chipotle in the East Village, because I needed to see if my burrito memories were true. Boyfriend Daniel ordered his carnitas burrito with just about everything and all three salsas. "Would you like another tortilla to wrap it, it's already split?" his smiling assembler asked.
Yes, there are hacks to increase the size of your order almost by two, if you like twice the rice, but you'll have to find them yourselves.
I tried to duplicate the ostensible burrito mother by requesting an ingredient trinity: barbacoa beef, pinto beans, and tomatillo red-chile salsa, to be packed in a flour tortilla the size of a placemat. (Guacamole on the side, please.)
Said floppy disk was slid into the tortilla press and removed in five seconds, before it could get hot, forget toasted. Then it was dropped flat on aluminum foil, filled and tightly folded.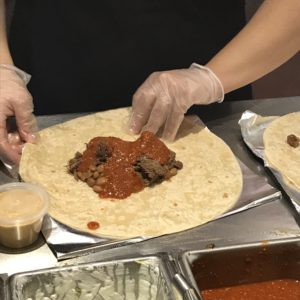 Daniel's gargantua kept its promise: simultaneously tepid and cool, wet (mostly from the lettuce) and dry, in a taut stretch diaper.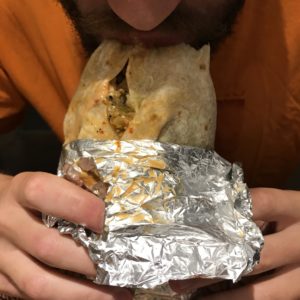 He wondered about the arid "rice habitats" spread throughout.
The keen salsa in my mini order drew the dry beef and undercooked beans together into something better, as long as I used the plastic fork to grab the customer-made meal out of its confinement.
No evidence of anything other than avocado in my guacamole, ripe though it was. Although "chips fried fresh every day" are supposed to be tossed out at night, mine tasted as if they had hit their oil a few days before, with the sad-surrender feel that comes when heat and humidity take over.
Sorry chips and dead guac are not a burrito's problem. To confirm this I went to a standby, Downtown Bakery Cocina Mexicana, to order its now-$9 marinated pernil burrito, with rice, beans, onion, cilantro, and serious, peppery tomatillo sauce — which the kitchen at first forgot. I'd be livid if my order had been home-delivered like that, naked.
I have devoured Bakery's pork tacos with glee. Could I hate this?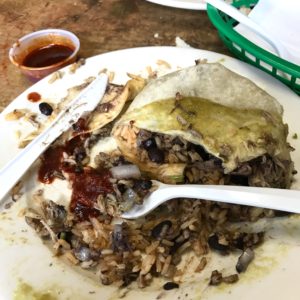 The 10-inch flour tortilla was heated, even slightly toasted, folded over with a pretend crimp at the ends; no foil carriage tubed it. When I pulled off a small piece — easier to do than the night before — and used it to finger-scoop the dark innards and drag in scant sauce, the mix was delightful. This food had not relinquished plate dignity; it wasn't a quick pick-up.
And that's because I couldn't pick it up. It fell apart. It isn't really a burrito.
D