[contextly_auto_sidebar]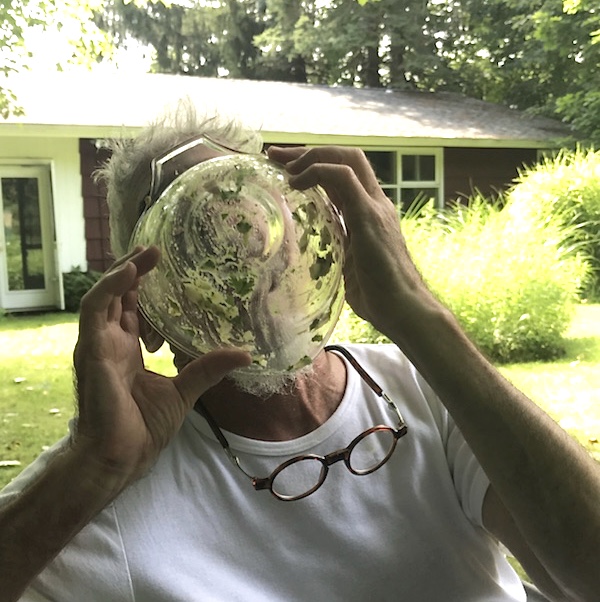 Your stubby pointed flesh juts out and stays out, moving as if nothing could stop it. Half the world opposes what tongues like to do. Our hands, in concert, lift plates so they can be licked, which is such a human gesture, never having us bowing, bow-wowing, to the food. The Eva Zeisels or Dixie Ultra Disposables return to the table clean as can be.
I see plate-licking almost every day, which delights me because I do the cooking. (I will not consider the possibility that anything in front of this one would be equally licked.) For "plate," you may substitute "platter," "bowl," even "charger." Shape or size doesn't matter. I've read that some find it difficult to dig into Popeyes' coated-paper channels to ferret out thin brown lines of Cajun gravy that's spooned onto mashed potatoes and maybe, if you're lucky, a buttermilk biscuit. The gravy's not on the menu as a side, but you should ask. I've tried to fashion it at home by reading copycat-recipe blogs, and though my salty kitty was a second cousin, we failed. I am certain, however, that the secret word is gizzard, minced.
Somehow, through the patience of age, I've taught myself that the good stuff comes at the end. In the stodgiest of U.S. homes, many plates offer isolated thirds of flesh, starch, and veg, with a shimmering limp liquid their sole mutual friend. The proud piles renounce their Betty Crocker souls as they disappear, and what we have learned is that the best of each remains, like those memories you have of dinner-table Mom and Dad not clouded by insipid routine. So you grab any crust that survived the meal, wipe up what's left and carry it to your mouth in merge memorial.
The paradox is that we're no longer hungry, or at least put into motion by that thing I call "first hunger." It's a primitive, ravenous drive, to raise glucose levels beyond starvation panic. First hunger is why there's often no extra bread when you most want it (or pita, naan, you know your family), so a tongue must take over. Pleasure can be part of this hunger, but anticipation of pleasure in any activity is a dangerous path.
So what accounts for the urge to lick a plate? The answer seems obvious, but you can't rely on me. I don't remember ever having licked a plate. Have you? Self-censorship, the memory version.
I'd have to have been alone, because licking is different from eating. It's a gesture, and now I think a sophisticated one. It honors the cook and acknowledges enjoyment in an indisputable way. That the gratification is animal, or appears so, should be double praise.
And what of our enjoyment, our pleasure? It's beyond hunger, as I've said. Gestures communicate, and what I'd like to propose is this.
That plate-licking is a form of wide and spontaneous thanks, to the foods that were sacrificed, to the toilers who planted, gathered, fished and slaughtered, to the truckers and haulers who brought the bounties closer, to the shoppers and worldwide cooks — myself among those — who winnowed the plenitude down. Cookbookers and recipe-sharers play parts, too, watching over as we eaters finish.
This writer will commence to stick it out and lick, his plate, his page.