Eggs, and recipes for eggs, are paradoxical. That shouldn't seem so at first. An egg will do a certain thing when placed near, or mixed with, another thing, and do that thing at a certain temperature for a certain amount of time. Which is what all ingredients do.
But actually, as lucky four-year-olds know, eggs are full of surprises. Eggs are also full of doubt. Their clichéd purity of form is challenged by the slippery dualism of yolk versus white, which is why there's something sad, even destructive, when you take a fork or whisk to beat your egg: an implicit zen balance is smashed that can never be remade. You have moved ahead and left innocence behind. You salt your scrambled lunch with existential tears.
Now that the writer has gotten that out of his system, the cook removes half a dozen organic, free-range conundrums from the fridge and places them in a bowl to throw off the shock of the cold.
As I do so, and the weather warms as well, I think of Summer Cooking, Elizabeth David's modest 1955 masterwork that I've written about before. Its chapter "Eggs" offers about 25 recipes, many of which have taught me the way heat and half-minutes work their wiles on these liquid laboratories. Cream and egg in tandem sop up herb aroma. Bottom warmth clearly differs from that which surrounds. And when a hidden yolk reaches the instant when it yearns to be a grown-up solid and can feel its limpness just begin to muscle up? Stop! Oeufs mollets.
She hates frittatas. In her elaborate, thumb-nose gift to postwar Britain, Italian Food, David writes that the country's cooks "are particularly stubborn with regard to the cooking of omelettes, insist on frying them in oil, and use far too much of the filling, whether it is ham, cheese, onion, tomatoes, or spinach, in proportion to the number of eggs, and in consequence produce a leathery egg pudding rather than an omelette."
Poor baby. And, in this rare case, wrong. She wasn't willing or able to jump from her quivering French envelope to something else. I can hear my friend and neighbor Camilla laughing her Milanese head off.
Camilla Makes Frittatas
Camilla across the street is a character, and by that I mean a figure in any novel you'd want to read or story you'd want to tell — and yes, something of a character in the other sense, too. She's terrifically talented and famous at her job, a film and video editor, for which she's been chosen as an Emmy finalist. But she appears here for one reason: the lukewarm, leftover frittata that sits on her kitchen counter.
"Have some!"
Her voice does not allow refusal; this is hospitality as demand. It's not a motherly offer, or motherly food: too sensuous and even sexy for that. Yes, Camilla cooks a sexy frittata, almost delicate in texture and flavor yet substantial, the very antidote to leather. Hers is studded with herb and the crispest vegetable she could buy or pluck from her backyard plot, ready for a dotted trail of oil and fling of salt.
Once, she pulled a pan (the Danish Scanpan) out of a drawer that she said works faultlessly on the stovetop; she doesn't finish her frittata under a broiler. Camilla, as it happens, belongs to a local swimming group that is predominantly social and includes our village's renowned Isabella. I mention this because the dozen women — the group is ladies only — had been invited last year to Camilla's place after their dip for a frittata lesson, performed in the manner, most likely, that her mother and two sisters in Piedmont also cook the dish.
For many reasons, I wish I had been there. Yet today, in a hurry, she told me a few of her tricks. The first is to invert the proportion of egg to vegetable: "They all have too much egg, and that's what makes them tough." So she uses 4, not 6, eggs in her 10-inch pan, and more of the other stuff.
"Also, I fry dry," she added, making sure her spinach or leeks or onion have no extra moisture, which she said prevents the egg from browning properly at the end. I admitted that I sort of disagreed, but that may be because I finish mine in the oven.
She instead cooks frittata properly on the stove only by turning it over in the tradizionale plate-over-pan, flip, and slide-back-in manner. Then she asked if I knew her particular "clock method" to keep the bottom from burning. I did not, so she groaned and graciously explained how she rotates her pan on the burner, 12 to 3, 3 to 6, 6 to 9, for even cooking.
Of course, I listened carefully — it's hard not to listen to Camilla — because her result is so appealing, and my own frittata is the development stage, slowly solidifying. Still, after more than a dozen attempts, it's good enough to serve, so I'll share my frittata logic.
And Camilla has promised, promised! that as soon as she returns from Italy, she'll give me her favorite frittata recipe: onion, apple, sage. When she does, patient reader, you shall have it.
The Author Tries
The first frittata I ever ate was in La Jolla, California, when I was a graduate student in my early 20s. I have a cinematic memory of a new place on fancy Girard Avenue (new in 1970 or '71), that turned them out fast, a sort of frittataria, but it also could have been the older C & M (Cresci and Mercurio) Deli, which specialized in artichoke frittatas (click and go to page A14 of the hoary La Jolla Light) and made hot sandwiches out of them. As you can see, the C & M recipe mixes parboiled, diced baby chokes, bread crumbs, garlic, onion, basil, parsley with the eggs, hand-forms the stiff stuff into patties and fries them in vegetable, not olive, oil. Does any reader remember either place, or both?
Wow, were they good. The egg in those napkin demanders served as a classic binder, but one with different textures at the same time.
So this is my frittata thinking, which I admit isn't unusual. The goal is to make a round form that holds together as it moves from pan to plate. Inside and out should be solid, not runny, but also tender. It should slice like a pie, but almost fall to a moist crumble in the process. It can be a shaped patty if you like, and you can fry it as C & M did. The result will be oily and crunchy, but that's not where my frittata's going.
I rarely use nonstick anything, but in this case a 10-inch nonstick frying pan does the trick (mine is Calphalon). A few hours before you want to eat, take 6 eggs ( I hear Camilla groan) out of the refrigerator and let them sit. Then, the creative question is, what shall this disk taste like?
Sometimes I go to the farm stand or even our garden and get the just-picked thing: asparagus, yellow squash, spring onions. I have also been known to scrounge in the crisper: that half red pepper, a few orphan scallions, lonesome celery, dirty spinach. I almost always use finely chopped garlic and some potato, which can be any kind. Leftover pasta is welcome, too. This is home, not restaurant, food.
Here's where I may annoy you by failing to give precise instructions, because I must admit that sometimes I prefer butter to olive oil, sometimes mix the two — and occasionally use nothing at all. I enjoy the pugnacious flavors of oil and butter together, to be sure, and we can start by wilting or sautéing (roasting is OK, but that seems like a waste of time) the chopped ingredients you ultimately choose. That goes for the dice of raw potato, too.
Then, as things are melding and smelling fine, I add a touch of broth.
Camilla, wherever she happens to be, rolls her big brown eyes.
Wet
A braise will plump the pieces, pull the potato out of rawness — and cause another, unexpected, result.
Some frittata recipes have you dump the sautéed ingredients from the hot pan into a waiting bowl of cool whipped eggs, along with whatever chopped fresh herbs you like, some black or red pepper, perhaps salt, then stir and put the mess back into the same pan, wiped and refreshed with a touch more oil on a gentler heat.
But you may also pour eggs, herbs, seasonings directly on top of what you've cooked, lower the heat, stir once or twice and relax.
What does that extra moisture from the chicken or vegetable broth, or water, accomplish? In many but not all of my tries, it seems to have softened the egg, so when I removed the half-cooked mass from its moderate flame or coil to finish under a broiler, it actually had risen, though feebly, like a senior-citizen soufflé. By the way, when the pan is under the heat, you should watch carefully until the top barely begins to darken, then remove — advice to be repeated below.
I must discuss cheese. Many things that call themselves frittatas, including a quite appealing impostor by elBulli chef Ferran Adrià that replaces Spanish-style, thinly sliced potatoes with egg-soaked potato chips, exclude Parmesan or Pecorino Romano. But either or both (or ricotta) can be a happy addition. However, I don't like what melty cheeses do to frittata texture.
Grate a small chunk and mix half in early with the liquid egg, and assort the rest over the unset top before it goes under the broiler. Exclude the cheese if you have a midday yearning for one, maybe two, pure flavors.
Frittata 1.0
Do you want a recipe? I always do, so understanding that it's an imaginative outline, you may start with this. I am vague on vegetable quantities because each can vary, but their cooked volume should at least match the eggs' (about 1 1/2 cups).
6 eggs, not icy cold

a few tbsp. olive oil
a few small boiling potatoes, diced raw with skin on
1 small onion (red is pretty), diced
a few or more cloves of garlic, chopped fine
one vegetable, the freshest, the one you love, or whatever you have around, chopped bite-size
one or two fresh herbs, ripped or coarsely chopped
1 cup or more grated Parmesan and/or Pecorino Romano
You've read the steps already, so I'll try to be succinct.
Heat the pan to medium and add enough oil to thinly cover the surface when you swirl. Wait till the oil is hot.
Sauté the potatoes first, and the onions too until they reach the usual translucence, then the garlic, making sure it doesn't brown and bitter up. Add your signature vegetable and stir until you know the neighbors are "talking."
Add a splash of chicken or vegetable broth, or water, stir, and let the liquid simmer down, cooking the potato. It'll take a few minutes.
Add black pepper or red-pepper flakes at any point, but be cautious; you can add more as you eat.
Beat those eggs in a bowl with half the cheese. Beat, don't be omelette effete. You may now take the hot contents of the pan and scrape it into the bowl of tortured egg and stir. Add a drop of oil to the empty pan and let it heat.
Plop the mass back into the pan, turning the temp down a notch. Shake gently to settle the food if necessary. Do not stir.
Or you may do as I do and pour the cheesed eggs into the half-full pan off the heat and stir it up just once to mix ingredients, wait a minute, then reduce heat to low-medium, return the pan, and watch. If the cooking seems too fast, remove pan from the burner again until things calm down.
After 3 to 5 minutes, you will spy a solid yellow bottom showing itself through the jiggly raw top. You are allowed to get a spatula and check that the aforesaid bottom is beginning to brown.
If so, it's time to sprinkle the rest of the cheese on the top and put the pan under the broiler: not too close, and the oven door should be open slightly. The term "broasted" has been used for '50s roadside chicken, but that's what we're doing to these eggs. Watch the top like a hawk, and when it begins to show its first tan pocks, grab a potholder — easy to forget that! — to pull your meal out.
A Spanish Coda
When you feel comfortable about this play with eggs, you may enjoy a decidedly unmolecular gastronomical variation. But please make sure the chips — this sounds odd — are just out of the bag.
Ferran Adrià's Tortilla Española or Potato Chip Frittata
(via Saveur, with my amendments)
6 eggs
Up to 2 cups thick potato chips, I use Kettle Brand
Approx. 2 oz. Serrano ham or prosciutto, even thin Italian salami, cut bite-size. The frittata is tasty without meat, too.
¼ cup canned piquillo peppers or pimentos, finely chopped, or frying or even bell pepper, chopped and sautéed till softened with olive oil in the pan you'll use
1 tbsp. olive oil, enough to barely cover the pan
small handful (2 tbsp.) thyme, oregano, or marjoram leaves, whatever's fresh, chopped not too fine and just before they go in
salt, black pepper to taste
water
Turn on broiler.
Beat eggs with a dollop of water. Hand-crush potato chips (this is fun) and add to eggs, stir, and let soak to soften for at least 5 minutes.
Add soft pepper, herb, optional ham or salami, black pepper and maybe scant salt to the eggs and chips, then stir.
Pour the egg lava into an oil-slicked pan at medium heat and follow the frittata steps above. Remember: don't stir.
If underdone as you cut into it at the table, just put your package back in the oven.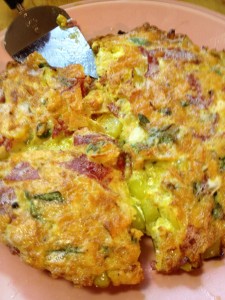 Frittatas taste nothing like American breakfast, our ordinary blank and eggs. Beyond my dual pleasure in cooking and eating, I should mention the frittata moment that makes me happiest: when I found that I could slide the sizzler from pan to serving plate with no trouble whatsoever. That gesture is garnish enough.