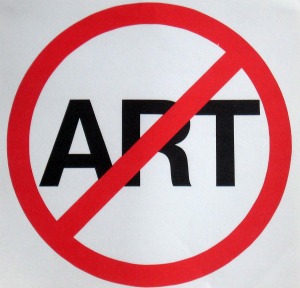 On September 1, walk-in admission for adults at New York's Museum of Modern Art goes from $20 to $25, from $12 to $14 for students. Art lovers under 16 are still free, and here's the press release.
First, transparency: yours truly has done and still does freelance work for the museum. Yet I'm sure you know where I come down on this. MoMA is a business, a not-for-profit business to be sure, but still, a business should never chase customers away. Perhaps its tax-exemption should be applied on a sliding scale: the higher the price of admission, the more MoMA should pay.
Fees were last raised in 2004, and I wrote a column about it for the Philadelphia Inquirer, where I worked. That delightful institution doesn't offer free links (great way to keep its good journalism out there), but the piece also ran in the San Diego Union-Tribune, and I'm grateful that its link is available. My argument hasn't changed.
Though why the Union-Trib uppercased the "v" in "van Gogh" is beyond me.