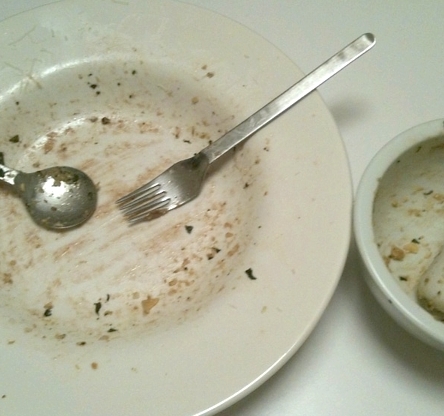 A Modest Lesson in Journalistic Advice
It may be odd for a former restaurant critic to claim that he always thought anyone could cook anything well, but it's true. Cooking in a restaurant shouldn't be rocket science, yet it certainly isn't easy. Silly Hell's Kitchen and TV shows like it are staged exaggerations, but their working assumptions — of instinct, teamwork, communication — are all honest kitchen keywords.
This is my preamble to what could seem like a brag, but it just so happened that tonight I made for myself what could be the best pesto on pasta I have ever eaten. It wasn't difficult, not at all. My supper also led me to remember my other "best" pastas, and I will quickly recount them, so you understand that I understand the subjectivity of "best." Critics in all fields worth their salt think about this sort of stuff all the time.
Two pastas in my life have stood out, and both were eaten in Italy in 1984. The one that continues to demand its primacy was served when my guy and I were guests of artist Sol LeWitt at a town luncheon at a castle in Spoleto. Cloudlike pork-filled ravioli were spooned lukewarm to dozens and dozens of guests seated at long wooden tables. The pasta was burnished by a primitive sauce of meat drippings blushed with warm, ripe tomato.
This is when I understood that the word inevitable could be applied to food. I sampled two, then three portions, and would have eaten more, until a persistent photographer pulled me to follow him among the dirty marble columns of our public estate so he could shoot my red-stained shirt and American-hippie hair.
That momentary, almost medieval savor stayed with me for days. The memory of that memory refuses to go.
The other was a dish of golden silken ribbons, which I rolled out thin on a 300-year-old gray-marble table. Artist Betty Woodman cut and boiled this wheaten tissue, then sauced it with local yellow pepper and oil, a salted rabbit alongside. In this Tuscan kitchen, it wasn't the eating as much as the making; everything save the wheat came from within sight — that view being a Leonardo given, a Renaissance scrim.
Tonight I am in New York's Long Island, facing a vase filled yesterday with two kinds of basil. You touch plants like these and they flood the air with September smell.
So here's what I did. Epicurious.com gave me a recipe that included three basils and parsley, but it didn't seem quite right. Then without thought I opened the Zuni Cafe Cookbook, recipes from the San Francisco restaurant by the underpraised Judy Rodgers, and there I found a sage pesto in which chopped velvety leaves are heated in scant olive oil and macerated with garlic and salt in a mortar.
So I tried the same with my basil, but right away realized that cooking in oil would sink its flagrant flavor, so I added raw leaves to the mix until I felt confident. Then came a toss of raw pignoli, grated Romano, coarse salt, black pepper. Grind, grind, grind into a paste — I told myself that it's just this sort of labor that results in pleasure.
I boiled Delverde tagliatelle for seven minutes, took a third-cup of the pasta water and threw it in a preheated bowl, then spooned in my pesto. Too much water! So I poured some out, added all the pesto, then the drained pasta and more cheese.
No occasion attached itself to my solitary supper, but as I lifted each forkful, I was drawn into a world of unprecedented superlatives. Each swallow confirmed, then surpassed, the one before.
I am an average cook, getting better. But my intimacy with flavor has been flourishing since I was a little boy and is now, I am surprised to say, mature and decisive. The critic in me desires so very much that my peak pesto experience could be recounted, repeated, and available to anyone, but the devil behind my ear knows better. It's a victory, that one whispers, to recall your private evening at all.
Write it down, the critic insists. Pay no attention to him. Write it down.
For an automatic alert when there is a new Out There post, email jiweinste@aol.com.