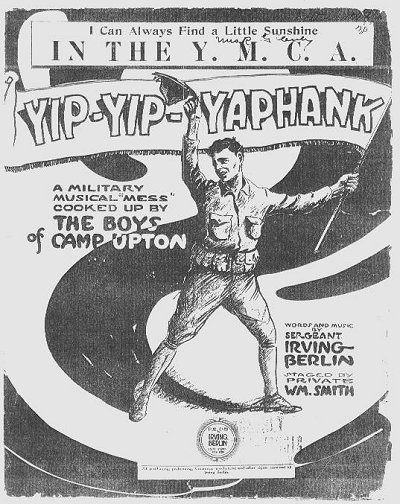 Most everyone old enough to know who Irving Berlin is knows that "Oh! How I Hate to Get Up in the Morning" was written in 1917 at Camp Upton in Yaphank, Long Island when the composer was called "Sarge." It became part of a musical revue called Yip! Yip! Yaphank! I know it's not Yip, Yip, Yaphank or Yip, Yap Yaphank, both common mistakes, because the New York Times review of its 1918 run at Manhattan's Century Theatre (on the Upper West Side!) spells it with the three exclamations — way before the decimation of all our copy desks, so it must be right.
Oh, wait. The songsheet above has it otherwise."We can't run the piece until we're sure of the spelling," the ever-vigilant copy desk says.
By the way, google-eyed (small G) Eddie Cantor put the number over.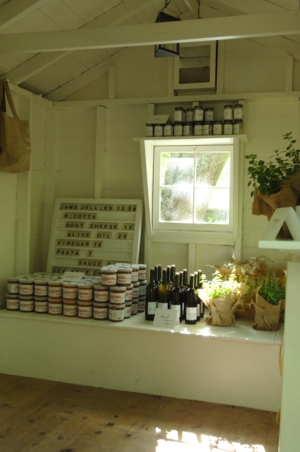 Yaphank, a long-settled town of sprawling charm, is the site this weekend (July 10-12) of a hybrid event by my warm, inventive friend Tricia Foley, author of the just-out At Home With Wedgwood: The Art of the Table. She wanted to gather friends, neighbors, and random visitors to her 1820 home and its various satellite sheds on Lily Lake. She also wanted to collect and display dishes, linens, plants, and produce that "objectify" and condense the sort of savvy, local idealism that was once called American utopian, and sell them. She wanted a general store; she wanted a popup store. She hoped that style and fellowship could spend an afternoon together.
So Trish put together what she calls the New General Store that I would call popup utopia.
Chef Roy Hardin makes a fine locavore pizza, too.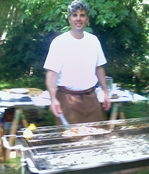 For an automatic alert when there is a new Out There post, email jiweinste@aol.com.