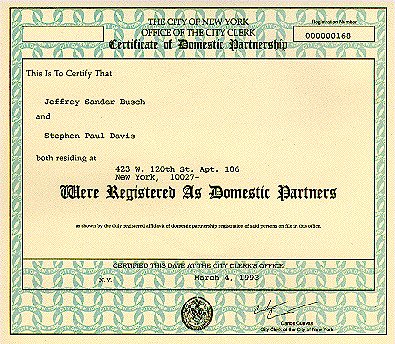 Down the Aisle, Slowly

It took the supposedly liberal New York City mayor David Dinkins ages to come to his political and humanistic senses and order City Hall to issue domestic partnership certificates.
That was January, 1993, more than 15 years ago, and it seemed late in coming even then. No money for city employee health benefits, previously promised, came with the mingy declaration; Dinkins was and will forever be an accountant. (Sample certificate is above. I don't know who the fine gents on this particular document are, although one is named Jeffrey.)

So, on March 1, the moment we were allowed, my eternally patient partner and I registered. In spite of my constitutional inclination to be first, we let two ladies in Teamster jackets precede us, so our certificate says number 2. We used off-brand chocolate donuts from a cart for our wedding cake.

I wrote about this before it happened for the Village Voice, where I worked, but for the life of me I can't find a copy of the piece anywhere to post and show you. It did include a stock wedding-shot with my very own face pasted over those of both the lacy bride and tuxedoed groom — nutty, but it attracted attention. I was a restaurant critic at the time and genuinely anonymous, but I couldn't imagine a maitre d' who would rip out that queer item and tape it to his station: a restaurant critic could never be anything but a restaurant critic.

My article mildly scorned the idea of gay marriage. Why duplicate the broken-down, female-as-chattel cornerstone of bourgeois stability? Let my (sorry, our) registration be remonstrance to …
Well, the piece advertised the political festivities of March 1, and that was that.

Why TV Counts

It's Sunday, Mother's Day, 11 p.m., and I have just watched the season finale of Brothers and Sisters, an ABC series I don't usually sample because my no longer eternally patient partner can't stomach the maudlin Sally Fields (me, I will always see her on a table screaming to organize a downtrodden shop) and wonders how the tremulous Ally McVeal can still make a living.

The episode was constructed around a gay-male wedding. Yes, it's a wedding; no, it's a ceremony; the sympathetic script goes blah blah blah. The main family is all wry and gooey with acceptance and love, while the other dad and mom, in an Arizona tract home, won't be bothered to come. "Try to understand we're not bad people," the distant father says to his son's groom-to-be, before secretly passing to him the Family Wedding Cuff-Links to give to his errant boy. It's a sniffle-evoking gesture, an absent parent's love in the form of two cold pieces of metal.
>

Justices of the peace across Massachusetts opened for unusual business Monday at 12:01 a.m., and as is his wont, The Tonight Show's Jay Leno found a joke in it. A government office actually working when you need one, he wondered. Maybe we should all say we're gay.

The startling photos filled the covers of most newspapers the next day: the very first female couples and male couples being married, officially wed, in these United States.
Yes, civil marriages of gay citizens have taken place recently in San Francisco and elsewhere, but these are in legal limbo. There were even the reported half-dozen marriage licenses issued to same-sex couples by Boulder County, Colo., in 1975. But Monday (which also marked the 50th anniversary of Brown v. Board of Education) made history. Now, under law, these Bay State knots are truly tied.

I happen to be a gay man in my 50s. I came out just after Stonewall — that's June 1969, in case you've forgotten, when furious gay men, drag queens and lesbians told abusive and corrupt police that they wouldn't take it anymore and stormed Greenwich Village streets. For many years I wrote, spoke and marched for what was then called gay liberation and is now called, more quietly, gay rights. My partner and I have been together for 27 years; we were, in fact, the second couple to register in New York's city hall as domestic partners, a concept I may claim some credit for originating.

Yet, when I saw these love-besotted folks and their friends and families grinning, hugging and crying on the network news, I was wonderstruck. The next day, at the newsstand, I was still incredulous. It may sound odd, but in spite of decades of wearing my gay heart and mind on my sleeve, the achievement of legal marriage for the likes of me is something that, until Monday, was literally unimaginable. It was as if I had been jogging along on some interminable gay-rights road and suddenly a bus with thousands of shoes tied to the bumper sped by. Just married. Just amazing.

It seems I am not alone among my gay-pride contemporaries in feeling this way about the reality of same-sex marriage. "It's beyond anything we saw as possible," Peg, from New York, told me. "We were just barely becoming legitimate, and then this… . It's like instead of renting your house, you own it."

My old friend and marching buddy Melvyn, in San Diego, agrees completely: Marriage was never in the cards. That domestic-partnership registration, so long-sought and hard-fought, is now the fallback position for those who previously wouldn't give gay rights the time of day is miraculous. We each recall the many times one or the other of us addressed hostile or queasy groups of students, librarians, police officers, trying to explain the ultimately ordinary facts of gay life, but actually serving as initial real-world exposures to a species our audiences knew only as artistic, pathetic, deviant, criminal.

Yes, weddings aside, much has changed. AIDS decimated the gay body politic and continues to ravage us as well as so many more. (Did the potent cocktail of ACT-UP activism and unavoidable compassion somehow make this marriage moment possible?) Gelded but successful Wills and Graces have opened the mass market to ever-queerer exemplars, finally normalizing – even if into burnished cliches – those previously demonized.

Opinions, apparently, have followed suit. If polls are true, most Americans 25 and under think gay marriage is cool, leading to the astounding conclusion that optioning this most basic family value to all is inevitable.

But a few of those benign teens will, in the next year or two or four, be tossed from their homes for declaring that they can't ignore the same-sex guy or girl next door. Some of them will be beaten or even slain; some will kill themselves. Schools will continue to isolate them, places of worship will exclude them, the military will use them and lose them.

Mr. Leno's writers, as usual, got it backward. Monday was the first time city hall opened to me. When, Sir, does saying I'm gay keep it from closing?
For an automatic alert when there is a new Out There post, email jiweinste@aol.com.