muslim voices, youssou's message, sufi songs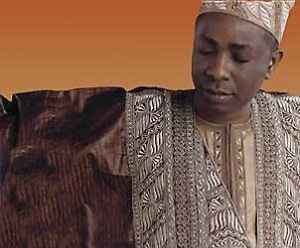 "Why is music called the divine art, while all other arts are not so called? We may certainly see God in all arts and in all sciences, but in music alone we see God free from all forms and thoughts. In every other art there is idolatry. Every thought, every word has its form. Sound alone is free of form. Every word of poetry forms a picture in our mind. Sound alone does not make any object appear before us."
So wrote Sufi master Hazrat Inayat Khan in The Mysticism of Sound and Music (Shambala Publications). I was hipped to that book by pianist Randy Weston, who claimed that he found it lying on a curb, a chance encounter with formative wisdom.  And the book has turned up again and again in my conversations with musicians from many cultures and traditions, especially in jazz circles. Sufi musicians have been among my wisest teachers during the course of my career. Not least among them Senegalese superstar singer and bandleader Youssou N'Dour, whose 2004 CD, Egypt (Nonesuch), a declaration of Sufi identity, was devastating for both its beauty and its political punch at a deeply troubled time. 
N'Dour opens "Muslim Voices: Arts & Ideas" an innovative multi-disciplinary festival at several sites in New York, June 5-14. His Super étoile band plays BAM's Howard Gilman Opera House on the 5th. A fine and searching film chronicling his Egypt album and tour, "I Bring What I Love," screens there the following night, with a brief performance by N'Dour. It's a tough call though...
Simultaneous with that screening is a concert at BAM's Harvey Theater featuring two all-male Sufi ensembles -- the Aissawa Ensemble from Fes, Morocco, and the Al Taybah Ensemble, from Avignon, France. The syncopated rhythms and chants of these musicians, punctuated by traditional trumpets, sometimes giving way to simple breaths, are a wondrous thing to behold and, if you're suitably drawn in, a way to transcend all else. (If you skip the June 5th showing, "Youssou N'Dour: I Bring What I Love" opens on June 12th at the Paris Theater and IFC Center in Manhattan, and Brooklyn's BAM Rose Cinema.)
Should you see "I Bring What I Love" -- yes, that bald head poking into the frame long enough to ask a question is indeed mine. And in fact, may of N'Dour's comments were filmed as I interviewed him in 2005 prior to a Carnegie Hall concert for a Salon piece. My own immersion in Sufi music and philosophy began during two trips to the Fes Festival of World Sacred Music, which I documented in a piece for the Village Voice. (Those interested in the long version of my thoughts about N'Dour and about Fes, can track down Music in the Post-9/11 World (Routledge), for which I contributed a chapter, "Exploding Myths in Morocco and Senegal.") 
"Muslim Voices: Arts & Ideas," a collaboration of the Asia Society, Brooklyn Academy of Music, and NYU Center for Dialogues presents more than 100 artists from near and far and representing many perspectives from the Muslim world: I know I'm going to try to make a June 8th talk and screening with Shirin Neshat, an Iranian-American artist whose work extends well beyond the films for which she's best known, and "Richard III: An Arab Tragedy," Kuwait-born Sulayman Al-Bassam's version of the Shakespeare classic. It's the sort of dialogue we need more of these days -- free of dogma, elevated above stereotype, and fueled by deep thought and pure beauty.