a dirge for culture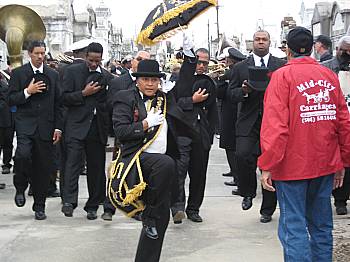 In my recent
Village Voice piece
on New Orleans, I made reference to a battle in the Louisiana State Legislature over arts funding, and the deep and cynical cuts proposed by Gov. Bobby Jindal. My friend Ned Sublette, as erudite a political commentator as he is a historian, suspects a national effort to "zero-out" arts budgets in states with Republicans in power -- to "shock-doctrine" it away, Ned put it -- under the guise of economic prudence. In Louisiana at least, the attempt is on the table in the legislature as we speak: The effects would be deep, far-reaching, and perhaps irreversible. 
Michael Sartisky, the executive director of the Louisiana Endowment for the Humanities offers clarity and passion on the subject in
"Dirge for Culture,"
his latest editor's note for the LEH's Cultural Vistas magazine:
A Dirge for Culture 
Editor's Column from LCV Summer 2009

Mosquitoes and high water. It does not take a capacious intellectual leap to imagine what Louisiana amounts to without culture. It's the equivalent of boiling crawfish in plain water, eating rice without red beans, burying the dead without music. Imagine shelves without books, houses without porches, porches without gingerbread, balconies without wrought iron. We may as well be New Jersey or North Dakota. We may as well be dead.

Yet, as I write these words, our state government has placed the knife at our collective throats, setting the state appropriation for the Louisiana Endowment for the Humanities not at a cut proportionate to the budget crisis, but at absolute zero, threatening to accomplish what the savage forces of nature could not.
 In the desperate days immediately following Katrina, when New Orleans was abandoned, when the Louisiana Humanities Center flooded, when half the state's population was cast into external and internal exile and the LEH staff and board was scattered to nine other states, we persevered, and we survived. 

We sent out a call through text messages and e-mail, gathered our flock, reassembled in makeshift offices in Prairieville and within weeks began publishing an e-newsletter we nicknamed the Prairieville Home Companion. We conducted Prime Time Family Readingsessions in the evacuation centers for displaced children and their parents; we published the Fall 2005 issue of Louisiana Cultural Vistas a scant one month behind schedule; we conducted a comprehensive damage survey of all our institutional partners for the National Endowment for the Humanities -- universities, museums, libraries, archives, public television and radio stations -- and secured emergency funding to help keep their programs vital, even in the face of catastrophe and destruction.
Devastating and Irrecoverable Loss
But now a seemingly impersonal and indifferent budget process has placed us in an unprecedented degree of risk that threatens the complete destruction of state funding of our cultural and educational programs, not just for this year, but for years to come. Once done, the damage cannot easily be undone, but will repeat and deepen for years. This applies not just for the LEH itself, but because our programs are partnered throughout the fabric of the state's communities, for scores of other programs because the vast majority of funds to the LEH do not stay within our walls, but flow out in the form of grants and programs.

The loss is as devastating as hundreds of miles of coastline. For when the LEH is harmed the ripple effect runs through the entire cultural community, for every program we do is an intimate and symbiotic partnership. Our Museums on Mainstreet or MOMS program partnership with the Smithsonian Institution has placed exhibits in 24 rural communities with populations under 12,000: gone. Forty Prime Time programs enrolling more than 2,000 at-risk children and parents annually, 20,000 to date (a Louisiana-invented program so effective it operates in 35 other states): gone. Forty RELIC programs, inner-city and rural, enrolling almost a thousand adults in public libraries to read and engage in enlightening learning: gone. A dozen Teacher Institutes for Advanced Study in a dozen universities, which graduate 250 teachers who teach 30,000 students annually: gone. The major and often sole source for independent documentary film production (more than 100 films to date): gone. Grants for cultural festivals: the Louisiana Festival for the Book in Baton Rouge, Banners in Lake Charles, Jubilee in Thibodaux, Fanfare in Hammond, theTennessee Williams Literary Festival in New Orleans: gone. The national radio documentary American Routes, carrying Louisiana music to 125 cities: gone. The annual economic impact of the state's small investment in the LEH, calculated in excess of $30 million annually, and greater over time: gone.
A Society Without Culture Barbarizes
And all for naught. The entire state budget for the LEH has never been adequate to meet the needs of our communities, our institutions, our families, our people. What would be accomplished by the elimination of our funding: nothing? Absolutely nothing. The "savings" to the state of the less than $2 million the LEH receives will accomplish nothing. But the loss will be incalculable and it will extend well beyond this year because the consequent loss of staff, of planning, of sustained effort, will be set at naught and take years to recreate even if future funding under more enlightened circumstances was to be restored. A society without culture barbarizes.

If the present policy of eliminating state funding for the LEH, most state arts funding, LSU Press, and other crucial cultural programs were imposed on us by another state, we would regard it as an act of war on the fabric of our identity. What does one call it when we do it to ourselves?

The hour is late, but we can only hope that in the end the eye of this budgetary storm will veer off through the intervention of inspired leadership.  --Michael Sartisky, Editor-In-Chief
PS The photo at the top of this entry is mine, taken during the funeral procession for Ernest "Doc" Paulin, in 2007.
\