F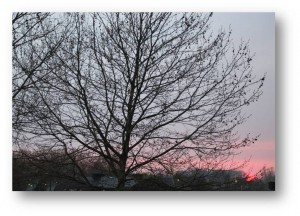 or those following the Beauty Class, this post is about the first two portfolio assignments. One of the primary methods of learning in this course is the creation of portfolios in which students are asked to catalogue their experiences of beauty in art, nature, work, and everyday life. The weekly assignments allow me to trace student progress over the course of the term and are intended to provoke and inspire thinking about beauty. My assignments are a subset of the larger portfolios the students have been asked to create.
Self-Portrait #1
The first portfolio assignment was to create a self-portrait using a camera. In advance of completing this assignment I encouraged students to seek inspiration by browsing a few articles/websites featuring self portraits.
Since I suspected not all would have access to a tripod, I gave them the option of having someone else click the shutter. What was more important to me than who snapped the shot, I explained, were the particular choices made by the student in preparing for the photo to be taken.  I asked them to submit the image along with five adjectives describing the portrait and what it captures.
When the students came to class the next week they were asked to break into small groups and consider the following questions in relationship to the assignment:
Where did you find inspiration? In the three websites recommended by Diane? Elsewhere?
What was your goal? How did you approach the task? Were you able to achieve what you wanted to achieve?
What's the difference between a selfie and a self-portrait?
Not all, but many students had browsed the sites I suggested and could describe in some detail specific photos they found compelling. While a handful of students said their goal with their self-portrait was to create art, most conveyed that their goal was more personal—to convey something about who they were. We discussed that these need not be mutually exclusive aims. Finally, we discussed the question of what distinguishes a self-portrait from a selfie. Students suggested that selfies are more casual, that you don't necessarily want to keep them, and that they are about connecting with your friends. I reflected back to them that their observations were very much in line with statements made  by a curator in an article in the Getty Iris. The article maintains that while both selfies and self-portraits are "efforts at establishing and embellishing a definition of the self," the primary difference has to do with intention or purpose. A selfie is a "mode of conversation" and is "disposable."  A self-portrait is intended to be interpreted as a work of art and is meant to endure. The class also agreed with the assertion of one of the curators interviewed in the article that some selfies are great and rise to the level of art.
We then looked at a number of student self-portraits and focused on the various approaches that students took, as well as at the use of line, shape, color, pattern, and texture that made some of the portraits particularly beautiful (from my perspective). The students adopted diverse approaches to the assignment and many made clear choices about color, setting, or staging, as you can see from the following four examples, which the students gave me permission to share (clockwise, Christina Hoo, Enis Gashi, Chelsea Larosa, Megan Schroeder).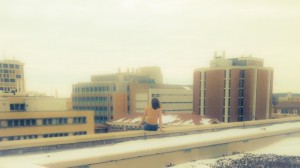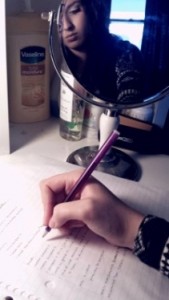 Universal Beauty vs What I Find Beautiful
For a second assignment I gave the students the following quote as a prompt. It's by Tom Morris in his 1997 book, If Aristotle Ran General Motors (pp. 82-83):
There are many forms of beauty in the world. When we hear the word 'beauty,' we may think of different things. … Many people think of nature. Some envision a painting or  cathedral. A mechanic may imagine an engine he's seen. A wood-carver may think of scrollwork. A luthier, of a guitar inlaid with pearl. A jeweler might vividly picture a multi-faceted gem. A football coach can call to mind a spectacularly executed play. An avid basketball fan will excitedly talk of "a beautiful move to a basket.
I then asked the students to submit two images. First, I asked for an image of universal beauty (i.e., something that comes to mind when you hear the word 'beauty' and that you suspect most people would find beautiful, as well). For the second image I suggested that students consider the following: "If a trial attorney finds beauty in a well-argued case, where do you find beauty?" Alongside each image I added the requirement, "Give me 75-150 words on what this image signifies for you and what makes this object, event, action, or person beautiful (compared to others in the same category). Justify your aesthetic judgments in terms of Gardner's or Heisenberg's criteria." You can read about Gardner & Heisenberg in last week's post.
When we examined the submissions for universal beauty we found that a significant number of them featured a landscape of some sort, many with water and trees.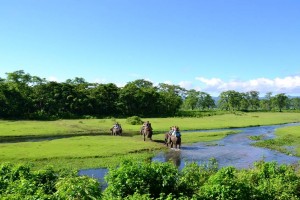 Here's a nice example taken by student, Constance Colin (those are elephants you see). We considered this convergence in taste in light of the curious People's Choice art/research project by artists Komar & Melamid, who used a survey and statistical analysis to determine "the people's" Most Wanted and Least Wanted Paintings. Komar and Melamid's oft-cited (and rather controversial) study found that people around the world favor a painting that is a mostly-blue landscape with water, people, and animals;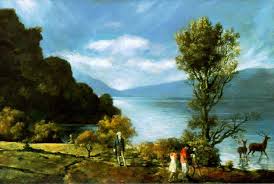 moreover, in the US, people seem to enjoy paintings that also feature historical figures and children.
When Komar and Melamid created the US Most Wanted Painting they added George Washington and a few children in the foreground of the painting (pictured left). You can see the Most Wanted and Least Wanted paintings here.
I also shared my photo of the bare tree at sunset taken from my bedroom window, shown at the top of this post. I explained to the students that I have taken countless photos like this over the years and that it was only when I was thinking about this assignment that I made the connection to Ansel Adams' photograph Oak Tree, Sunset City, Sierra Foothills, 1962. I used this as a prompt to talk about Elaine Scarry's assertion that beauty often compels replication.
Next, we examined the what students find beautiful that is more idiosyncratic. However, rather than sharing the images they submitted I shared the ideas or concepts underpinning the images. I took the 75-150 word descriptions written by the students and created encapsulations. Each of the following statements describes where a single student finds beauty:
An uncensored view of the world
A life well-lived (having impact on others)
Family, childhood, homeland
Transformation: a symbol of oppression turning into a symbol of freedom and art
Inner peace, strength & determination
The human form
Loving relationships
Eclecticism
Genuine laughter
Rainy days & everyday life
Travel, exploration, seeing the world
Hard work, celebrating life, and giving back to others
The unique, the standout, that without symmetry
Exploring the unknown
Food – cooking and eating delicious and aesthetically pleasing meals
Persevering against all odds
The cheese plate and the conversation it promises
Unexpected joy in a change of heart (from resentment to love)
Risk, adventure, facing fear
History; and ruins, which remind us of what's gone even as they persist into the future
Family and memories of when times were good
I ended this part of the exercise by displaying the Schwarz universal values as mapped by the organization Common Cause and suggesting that each student's particular 'beauty' could be mapped onto the Schwarz values (see Psychology and the Search for Universal Values in this Wikipedia Entry). I explained that while everyone has values found across the map, often a person will have a preponderance of values in one part of the chart. For instance, a majority of my values fall in the green segment of the map below. I further explained that Universalism and Benevolence pull in the opposite direction of Hedonism, Power and Achievement; and that Self-Direction and Stimulation pull away from Conformity, Security and Tradition.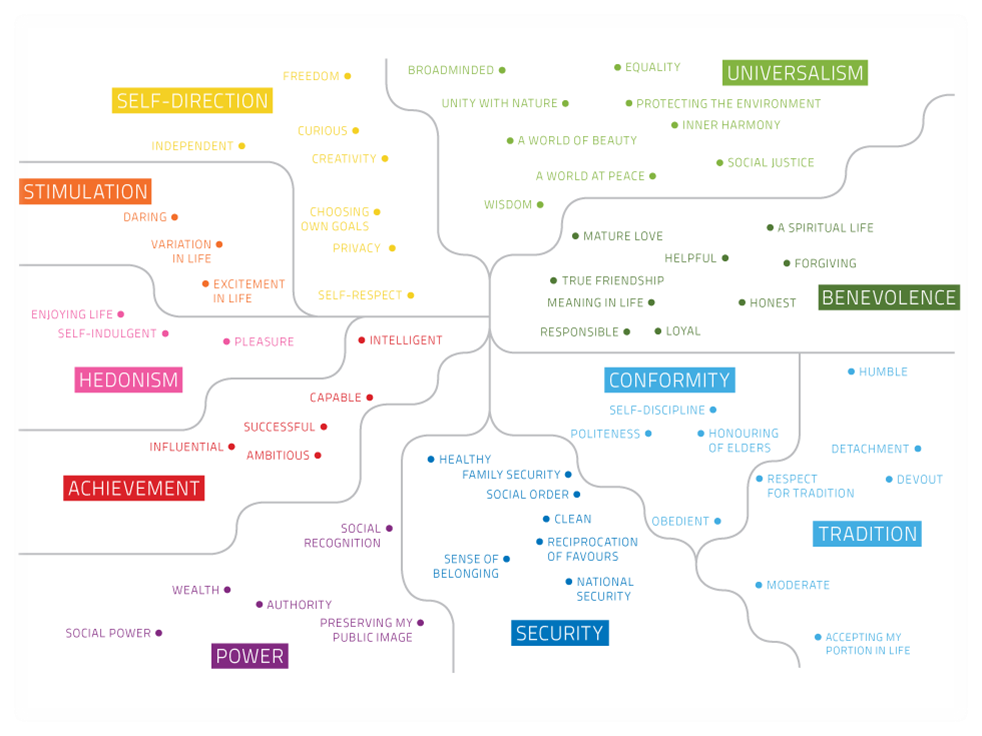 Schwarz Theory of Basic Values as Mapped by Common Cause
We will return to the Schwarz values later in the term, but I wanted to make the link early on that aesthetic criteria are linked to values. As Steven Taylor describes it in his article The Impoverished Aesthetic of Modern Management: Beauty and Ethics in Organizations.
We all have aesthetics that drive our decisions. I may love small, fast sports cars because my aesthetic criteria value a feel of oneness between horse and rider. You may love large trucks because your aesthetic criteria value utility and power. When I see a sports car, it is a thing of beauty to me. When you see a truck it is a thing of beauty to you. We all hold various sets of aesthetic criteria that we have developed over time and they play a critical role in determining how we act.
In my next post I'll talk about how we prepared for a visit to the contemporary art museum, the exercises we tried at the museum, and the works the students created in response to the experience.