Orbert Davis — trumpeter, composer and leader of the Chicago Jazz Philharmonic, has been
commissioned by the Jazz Institute of Chicago to write and perform a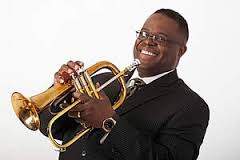 suite about the Great Migration for the 38th annual free Chicago Jazz Festival. "Soul Migration," for octet, will be heard Sept 1 at 8 pm in Millennium Park's Pritzker Pavillion.
With the composition in progress, Orbert spoke about it with me at his home studio, demonstrating with some synthesized samples and even improvising a theme. Thanks to Collin Ashmead-Bobbit for recording the interview, excerpted here.

howardmandel.com
Subscribe by Email |
Subscribe by RSS |
Follow on Twitter
All JBJ posts |