At least we won't have Mitt Romney in the White House. That keeps us from a Paul Ryan takeover. But now that Barack Obama has been granted another four-year term, will he be able to redeem himself from Heathcote Williams's indictment?
It'll be tough, probably impossible. El Presidente is, after all, the inheritor — and, as "Lord of the Drones," the enabler in chief — of a national obsession: the so-called war on terror, a k a homeland security or, as the title of Williams's 2011 collection of poems puts it, American Porn.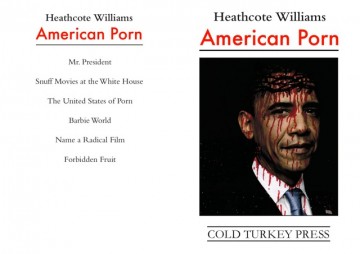 Published in a limited first edition of 36 copies by Gerard Bellaart's Cold Turkey Press, this portfolio of poems has little chance of being noticed beyond a small circle of friends. The poems, among them "Snuff Movies at the White House," "Barbie World," "Forbidden Fruit," "The United States of Porn," hardly represent a threat to the military-industrial complex. But they are dissident literature hidden in plain sight, and they have the subversive staying power of truth-telling samizdat.
I intend to put up more blog posts about Cold Turkey Press. If you're interested in laying your hands on some of its publications, you can. Unlike samizdat, they are handsome, beautifully designed productions.
Postscript: Nov. 8 — Just so you know, Williams's investigative poetry, as he calls it, spares no one, least of all the "plutocratic cult" of the British royal family. Click to watch, listen, and learn: