My correspondence with writers and poets of the Beat, post-Beat and Fluxus periods, along with other literary artifacts, was acquired by Northwestern University Library. In case you're interested, the collection is described in the library's catalog here.
My literary taste in fiction writers has run to Joseph Conrad, William Burroughs, Nelson Algren, Graham Greene, John Le Carré, and Cormac McCarthy. I have also loved reading Frank Harris, whose word portraits of artists and writers are too little known. But their books are not necessarily what I've been reading lately.
As a biographer of William Wyler, a great Hollywood director, I've been spoiled by his best movies.
Here's a review of the biography by an Amazon verified purchaser:
"A thorough and brilliant biography of Willy Wyler, whose directorial triumphs never quite earned him the respect he merited. He is not an 'auteur' in the usual sense, because he was fluent in every film genre instead of electing one to be his 'signature.' But this is the man who gave us masterpieces like 'The Best Years of our Lives,' 'Jezebel,' 'The LIttle Foxes,' 'Wuthering Heights,' and many many more. This biography takes us through his entire career, including his childhood in Alsace-Lorraine. A must-read for the film buff!" Thanks for the review whoever you are.
As a former film reviewer, I don't know why most of today's film critics bother. But if I had to pick a daily movie reviewer to read, it would be David Elliott—not because I agree with him, although he is immensely knowledgeable, but because he is the best wordsmith of the lot. Favorite literary critic? The late Clive James, though I didn't agree with his political views. Favorite television critic once upon a time? Same guy. Favorite music critic? The late Martin Bernheimer.

Recently I've been writing poetry, which I describe as "deformed sonnets." In case you're interested, you can check some of them out in this collection: Your Obituary Is Waiting (Special Edition).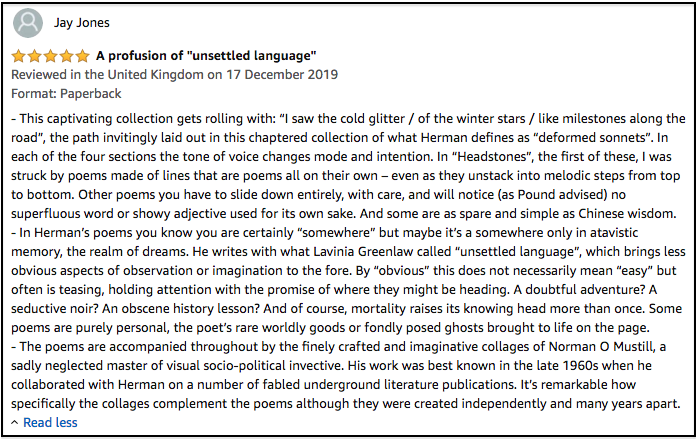 This came from Charles Plymell:

I've also written The Z Collection, a book of personal essays recalling the avant-garde small press underground of the 1960s and encounters then and since with Nelson Algren, Allen Ginsberg, William S. Burroughs, Norman Mailer, E.L. Doctorow, and Abbie Hoffman, among other cultural figures. It has been published in three separate editions.
European edition of The Z Collection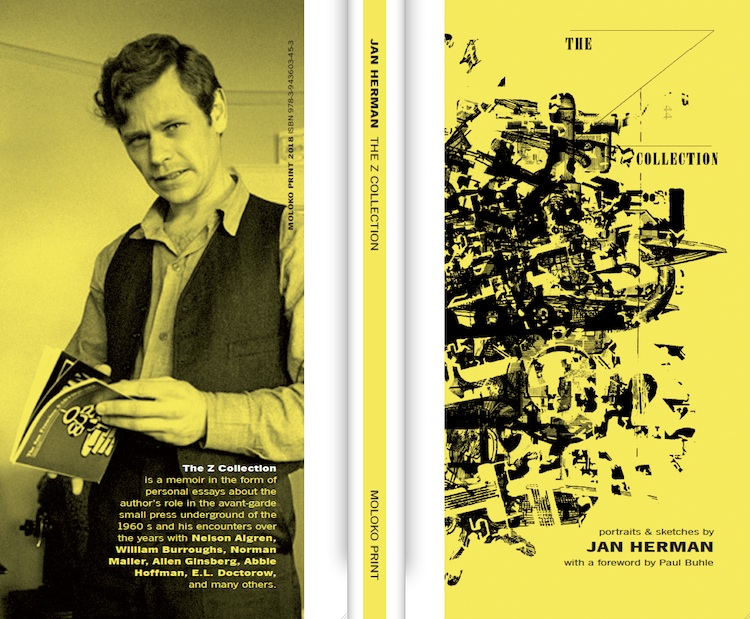 Published in Germany with the American text and color illustrations. [Moloko Print, 2018]. Click to order from Printed Matter in NYC.
New U.S. edition of The Z Collection
Blue Wind Press has published a new American edition of The Z Collection: Portraits & Sketches . It is on sale now at Amazon (where you can have a "Look Inside.") There are eight 5-star reader reviews and — pardon me for saying — they're splendid. Here's a review by G.N. Dishotsky: "If you come upon this book, seize it! Jan Herman brings together an outstanding collection of pieces written over his years as a reporter, essayist and commentator. You'll be delighted by his style. He can capture foibles and mannerisms with a light touch and along the way give you a tour of the important writers who created our view of the world. Start anywhere. Herman will conduct you through the main streets and byways of how we learned what the world is all about. Highly recommended!" G.N. Dishotsky is not my mother. Ok, she is a friend. Anyone who wants to buy a signed copy of the book is welcome to contact me.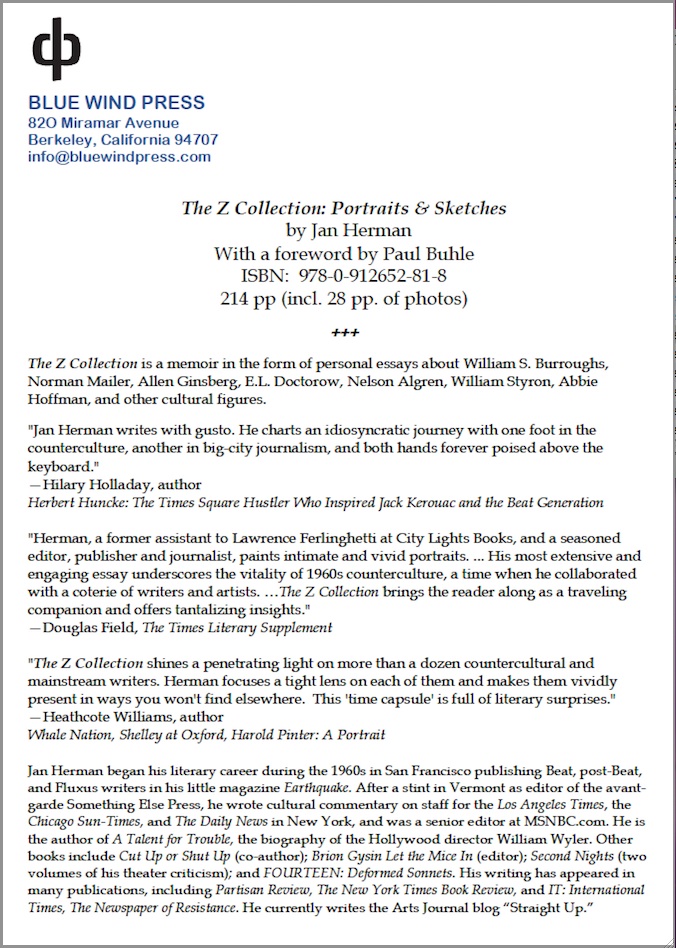 The first edition of The Z Collection was published in 2015 by AC BOOKS.
Moloko+ has published an enhanced facsimile edition of my old project Brion Gysin Let the Mice In, and in case anyone is interested, Collateral Damage: The Daily History of a Blog, traces blogposts of mine from more than a decade ago with a foreword by William Osborne. "If there is a single ethos that defines this collection of blog entries," he writes, "it is that the arts do not exist in a vacuum, that culture is holistically connected to every aspect of society. … This blog captured the American cultural zeitgeist in the aftermath of 9/11. Written in Manhattan during a 14-month period between May 2002 and July 2003, it provided witty, detailed, atmospheric snapshots of a wide cross-section of the arts, media, and politics during a pivotal time in U.S. history, attracting millions of readers as the most popular blog by far during the early years of MSNBC.com."
I am also the co-author of the experimental fiction Cut Up or Shut Up, a collaboration with Carl Weissner and Jurgen Ploog (and with a "tickertape" intro by William S. Burroughs).
In addition to Brion Gysin Let the Mice In, co-written by Gysin, Burroughs and Ian Sommerville (Something Else Press), I've edited as well The Something Else Yearbook, an anthology of the arts.