It always amazes me how many people in the arts education community don't know David Perkins.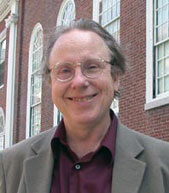 Perhaps it's because he isn't an arts guy, per se, but rather received his Ph.D from MIT in mathematics and artificial intelligence. Perhaps it's the wide range of his work.
There are many other Project Zero faculty who are better known, particularly in the arts education community, such as Howard Gardner and Steve Seidel. So, I wanted to take take a quick moment to highlight David Perkins, as I have found his work extremely insightful and helpful.
I remember reading a piece by Perkins that I found rather remarkable. It's the best combination of research and practice, in that it really gives insight into instructional design based upon research, and best of all, it relates to the integration of the arts across the curriculum.
Perkins addresses the integration of the arts, or really the matter of transfer through what he describes as "bridging and hugging."
Bridging "means that the teacher helps the students to make connections between what they are studying and other areas–something from another subject matter or their out-of-school lives.
Hugging "means keeping instruction close to the very target performances one wants to clutiveate, so that transfer is less of a problems.
Essentially, what Perkins is positing is that in order for the integration of the arts to occur, it is not enough for transfer of knowledge or content across domains to occur by osmosis. Perkins posits that overt activities need to be designed and acknowledged in a lesson, recognizing the connections between or among multiple domains. Perkins points towards thougtfulness of instructional design and instruction requiring the learning across domains overt, with designed activities/instruction to serve as a bridge for the "transfer," which includes
a sort of acknowledgment of that design by teachers and students
Perkins posits that "learning is the consequence of thinking." He writes about putting thinking at the center of all learning. Precepts such as these are vitally important in an age of kill and drill. It's a statement that has been met with a fair amount of resistance, as it connects to the on again, off again debates around content versus skills. Or, the question: can you teach creativity?
I sometimes marvel at the range of his interests and writing: creativity, school design, technology, invention, I.Q., learning in the workplace, and gosh, just so much more.
Okay, I am a bit embarrassed to say that I've never had the opportunity to meet him, nor hear him present in person. I've been thinking for a while of the right vehicle to bring him in to New York City for some sort of event, but haven't gotten to it yet.
Take a good look at the books available by Perkins. If you're not so keen on reading his work on education, take a good look at a rather remarkable book he's written on creating an learning culture within organizations: King Arthur's Round Table: How Collaborative Conversations Create Smart Organizations (NY: Wiley) (2002)
One way or the other, he's someone you should know, and he's David Perkins.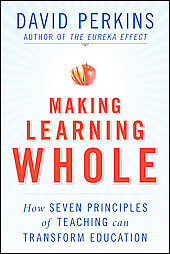 Making Learning Whole–How Seven Principles of Teaching and Learning can Transform Education