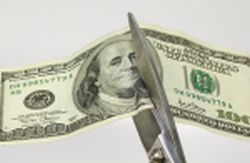 Yesterday, the New York City schools chancellor addressed next year's school budget. Today, principals will receive their budgets for next year. 


Even after the stimulus monies, schools are looking at a five percent cut. Those who established reserve funds, which are for a number of obvious reasons are relatively limited in the amount you can save for next year, will probably be looking at about 3 percent plus.

Click here
for The New York Times coverage on the story.


An interesting quote from The Daily News piece:
"James Harrigan at Public School 229 in Brooklyn said he expected his cut to be about $170,000."
"My after-school programs will probably take a hit; a lot of those are arts programs," he said. "That's one reason kids like to come to school."
On WNYC Schools Chancellor Joel Klein indicated:
"If they have a Saturday program, they may have to cut something like that. It may affect their after school program, some school may affect the costs that they spend on professional development."
As many of you know, there has been tremendous growth in arts being provided as part of after-school, or out-of-school time programs. I have been under tremendous pressure to move my organization's interest into after school, as the people doing the pressure argued that there simply wasn't time in the school day anymore.

And, I have thought about it, quite a bit. While we have some programs that are after school, particularly those involving students and parents, we have continued to focus on the traditional school day, until and unless the school day in New York City public schools becomes extended on an official basis. 

The reasons for not giving in to the pressure to focus on after school, leads back to what one of my mentors has been rather forceful about: "when budget cuts are made, after school has always been among the first to go."


Many people believed and still believe that the after school movement and the tremendous philanthropic interest in out of school time arts has changed the landscape enough to protect after school programs. At least in this very moment, that appears to not be the case.


Finally, how do you give up on the formal school day, and relegate arts to after school, where there are a whole host of other issues related to who receives what and who doesn't? And, if you do that, and after school gets cut, well, what do the kids end up with?


There is bad news coming out of California too, where key ballot initiatives that would have buffered education cuts were not approved, and man, Cali has some terrible financial problems. There will be cuts, big cuts to education overall, and certainly arts education. What's the history here? Arts education suffers disproportionately during such budget cuts.
We shall see how much things have changed.