Okay, maybe it's really the second round, as the first could be viewed as the education portion of the stimulus package.
I've read a lot about Arne Duncan being a basketball player, but hadn't heard much about him liking to mix it up.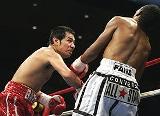 Yesterday Duncan spoke at a press conference in Maryland where he outlined what will be required of states in order to receive the second round of stimulus money. The Secretary is going to require significant reporting from each state on a number of key indicators.
There's a lot more here to the story that meets the eye: one of the requirements will be for states to disclose how they are scoring on the National Assessment of Education Progress (NAEP), in addition to state and local tests. NAEP, long considered the gold standard, and a nationally uniform one at that, may be an early indicator as to how Duncan will seek to change NCLB, which has been widely criticized for having no uniform standard, since it allows states to design and run their own tests. What is more, many see a number of states having watered down their tests to cover up the truth about how their students are performing. Some districts that score well on the state tests, but poorly on NAEP, have dismissed NAEP. Bu hey, that's politics, not research.
Oh, by the way, there is a NAEP arts assessment.
This is going to get very, very interesting.
Okay, when did Duncan land his blow?
In response to South Carolina's Governor Mark Sanford's exclamation that he would not accept over $500 million in education stimulus money, Duncan took a very big swing, let's call it a near knockout left hook by explicating K-12 data from South Carolina indicating that only 15% of African American students are proficient in math and their graduation rates are among the lowest in America.
Oh snap!
Duncan went on to say: "for South Carolina to stand on the sidelines and say that the status quo is O.K., that defies logic."
Click here to read the story in The New York Times.
And click below to have your block knocked off…