Installation view of © MURAKAMI at The Geffen Contemporary at LA MOCA, 2007, photo by Brian Forrest, artwork ©Takashi Murakami/Kaikai Kiki Co., Ltd.
It's always interesting to see how exhibitions morph from one venue to another, and it's hard to imagine a more perfect installation of the Murakami show than the one (above) that recently closed at the Los Angeles Museum of Contemporary Arts' Geffen Contemporary…except for one thing:
Having finally seen (too briefly) and loved the show, I remain convinced that a Louis Vuitton boutique has no place in an art museum's exhibition, no matter what arguments you might make (as LA MOCA did) that it's consistent with the artist's philosophy.
There are few sights more bizarre than that of two separate elementary school classes of young Latino children being trooped through the land of outlandishly priced plasticized canvas, brightly adorned with corporate logos. Then again, the sight of young children, brought in great numbers to this show of childlike imagery and ogling the very unchildlike subject matter of some of those pieces, was also disconcerting.
Also strange to me was my fact-finding (not shopping) visit to the land of outlandishly priced plasticized canvas in my nearby mall: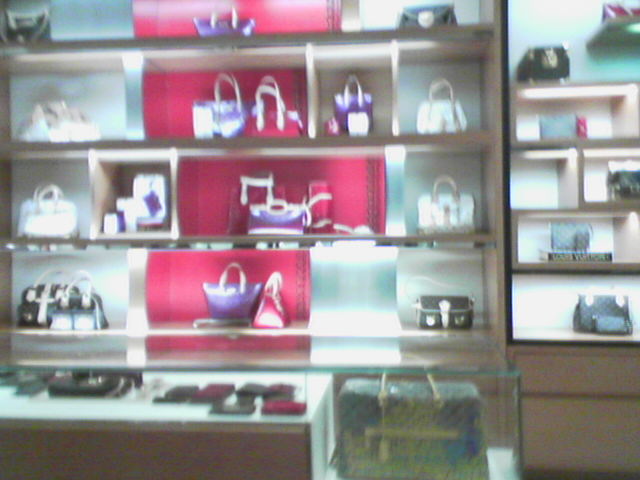 The white-hued bags at this Vuitton boutique in Hackensack, NJ, are Murakami's, but there's no mention of the artist anywhere in the store, nor in the informational material supplied with the handbags. They're just mixed in anonymously with the rest of the stuff. When you go to Tiffany, you do know which goods are by Frank Gehry, which by Paloma Picasso.
So it was with some cautious optimism that I received this response from my query about Murakami plans at the show's next venue, the Brooklyn Museum, where it opens Apr. 5. Sally Williams, public relations head, wrote me:
We don't know yet if we will have a Vuitton shop. The Oval Buddha won't be in Brooklyn because he is too big to bring into the building. Other than that, the exhibition will be much the same.
The 18½-foot-high "Oval Buddha" (below) will be a great loss. Vuitton, not.


Takashi Murakami, "Oval Buddha," 2007, Courtesy Blum & Poe, Los Angeles
Oh no! This just in: Richard Prince for Louis Vuitton, in the spring/summer 2008 collection!?! Couldn't he stick to cowboy garb and nurses' uniforms?