Options have run out, but existence drags on anyway.
Such is the dilemma dramatized in two new music-theater pieces, the recently premiered opera Dog Days by David T. Little (seen below), and the theatrical song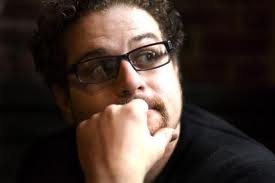 cycle Out Cold by Phil Kline (which will be premiered Oct. 25-27 at the Brooklyn Academy of Music, paired with his penetrating Zippo Songs, based on desperate texts by US soldiers in Vietnam).
Both works are populated by people in extreme distress. Basic sustenance – sometimes emotional, sometimes physical – is in question. Dog Days has a family that's starving to death as a seemingly endless war rages all around them. Out Cold (which I've come to know from sound files the composer used for rehearsal purposes) begins with a protagonist on Skid Row and moves on to a man throwing away everything for an illusory woman who once got away, knowing full well he'll be left with less than nothing. (Sample lyric: "You reach inside to find the envelope she sent you … it's the ashes from a million dollar bill.")
Yes, these pieces characterize unspeakable states of being – in diametrically opposed ways. Past composers argued that only atonality could embody the egregiousness of the world since World War II. Both of these works find other solutions.  Dog Days (seen at Montclair State University on Oct. 6th) was an operatic bulldozer that I didn't see coming: The final 10 minutes had a slow-building, electronically rendered crescendo – neither tonal nor atonal, but something else – that could only have been imagined 20 years ago, and perhaps couldn't have been technologically realized with its current impact only five years ago. In contrast, Out Cold uses an incongruously light touch – so light, in fact, that some of the music sounds like The Carpenters on steroids.
One piece clobbers. The other insinuates. Both devastate. Let me explain how that works.
In Dog Days, the characters are a family whose home is apparently an island amid the chaos of war. At first, they're kept alive by periodic air drops that contain less and less sustenance. By the final scene, planes are flying over without dropping anything at all. The family squabbles endlessly. The two sons find pot to smoke. The father goes hunting and comes back with nothing. Curiously, they are visited by a man who is convinced that he is a dog. Played by performance artist John Kelly, he is in mangy canine dress but seems to have hunting skills superior to those of his upright counterparts – sealing his doom in an envy-driven male-dominated culture where inferior hunting skills are a humiliating commentary on lack of manhood.
The opera is said to be surreal, but didn't seem so to me. Recently, I had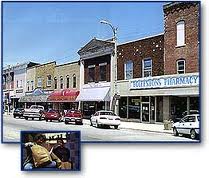 visited my once-leafy, comfortable hometown in the Illinois cornfields to attend to the affairs of deceased family. I found boarded-up houses, streets in dire need of paving, fields of empty McMansions and grand neighborhood gates with nothing behind them. Even the cemetery keeper, with whom I had made an appointment, never showed up. So I recognized the world of Dog Days, though the war in my hometown was economic and everybody had lost.
One difference is that Dog Days is fueled by apocalyptic doom that hangs over the sweaty, contentious family – it suggests Thornton Wilder's The Skin of Our Teeth  reset in a  modern trailer-park culture. The musical inspiration is a bit uneven: Scenes that functioned mainly as dramaturgical building blocks didn't always fire the composer's imagination. What left everybody astounded was the aforementioned ending – the slow, electronically generated crescendo that at first had a few vague wisps of sound floating around the ever-advancing sonic mass that slowly escalated in volume. Ultimately, the sound literally rocked your seat. Surely, you thought, it has reached its peak. And yet it kept going – while the father and brothers are eating the dog/man without so much as cooking it. This scene confirms the opera's greatness – though it could also be what keeps it from widespread stagings, unlike other worthy but hard-hitting works such as Philip Glass's Waiting for the Barbarians and Lowell Liebermann's Miss Lonelyhearts.
The heart of the opera is the lovable, humane daughter. She also has the best music in this predominantly tonal opera that consistently captures one's attention with punchy, minimalist effects while also leaving plenty of room for full-fledged characterizations – explored, in the daughter's case, by letters she writes to a childhood friend who probably is no longer alive. In a moment of hunger-induced delirium, she sings ecstatically about how her current state of emaciation has made her resemble a fashion model.
Ah yes, denial – that state of mind so often condemned by the current pop psychology culture. But how many times have you looked back at difficult events in your life and realized you kept yourself functioning only by not fully acknowledging how bad the situation really was? Denial can be a life saver. In an odd way, composer Kline has harnessed that phenomenon aesthetically in Out Cold (a song cycle that, like Dog Days, was partly developed by American Opera Projects).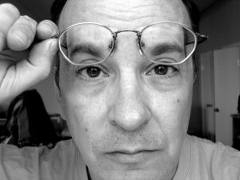 Kline (seen at left) isn't afraid to write pretty music: His greatest hit, the ambient music work Unsilent Night, lands as easily on the ear as a gentle snowfall. Out Cold handles the horrible with exterior smoothness – much like American folk music and country blues, in which the words report emotions in an almost deadpan style (compared to German art songs), with only hints of characterization from the music. Kline's excellent lyrics thrive in such a laid-bare showcase, conjuring end-of-the-line scenarios, one after another, with the low-volume intensity of Meryl Streep in The Devil Wears Prada. One of my favorite moments: The lyric "I can't win, only lose more slowly," is set to a mellow cha-cha rhythm. It works.
Of course, I haven't yet heard these songs performed. But I can't imagine that singer Theo Bleckmann is going to deliver this music with the torch-song intensity of Barbra Streisand; his is not that kind of voice. And the songs themselves would prevent that, with their simple one-note-to-a-syllable settings and plain, stepwise melodies that acquire eloquence via the words they set as well as the layers of rhythm and counter-melody around them.
This is something quite different from Libby Larsen's The Strange Case of Dr. H .H. Holmes (available as a download starting Oct. 31 at www.florestanproject.org), a song cycle about the man thought to be the first serial killer, a Chicagoan who blithely murdered some 200 people in his home-built dungeon in the 1890s . Basically

the songs are his confessions, related dispassionately in the first person. In effect, Larsen (seen at right) doesn't portray Holmes so much as she channels him against a backdrop of period parlor songs warped in a not-so-funhouse mirror. It's the banality of evil at its best. But while the piece made me understand Holmes's impulses, it didn't investigate the larger psychology of such an aberration.
Dog Days and Out Cold reminded me of The Grapes of Wrath, the great John Steinbeck saga of Oklahoma families driven out of their homes by the Dust Bowl, crop failures and foreclosures (sound familiar?), heading west with vague promises of work and encountering one calamity after another. Just when they think that the worst is over – well, they're wrong. Yet they survive, partly due to their own shortsightedness – as if they're climbing a mountain in the fog, never knowing how much further there is to go, but with hopes that the next switchback in the trail will be the last.
As we all do.