Velvet reflections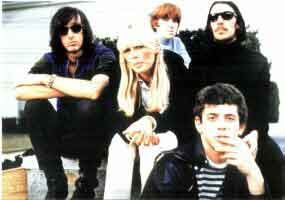 Sterling Morrison, the late guitarist for the Velvet Underground (far left), may be the most famous person I ever almost sort of knew. We both taught literature at the University of Texas at Austin but as has been the general case with this intrepid interviewer whenever I've met an idol I've really obsessively followed for years (Pete Townshend, Don DeLillo), I am reduced to pathetic adolescence, having nothing to say, knowing the answers he's given to a million questions already or not wanting to bother the oracle with my bizarrely picayune points. In fact, I deliberately flubbed my one chance to go out for drinks with Lou Reed and Laurie Anderson.
So when we met in the halls, Sterling and I talked about medieval lit (his specialty).
Later, when I'd left academia and was writing about rock music and film, I met Morrison at a party and was flattered that he remembered me and had read some things I'd written. Or so he said, I didn't inquire too closely, figuring he actually mistook me for someone else. At any rate, with both of us now feeling more at ease, having trashed the UT English department (and having had several beers), I divulged my profound interpretation of "All Tomorrow's Parties" (which mercifully, I no longer remember, but it had something to do with Cinderella and myth theory).
No go. Morrison told me the song was about an impoverished drag queen crying over the fact that he can't afford any new clothes. He'll have to make do with the same old tatty gowns -- for which he'll be thoroughly snubbed, his life is over. Hence, the title.
And, of course, to anyone paying attention, that's obviously what it's about.
So there's a new bio of the Velvet Underground, and Mike Greif has some fun with it in the London Review of Books